London post-punks Talk Show dive into the raw energy, seductive beats, and unapologetic attitude of their sophomore EP 'Touch the Ground,' a feverish gut-punch of visceral charm and churn.
Stream: "Leather" – Talk Show
---
"I get loose, I don't try, I got lovе, I got nine lives." Talk Show's sophomore EP opens with a sneer and a smirk, instantly setting the tone for the feverish post-punk experience to come. An industrial record of raw energy, seductive beats, and unapologetic attitude, Touch the Ground is a gut-punch of visceral churn and "industrial guitar electronica" that leaves us breathless, shaken, and invigorated.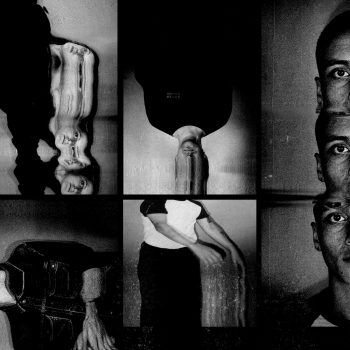 Truthfully, truthfully, body movin' shifty,
The rules are loosely, based on losing.
Losing. I get going
I get gone, I'm gone…
I'm going, going, losing
Feet won't touch the ground from here to heaven
Ear to ear, big heavy leather
We paid in cash, we paid in full
I pray with my palms facing the sun
Feet won't touch the ground from here to heaven
Ear to ear, big heavy leather
We paid in cash, we paid in full
I pray with my palms facing the sun
I get loose, I don't try
I got lovе, I got nine lives
I wanna get loosе, I wanna get loose…
– "Leather," Talk Show
Released September 23 via Missing Piece Records, Touch The Ground is as propulsive as it is truly palpable: The follow-up to 2020's These People EP sees London-based Talk Show leaning even further into (and embracing) their post-punk roots, creating a record whose grit and edge feel, for lack of better phrasing, undeniably cool. Whereas some bands who attempt this come off as standoffish or whiny, Touch the Ground succeeds at being a middle finger full of passion and purpose, cynicism and nihilism. To their credit, Talk Show own that aesthetic in all aspects of their art: The four-piece of frontman Harrison Swann, Chloë MacGregor, George Sullivan, and Thomas Holmes invite audiences to join them in their musical acts of defiance, but one also gets the sense that this band could care less what we do.
That's punk for you.
For Talk Show, this EP is quite a while in the making. "We had a whole batch of tracks ready to go and we decided to literally scrap everything and start again," Harrison Swann tells Atwood Magazine. "The old ways of doing things just didn't feel remotely exciting or as inspiring as they used to be, so we felt it was necessary to start fresh. Touch the Ground is what came from those ashes. We wanted to make sure it was fundamentally still energetic and dynamic, but we wanted to show a different pool of influences. Stuff we hadn't touched on before, but had essentially spent the entire pandemic listening to and referring to. Leaning into more '90s electronica, and trip hop just started to feel a lot more natural."
I feel it captures who we are and what we do, way better than ever before. To me it just feels like we've stopped giving a shit what anyone else thinks. It's a blunt cliché, but it's true.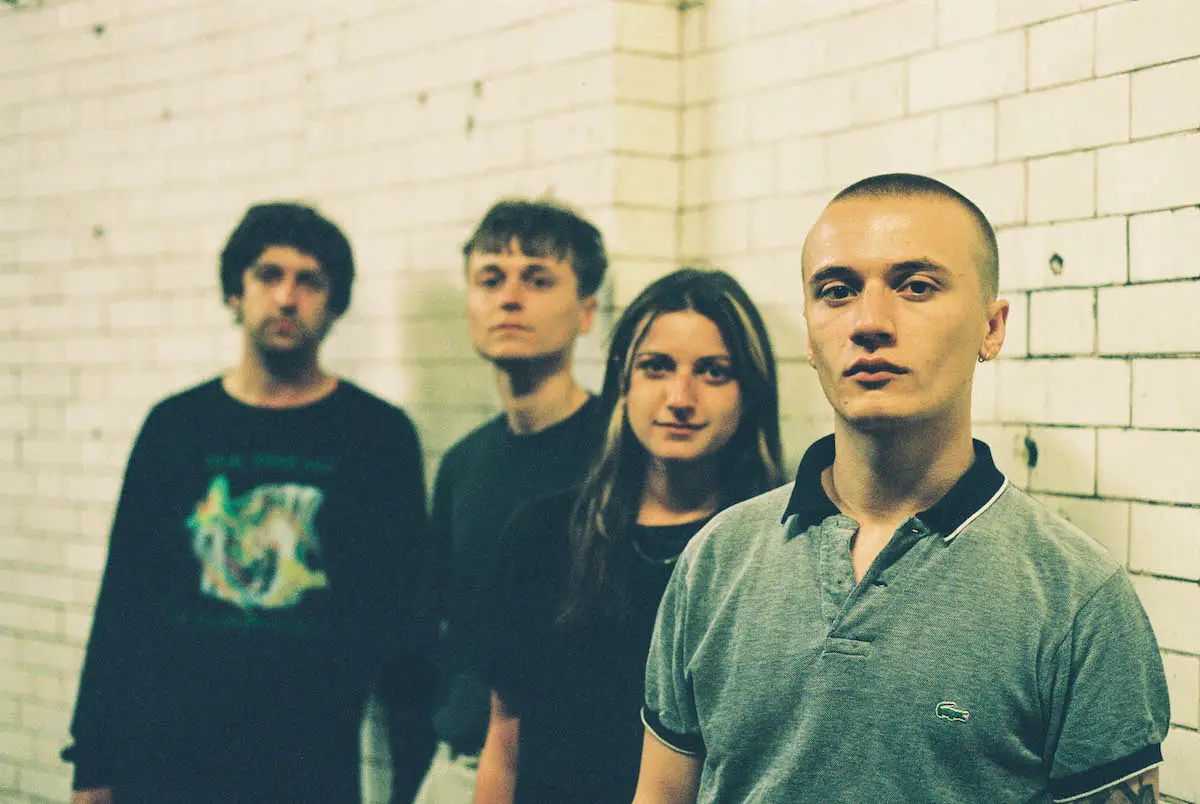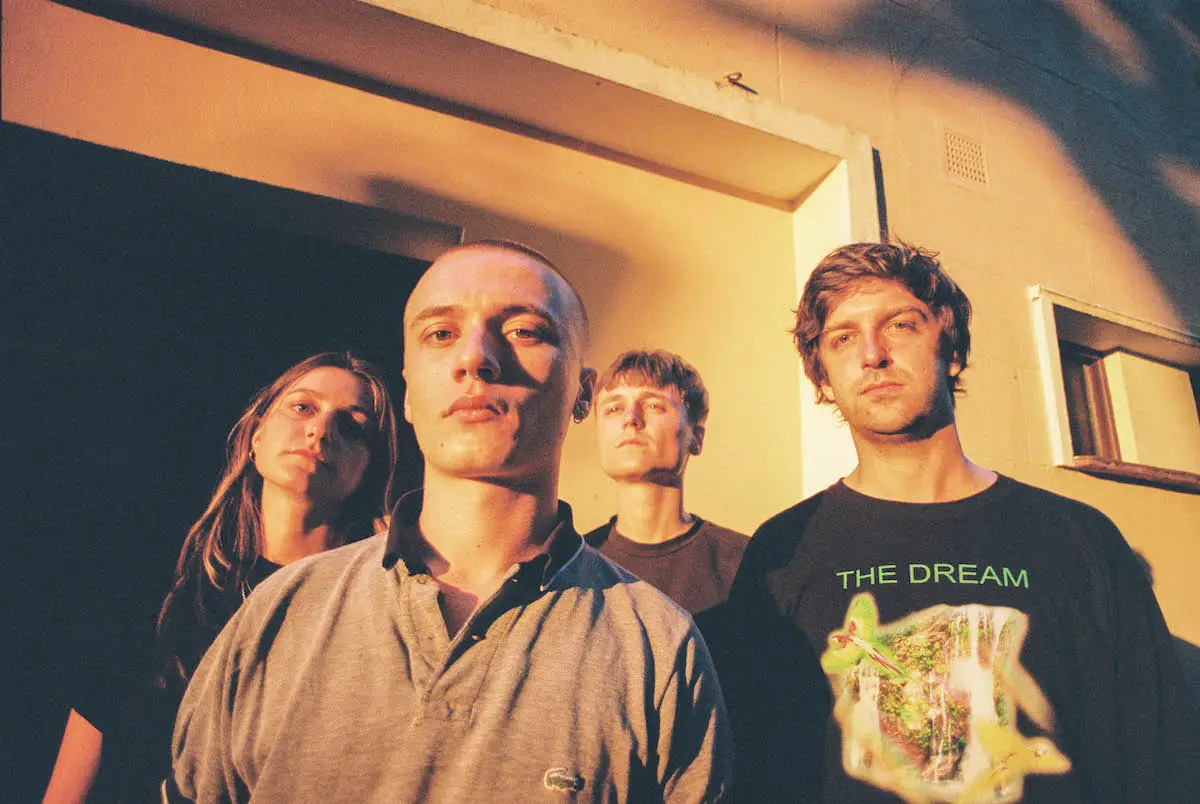 Talk Show named their EP Touch the Ground to reflect that return to the drawing board; that reinvention and resulting reemergence.
"It felt fitting considering we scrapped everything and started again," Swann says. "I kinda had the image in my head of when a sprinter steps up to the mark, just as they're about to take off."
From the moment the minute-long "Track 1" opens (repeating a line from the EP's standout single "Leather"), Touch the Ground establishes itself as a singular, evocative, enveloping wave of cutthroat sound. The dark strut and uncompromising fervor of "Underworld" follow in stride, with an intoxicating beat and hypnotic melodies reflected in every aspect of the track's arrangement and production. Atop the cool wash of industrial guitars and pulsing bass and drums, Swann's vocals are a blaze of searing fire; half singing, half rapping, he demands attention:
He said, she said 'Do you feel me daydreamin'?'
I said, you said all the things ya meant
Shows of force leadin' a horse to water
Shows of force leadin' a horse to hell
You think, I drink the darkest night
I only close my eyes twice
You sold your soul but ya don't need mine
I sing the songs, you say the lines
Underworld, under sound
Lately I feel it out
Underworld, under sound
Lately I feel it out
EP singes "Cold House" and "Leather" prove two indisputable highlights, both in terms of capturing the strength of Swann's voice and Talk Show's overall ethos and attitude, but not a second is spared on this twenty-minute record. "For the final track of the EP, we turned all the lights out in the studio, and just started making the weirdest sounds we could," Swann says of his personal highlight, the sonic upheaval "6." "I ended up just wailing at the wall for 10 minutes straight. It felt pretty cathartic to let the EP have this feeling of it all unravelling, blowing away in the wind."
As the band's principal songwriter, Swann has plenty of favorite lyrics that mean much more than meets the eye. "There's some lines here and there that I quite like, but they are kinda hidden or buried within some of the songs; they aren't always main hooks," he says. "It's because I know what they're about for me personally though, and I'm definitely not going to be telling you that ahahaha."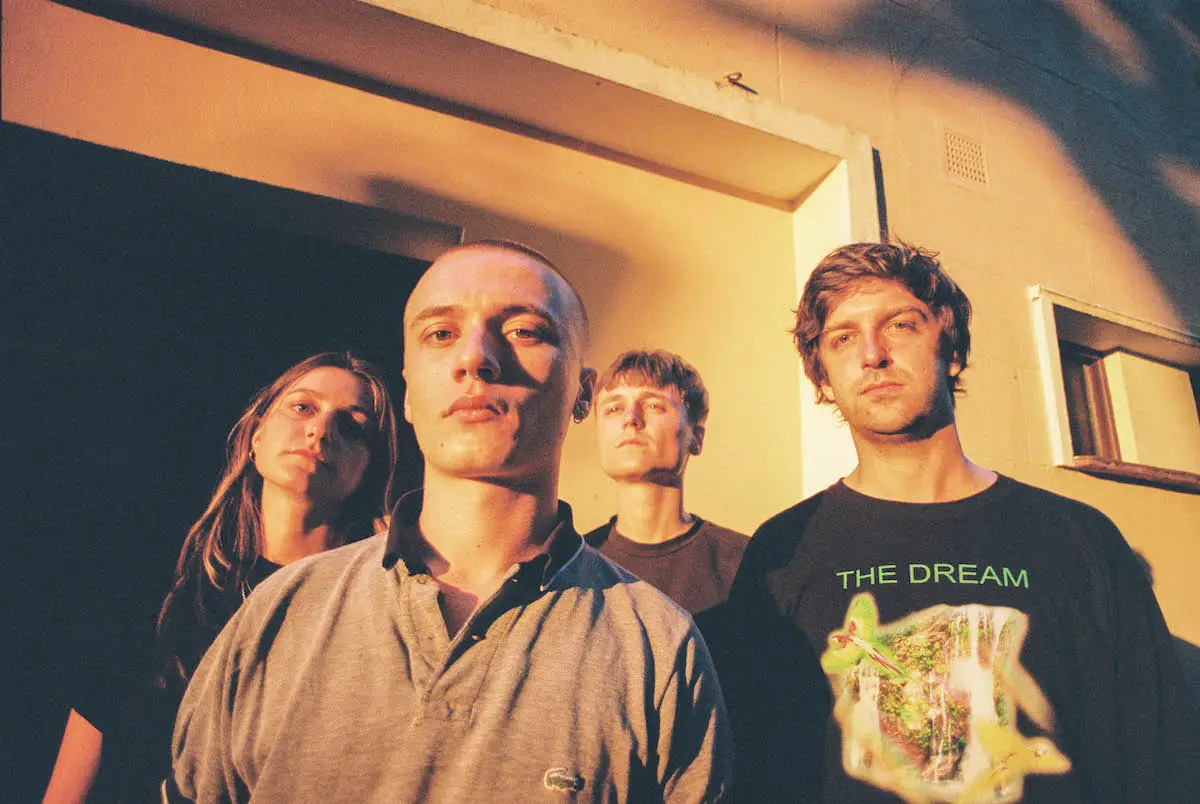 From end to end, Touch the Ground is a raw, raucous kiss to the sky.
Talk Show's unapologetic attitude proves irresistibly charming, making their record one of the year's indisputable high points.
"I just want people to enjoy it, take whatever you want from it, use it however you want," Swann shares. "Personally I've just stopped caring what anyone else thinks about me or my band. That's been the biggest thing I've taken from writing Touch the Ground. Maybe it can help someone else feel like that as well."
Experience the full record via our below stream, and peek inside Talk Show's Touch the Ground EP with Atwood Magazine as the band goes track-by-track through the music and lyrics of their latest release!
— —
Stream: 'Touch the Ground' – Talk Show
:: Inside Touch the Ground ::
— —
Track 1
I purposefully reused lines from 'Leather' as a repeating motif, to really set the scene of the EP. The laugh was a total accident but we kept it in as we kinda liked that it instantly added to the atmosphere, with a sneering tone.
Underworld
This was the first song we wrote having scrapped our other previous material. We tried to emulate a lot of 90s electronica records and had a bit of a 'eureka' moment. We talked loads about to trying to make something that sounded like the opening scene in 'Blade' where they're in that nightclub with all the vampires.
Cold House
This song came together really quickly, and we just focussed on keep the energy as high as we could. It's harking back to those 00s NYC bands, that just seemed to be having the time of their lives.
Dirt in the Keyboard
Lyrically it's the most 'storylike' but it wasn't an intention, I just let the words and lines go where they wanted to. I've never quite done that before with a track, so it was pretty freeing to just let the lines fall in place with the rhythm.
Leather
This is our favourite to play live off the EP. It all started with Chloe bringing in that breakbeat drum part and then we just ran away with it. Originally we imagined that it would be in two halves, to book end the EP as an intro/outro but when we played it in the studio, in full, it just felt completely sacrilegious to chop it up.
6
This was written on the spot in the studio. We wanted to give a little bit more, showing the atmosphere and world that we'd been trying to create, and so wanted an outtro track that felt like it was all finally unravelling, fading away like the end of a heavy night.
— —
— — — —
? © Stewart Baxter
:: Stream Talk Show ::
---