London-based rock trio Dream Wife talks about their debut album, female empowerment, creating safe spaces in their live shows, and misheard lyrics.
— —
Dream Wife are always on the cusp of change – whether that change is amongst themselves, with their music, or just about to go through a career-defining moment. The rock trio formed by Rakel Mjöll, Alice Go, and Bella Podpadec is a force of nature, delivering banger after rock banger infused with messages of female empowerment and incredible, slick guitar parts.
The band started as an art project when Mjöll, Go, and Podpadec met at art school in Brighton. The early days of Dream Wife included an extremely DIY tour of Canada, a drum machine, and a European tour powered by Megabuses and the three girls. Now, with the addition of a drummer, a label, and extensive tours around Europe and the UK (in a van and with a crew), Dream Wife is preparing for what will most definitely end up being world domination.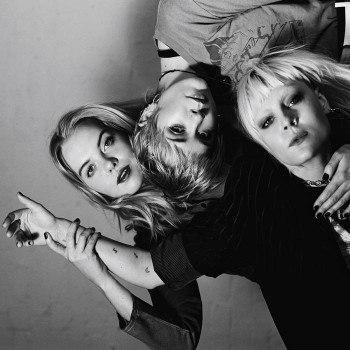 Their self-titled debut album comes out today via Lucky Number Music, and is a retrospective of the band's journey so far and what they say is "a snapshot of where we are at now". On opener "Let's Make Out", they chant for female sexual liberation with a coyness and honesty that is hard to come across – Mjöll commands and defies you screaming "Let's make out, are you too shy?". "Somebody" is their official anthem of female empowerment, with a march-like drum beat inviting you to join them and Mjöll's staccato and perfect enunciation of the song's most powerful line: "I am not my body, I'm somebody". Midway through the record we have what can consider the closest thing to a Dream Wife ballad, the dreamy "Love Without Reason", a romantic declaration which floats on cloud nine and is soaked with infatuation. And if you've ever felt like you've been put in a certain box because of your age, then "Act My Age" is the song for you. It's an incredible record, a powerful and rock solid statement which introduces you to the best of what one of the most exciting and best bands today has to offer, and will most definitely have you falling head over heels for Dream Wife.
Atwood Magazine caught up with Dream Wife on the week of the release, before their first show of the year in Brooklyn, where they were supported by Atwood (and Dream Wife) favourites QTY. We talked about their incredible music videos, safe spaces, the importance of their live shows, and how misheard lyrics play a crucial part in their songwriting.
Dream Wife – Dream Wife
A CONVERSATION WITH DREAM WIFE
Atwood Magazine: So it's a pretty big week for you guys! Tonight's your second ever headline show in Brooklyn at Elsewhere, then you have a slot supporting Sleigh Bells tomorrow at Rough Trade, and you run off to London just in time for your album release on Friday! How are you feeling?
Rakel Mjöll: Great.
Alice Go: It's a great start to the year, I think.
Rakel: This is our first show of the year.
Such a good way to kick it off!
Alice: It's QTY's first show of the year.
Rakel: Exactly, and they're wonderful.
Bella Podpadec: And the other band's first show ever!
Alice: Yeah! It's everybody's first show in some way. It feels good to be playing a rock show.
You recently released the "Hey Heartbreaker" video, which is different to anything you've ever done before and features you guys as cartoon characters in a futuristic world. Can you tell me a bit more about the video's concept?
Alice: We worked with Mason London, he made that video for us. It was nice to do something different that we hadn't done before. It's a different flavour.
Bella: We'd released the version of "Hey Heartbreaker" that was on our EP before, and had done a video for that with our friends Eleanor Hardwick and Sam Bullier. Now the song has this new release, it feels like a totally different song in a way – not totally different, but like…
Alice: It's more pumped up, isn't it?
Rakel: It sounds more like our live version.
Bella: Yeah, and it felt like an opportunity to do something new with the video and it was exciting working with an animator.
Rakel: But we've never met.
Alice: We're inviting him down to the release show so hopefully we'll put a face to a name.
Rakel: He spent two months working on this or something. So I'm envisioning him, like this hacker guy inside a studio, editing. He got so many interesting details! He did work very closely with the label and us through email. But it's the first time that we've worked with anyone creatively that we've never met. We did see his earlier stuff and we were so excited to have an animated video, an animated video is really exciting and a lot of work. Even critiquing it, if you critique it and you're not happy…
Alice: You have to undo everything!
Rakel: I hate it! A month's work down the drain.
Alice: It felt like an interesting, new bit of Dream Wife and the world.
Rakel: I really liked it, I think he had a really clear vision of what the band stands for, it was beautiful.
Did he just pitch it to you?
Rakel: One of our label people had been following different animators and contacted him after we looked through his stuff and were excited about it. So more animation hopefully!
That'd be awesome. "Hey Heartbreaker" Part Two.
Alice: Maybe just the full cartoon, the Dream Wife full cartoon.
Yeah, what happens after you leave on those motorcycles?
Alice: Yeah, where do we go? Maybe we go up to the moon and there's space travel.
Speaking of videos - you went to Iceland to film the video for "Fire". What was that experience like?
Alice: I guess it just didn't get dark.
Bella: It was one of the most surreal days. The whole day ended with us just stood on the side of the road with the box of crystals. The director and his assistant had gone back to Reykjavík and it was an hour out of town.
Alice: We were just hitchhiking back with this box of crystals. It felt like the video became reality.
Rakel: We had to return a car and then we ran over time, and we realized we needed to return it.
Bella: And we had a 6am flight the next morning.
Alice: It felt like we'd stood in the same story, like there's girls in a car in that video.
Rakel: It was funny. Then we hitchhiked back into town.
Alice: This really nice guy gave us a ride.
Rakel: It's really easy to hitchhike in Iceland. Also, it doesn't get dark so you don't get scared. It's 24 hour daylight in the summertime. And the video was quite easy to shoot because we didn't have to worry about the light, we were just shooting the whole day.
What I like about your record is that we get a glimpse of every phase of Dream Wife. With "Kids" and "Hey Heartbreaker" you guys take us to the start of it all with your first EP, then we have "Somebody" which is a big song for you, "Fire" which was on the latest EP, and finally songs like "Let's Make Out" and "Act My Age" which were made for this record. It's a cool snapshot of your journey as a band so far. I wanted to know how you decided on the final tracklist.
Alice: It feels like a snapshot of where we're at right now, in a lot of ways. There are songs, like you say, that have been around. It's a milestone in terms of where we're at, and I guess those are the songs that we feel represent us. It feels like a chapter in the story, you know what I mean? It feels like quite a specific set.
Rakel: And all the songs are worked on at the same time, so they have the same kind of vibe. It isn't the same song that was recorded two years ago or half a year ago, they are recorded at the same time, they're thought out at the same time. It's where we're at, and it's a good introduction to Dream Wife because it's our debut album and with that we just wanted to say hi. It's a way to introduce ourselves.
As you mentioned, you reworked "Hey Heartbreaker", "F.U.U", and "Kids" for the album, and I've heard you talk about how all your songs change all the time especially after you play them live. How do you know when the song has reached its final version?
Alice: We still don't, it's just the point we're at. It's a snapshot.
Bella: The songs are going to be different at the show tonight than they are on the record. The songs tonight are going to be the most present, real version of the songs. What's on record…
Alice: Is a snapshot of what we did at that moment.
Rakel: We just press record.
Alice: The songs still exist outside of that, they have their own lives.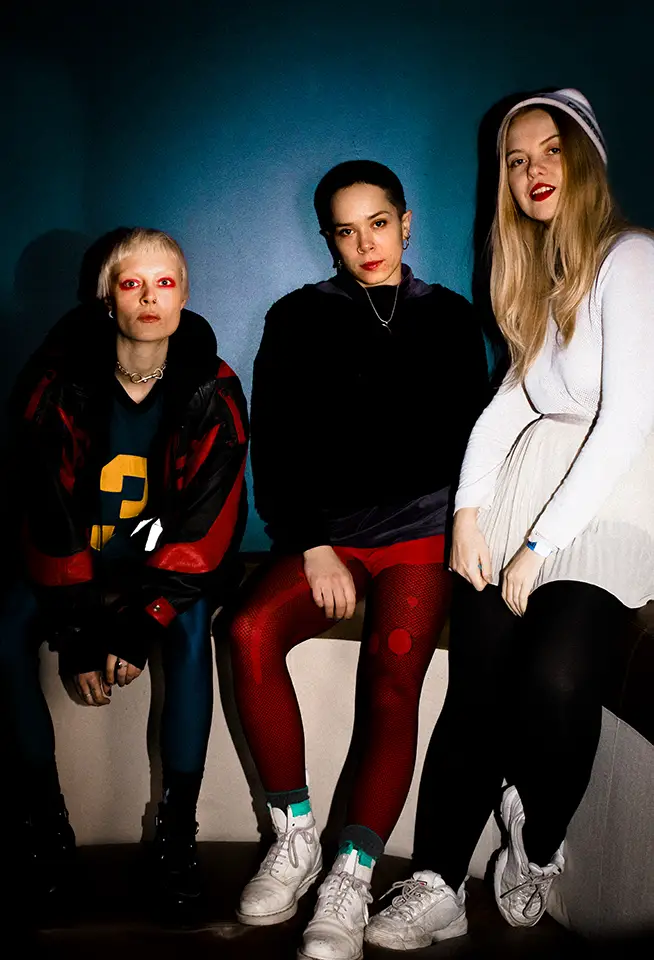 So in 30 years we'll have Dream Wife: Greatest Hits and they're all going to be different.
(Alice and Bella laugh)
Alice: You won't even recognize it.
Rakel: I mean, why not? I remember seeing Bob Dylan play a few years ago, and all his songs were in a different kind of formation so you could never know he was playing a song that 40 years old or 50 years old. And I thought that was really interesting, because wouldn't you get bored of playing "Tambourine Man" 50 years later, the same version?
Alice: It traps you in the past, almost, if you think a song wouldn't change. It's almost like thinking you won't change or your band won't change. It's ridiculous, isn't it? Not allowing for growth.
Rakel: And not being afraid of taking on different things. You don't have to be the same person with a tambourine in your 20s are you are in your 60s.
Alice: Songs grow and change with you.
Rakel: And also you discover something. Like Alice got a 12-string guitar…
Alice: We started working a few of the songs and using that in the live show, and it gives it a whole new – it's almost like it sounds on the record. It's about understanding as you go, being like "where is this right now?" and checking in again. It's a rock band. We want softer songs too. It's about not pigeon-holing yourself and not pigeonholing what your songs are too because they can mean different things at different points anyway.
Rakel: It's great. Like once she played the 12-string with "Somebody" live it was like "YES!". It's such a different sound.
Alice: Rakel used to do vocal loops and we used to have the drum beats coming from a random loop station.
Rakel: Before we got a drummer.
Alice: And the songs back then they were this whole different manifestation.
Rakel: We had one song that never finished.
Alice: What was it?
Rakel: It was "Spend the Night".
Alice: Oh yeah! Yeah!
Rakel: We were like "lets play it until we get bored".
Bella: And that song went on for 10 minutes.
Rakel: Nobody knew when it was going to finish.
Alice: We just played it over and over. (they all laugh)
Bella: The verse bit that we have now, it was all added. The song would just go round and round and it would get louder and louder and then it would drop.
Alice: We wanted to do a piece at the time where it was like we just play it all night.
Rakel: Oh yeah!
Bella: In the gallery!
Alice: We wanted to do "Spend the Night" and literally spend the night
That would be so cool!
Rakel: What if we do that at MoMA PS1? We would have a sleepwear party and play that song in pyjamas. That's what we're going to do. Now the album's out, now it's time to go back to the art project.
Bella: (whispers) The rock show sleepover.
Rakel: Spend the night… with Dream Wife!
In "Kids" you say "a phase is never just a phase, we all change in so many ways" - what phases did you go through individually or as a band, and how did that change you?
Rakel: That's a long story.
Alice: Wait, in our whole lives? Noooo!
Bella: The phases of our lives? How do we summarize it???
Alice: You're constantly changing, growing, and to be open to learning.
Rakel: Such a big question. When I sing that song, (mocks herself) "when I sing that song".
Alice: (mocks her) I change when I sing that song!
Rakel: When I sing that lyric, I mean, the whole lyrical concept of that song is to allow yourself to be present. And that idea of just acknowledging where you're at, whether it's good, whether it's bad, or whether you have no idea. "A phase is never just a phase, we change in so many ways" – it's about friends, people around you, being together. Like tonight we're with QTY, and it's wonderful.
Bella: I always thought the lyric was "A face is never just a face".
Rakel: Really?
(hysterical laughter)
Bella: And now I found out the truth it makes a lot more sense!
Alice: All this time????
Rakel: (laughing) It's about where we we're at at this moment. And especially when you're in a band, like two days ago we were in Paris with our friends who we love very much and we saw for an hour. This kind of like, just being there instead of being somewhere else, instead of being in your old phase, just being present. That's what that line is to me. But to Bella it's something else. "A face is never just a face" (laughing)
Bella: My understanding of that lyric was in the recognition of someone you love, maybe, and in their face (Alice laughs) and what that is. A face means more! (laughs) That's where the personality lies! That's where the person is!
Rakel: That's true! A face is not just a face! There's also this other line, we have been playing this song for a while…
Bella: Are you talking about "Lolita?"
Rakel: Yeah.
Bella: But "Fire" is called "Fire" because I misheard it! (Alice and Bella laugh)
Alice: A big part of our songwriting process is (simultaneously) Bella mishearing things.
Bella: (simultaneously) Is me mishearing things!
Alice: It's about miscommunication.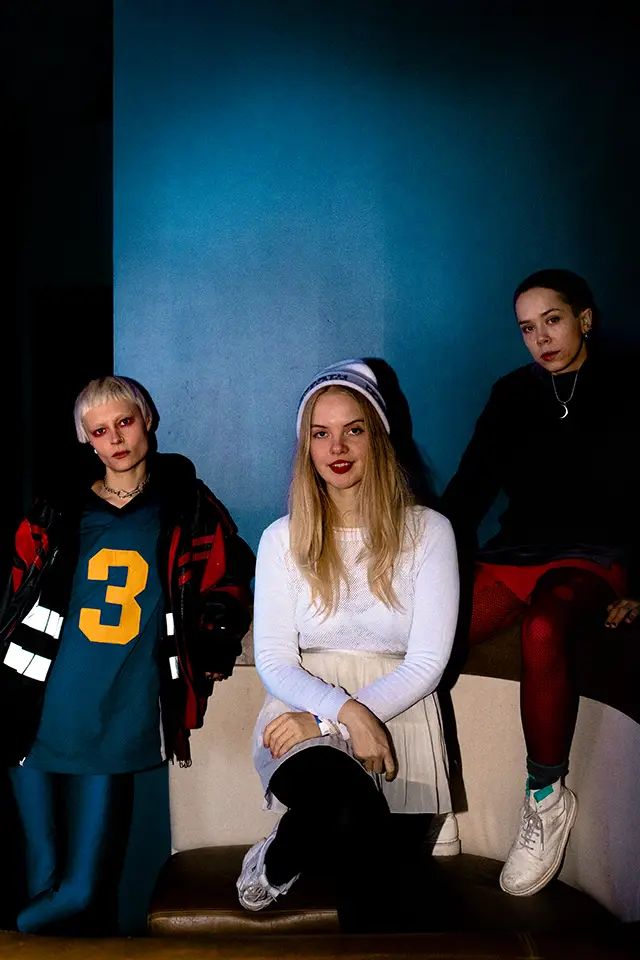 (Laughter)
Alice: Sorry, that's so fucking funny.
Rakel: So the song "Fire", I said "Do you remember last night there was a fight", but that doesn't make any sense, we were just trying some lyrics. And Bella was like (in a serious tone) "I really like this idea of the fire!" and I was like "That makes way more sense than fight!". And there was this other one, "Lolita" – that song has changed a lot, I don't even remember the lyrics of the first version – there's one line where I say "too hard to handle" or something?
Alice: Too sweet and too sentimental, too sweet and too hot to handle, too hard to handle.
Rakel: I said too hard to handle, and these two thought I was saying "too hot to handle" the entire time. And it was like (mocks an American accent) "I'm too hot to handle!".
Alice: It's the juxtaposition of too sweet but too hot to handle. That made sense to me in terms of like "I'm a woman and I'm so many things".
Bella: Yeah, yeah, yeah.
Rakel: I changed it because of this misunderstanding. Now I say too hot to handle.
Alice: Keep that song alive. (Pause) Because a face is never just a face. (Hysterical laughter again)
Rakel: So deep. That's quite an old song too. There's one song called "Everything" that's pretty sweet. I wrote that about you (points towards Alice) when you broke up and were really down.
Bella: To have a song that's not only about romantic life.
Alice: It's about friendship.
Rakel: And I was like "Alice, I wrote this song about 'tomorrow is a new day, and your friends are your true love'" and guess what, years later, we're still married!
Alice: Sometimes songs come true!
What is the story behind "Act My Age"?
Alice: I feel it's one of the many shades of the album. Rakel's lyrics in the whole album are about showing so many different faces of a woman. It's got sincerity to it. It's like "Do I amuse you? Do I confuse you?", I'm still standing here doing this. There's something about that that is in the sentiment of the album.
Bella: In terms of the way the song flows as well, I think it has one of our most pop, sweet sides and one of our most heavy sides. It's that juxtaposition, that song has many forces pulling it.
Rakel: That's quite Sleigh Bells inspired. We did that tour when we were writing that, right? I love how Sleigh Bells has like this soft, soft, soft, ahh!!!!!, soft, soft, soft, ahh!!!!! That kind of vibe. I really like that. With "Act My Age", it's about the many faces of a woman but also being expected to act a certain way. Being expected to always be nice.
Alice: It's that thing of the phase again, isn't it? Just be where you're at without expecting anything. Would you say there's a parallel of that?
Rakel: Well…
Alice: Sorry! It's an interview within an interview.
Rakel: With that one it's more about you finding your way of life within yourself and within your group. With "Act My Age" it's more about people commenting on your life.
Alice: The exterior expectation.
Rakel: Wanting to pigeonhole you. Especially when it comes to age, like "At this age you should act like this, at this age you should act like this" which is ridiculous. And also, we only have this one life. Do exactly what you think is right for you. You're still a teenager in your 80s, my grandma's still a teenager. So all this stuff, you don't have to be restrained to the face that you're sweet and sixteen, or you're mature and you're 25, these expectations especially put on women.
Alice: It's absolutely stereotypes of where a woman should be at….
Rakel: And at what age. It's weird. It's really weird. And I think that song starts sweet, it's really sentimental, the lyrics are "I tell you I'm a little bit afraid/ You tell me I should act my age/ Well I guess I am", like how else am I supposed to act? And "You say I mean the world to you/ But you can't really see this through/ Well I guess I can". It's a conversation. Then comes "Do I amuse you? Do I confuse you?" and that's scary. It's fun. We wrote that because when we play "F.U.U." live, the faces of the audience members – especially men – change. They're not sure how to act. They're like "Is she going to rip my throat out? Or am I really turned on? Should I walk away?". Yeah people have said some really weird stuff to me after that song, so I guess it's just another thing, people don't know what to expect of us. Wow, we put so much thought into songs guys.
All your songs seem very situational. When I listen to your stuff I imagine you went through something and then went home and wrote about that specific event. Is that how you write?
Rakel: Yes, some. "Somebody".
Bella: They're often amalgams of real things. Maybe not triggered by one particular event, maybe I'm not aware of a song that's been triggered by one specific event.
Rakel: They're written in all sorts of separate ways and come together. Different lines come together.
Alice: I think also the way you write you manage to make this really concise voice, actually it leaves a lot of things in. It's other people's experiences as well. It's not just speaking for us three or just for Rakel, there's a lot in there that's about friends, about people, inside that story. It's hard to summarize.
Rakel: It's not a breakup album.
Alice: It's about our friends as well, even lyrically. Hopefully there's something for everyone.
Rakel: It touches on a lot of gender without realizing it. But also, you write what you know. And what we know is that we are in our 20s and living in a female body. And then we have friends that experience different stuff and that filters through your writing. But yeah, definitely not a breakup album.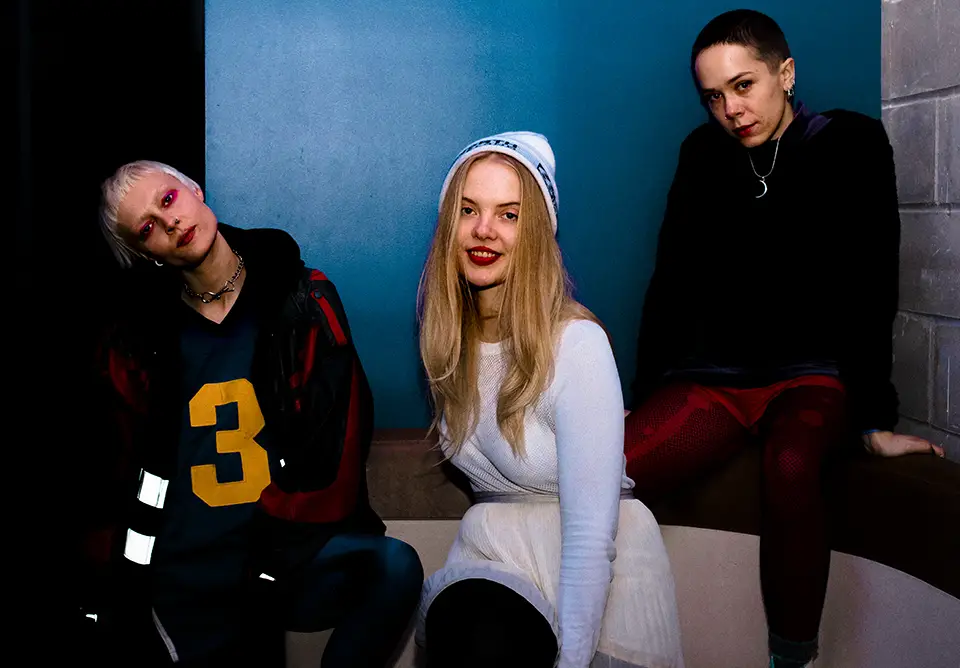 It doesn't sound like one.
Rakel: But it can still be sad.
Yeah. But if that's a breakup album then I feel sorry for whoever broke up with you.
Rakel: Oh, trust me, they all do. The best revenge is to start a band. Do you know why? Because it's not about them, it's about you. Like the song "Everything".
Alice: You've got to ride your own wave.
Rakel: You've got to ride your own wave, you can't stick to someone else's.
Your fans are clearly very important to you. You do a lot to interact with them, like putting them in your videos and you did the prom at Scala.
Rakel: Yeah! We put 20 people on stage to make out. It was awesome, they went for it.
Everyone seems to go for it in your stuff!
Rakel: It's because they feel safe. It's a good vibe.
I wanted to know how you view your relationship with your fans and what role that plays in your band as a whole.
Rakel: Well if we didn't have any fans we'd be playing to… It would just be soundcheck. We're a band because great people come to our shows.
Alice: What we're trying to get on this debut, it's all about our live show. The live show is the truest manifestation of this project in some sense, it's a conversation with the people who are there supporting you, coming out and actually engaging with this thing that's bigger than just us. It's about everyone being there together and sharing that energy. We wouldn't be doing this without these people, we definitely respect that. And having quite a lot of young girls coming to the shows, having safe spaces and promoting that in whatever respect at our shows, it's important to have this conversation and people can engage with us with these things too. It's solidarity, hopefully. It's a thing for them. We're all on the same level. We wouldn't be doing this if it weren't for these people coming out, we're so thankful for that.
Rakel: And if you're not thankful for people, then you're just egotrippin'.
Bella, you made a little zine to go with the limited edition of your record. Tell me a little bit more of what we can find in it and why you chose to make it?
Bella: It's loosely based on something that happened at the end of our first tour. I don't really remember how that came about, I was making a lot of comics at the time, so it was like "I can do one for Dream Wife", sure. It was nice to think about it in a different way.
Rakel: It was also very similar to some of our lyrics. When I was reading through it, like nothing really happens but at the same time that's the whole point.
Alice: Like looking back at a moment in time.
Rakel: But also manipulating it too. Like memories aren't all true. But it's about us breaking into a pool, which did happen. It's just a nice time breaking into a pool.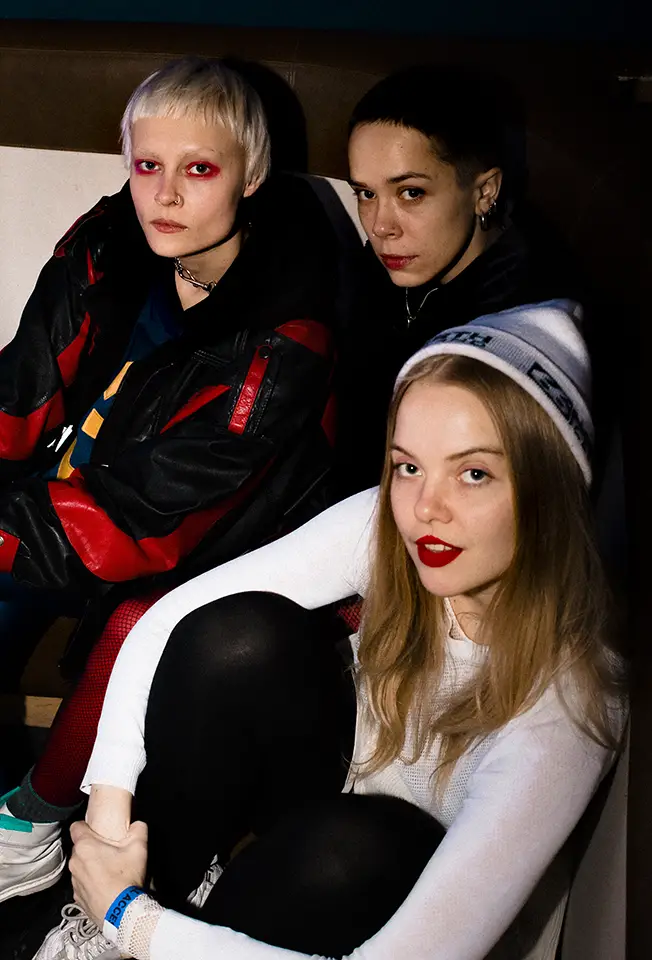 Did the message of female empowerment come as soon as you started a band or did you choose to champion this cause after you realized you had a platform and people could and would listen to what you were saying?
Rakel: Both. I mean, we chose the name Dream Wife before we even played a note.Just through being in this band we learned a lot, also moving to London and meeting different people. We were educating ourselves.
Bella: And the more it felt like there was something to speak about and something to change.
Alice: At the start we were touring by ourselves and doing our own sound, around Europe and stuff. There was this solidarity. You do come into contact with misogynistic people in bigger ways or smaller ways because we were three women doing it ourselves and you just see that. We were understanding it through doing it.
Rakel: We also didn't realize there's quite a lack of bands that are similar to us. Like having this unapologetic approach to making rock music that happen to be female. And the more that we realized that, the more we wanted to encourage people to do that. To not be in one genre but also to tackle rock. And now we're very into safe spaces because just through playing shows and audiences growing, and ages changing too, playing to younger audiences – in England you play to 14+ audiences – and then you understand what you felt like going to shows when you were 14 years old. And you understand all that was fucked up during that time that seemed like a social norm.
Bella: And wanting to take responsibility for that. Being in a position where you can do that sort of thing, people are coming to your show and it's your job to make sure they have a good time in every way.
Rakel: But also to make it known you're invincible as a woman, you can do what everyone does. If you want to play an instrument just pick one up, you don't have to assert yourself to a certain boys club. And you also don't have to deal with fucked up shit at concerts.
What's your biggest dream as a band?
Rakel: Alice got hers today.
Alice: We just got 5 stars from NME for the album so that one's ticked off the list, yeah. I don't know what to say, it's a pretty big deal.
Rakel: It is a pretty big deal isn't it? Five stars!
Alice: It's what you wanted when you were a teenager and that just happened today.
Rakel: We were on the cover of NME as well!
Alice: See, you know what I mean? It feels like dreams are coming true every day right now. I just hope people love the album.
Bella: Being in a position where we can release an album that we're really proud of, with a team that we love. That's the dream isn't it?
Rakel: Do we have any more dreams? The dreams add on.
Alice: Now that Bowie's dead and we can't write a song with Bowie, what's left?
Rakel: Madonna.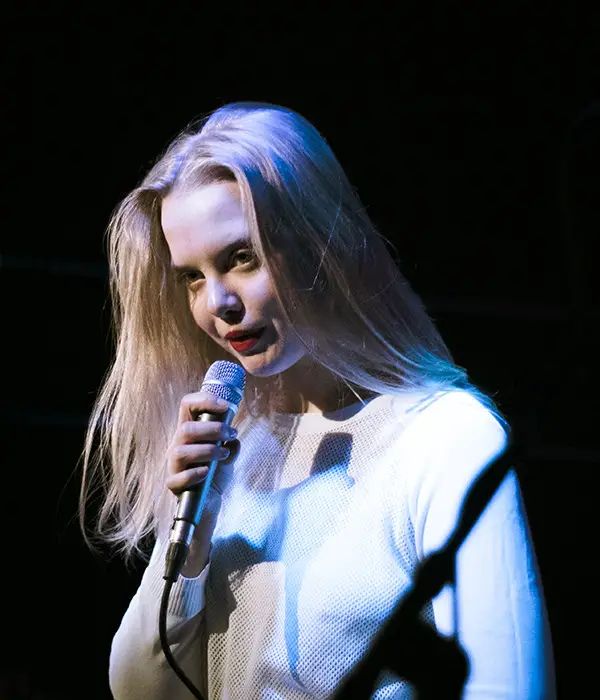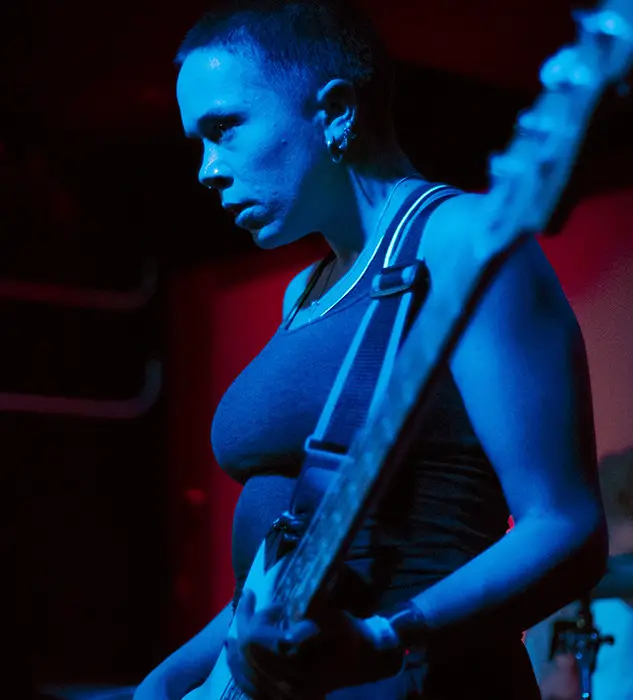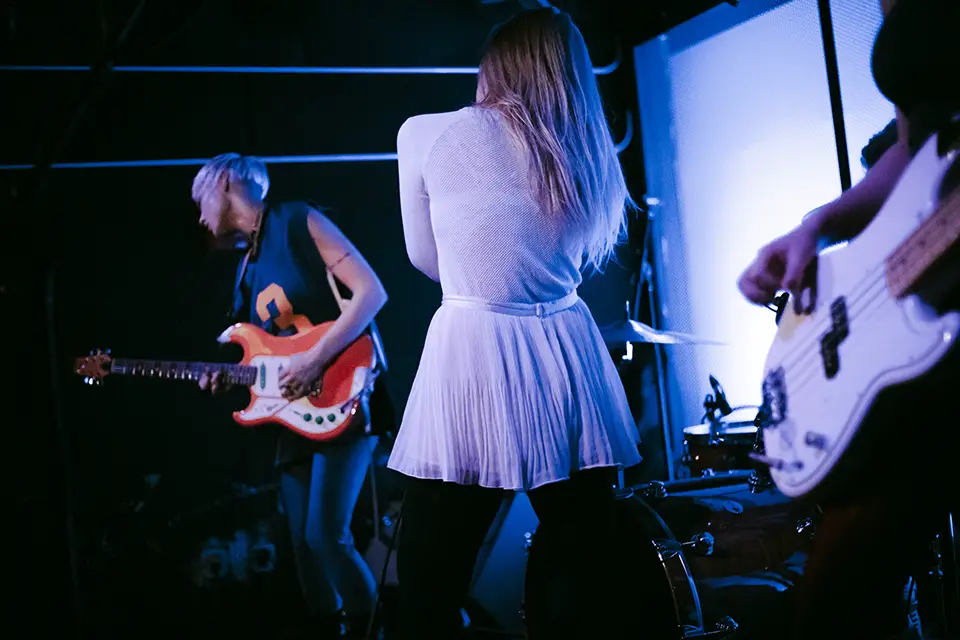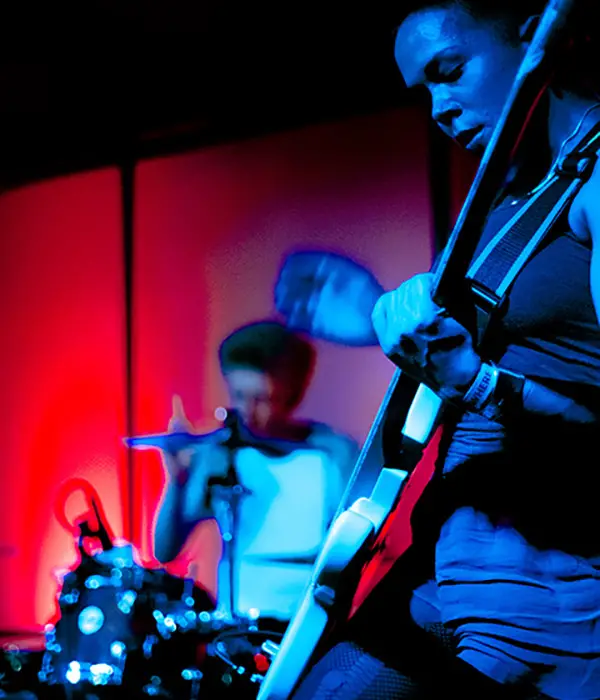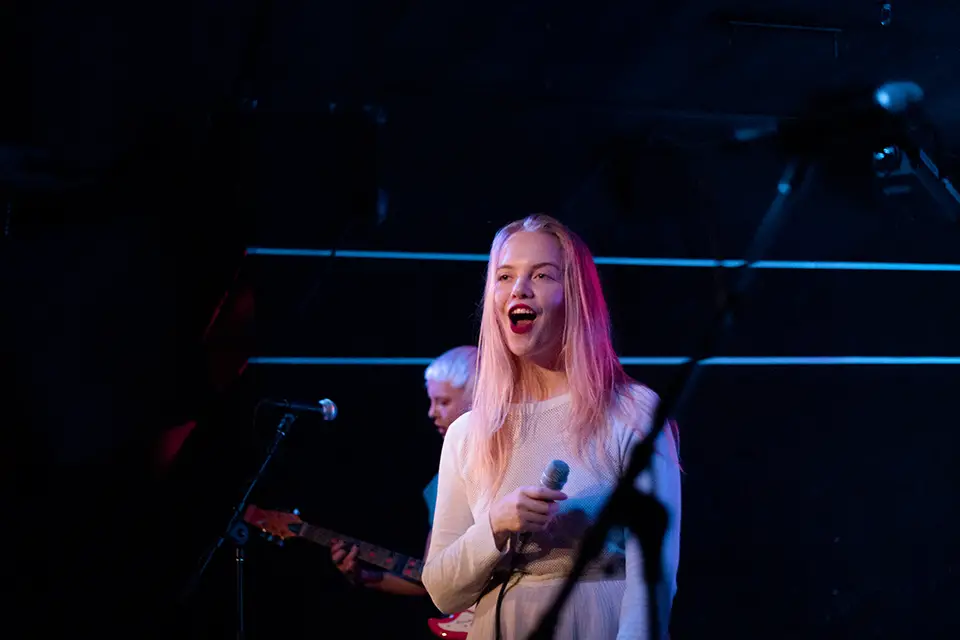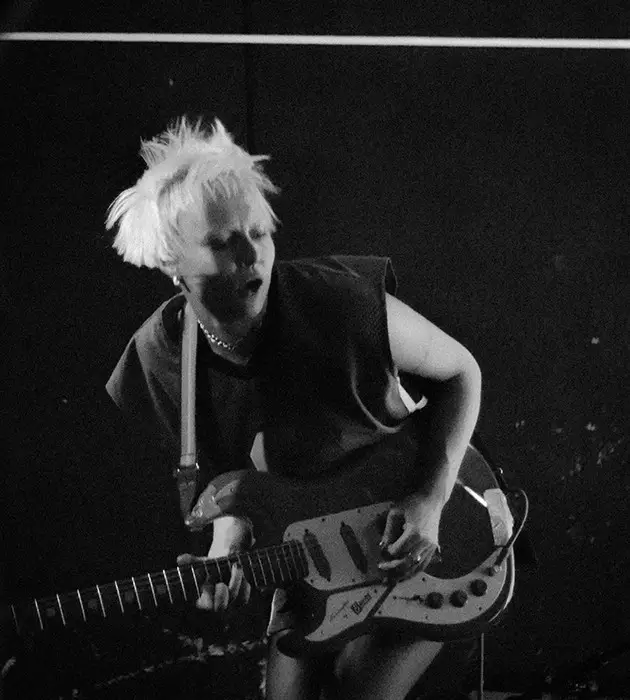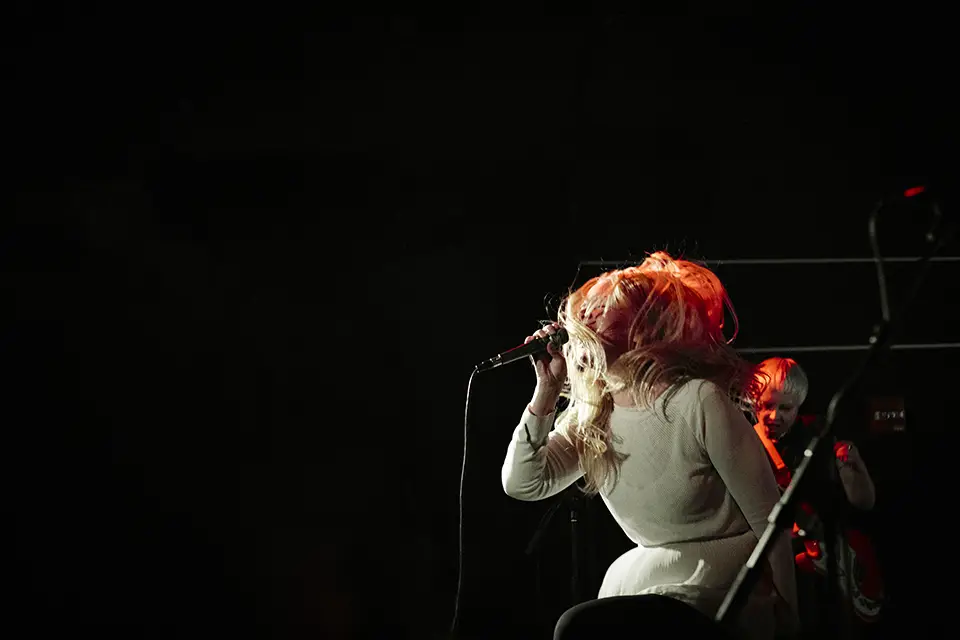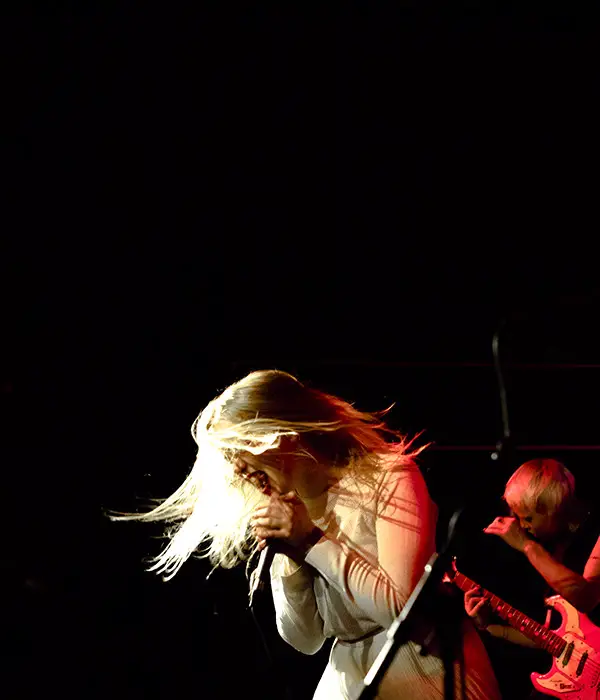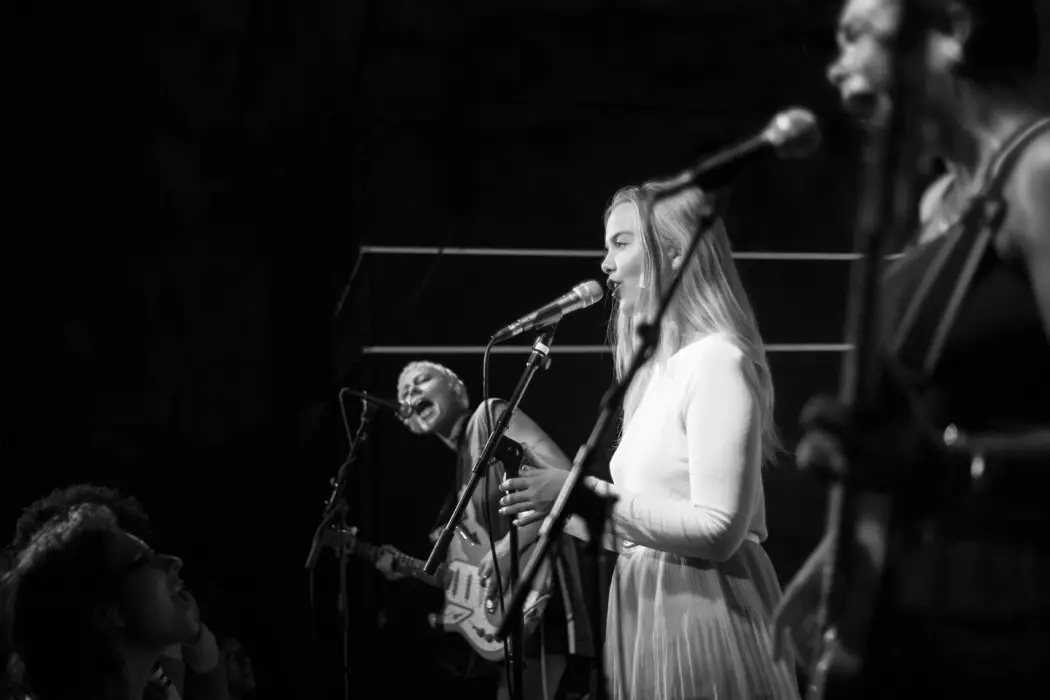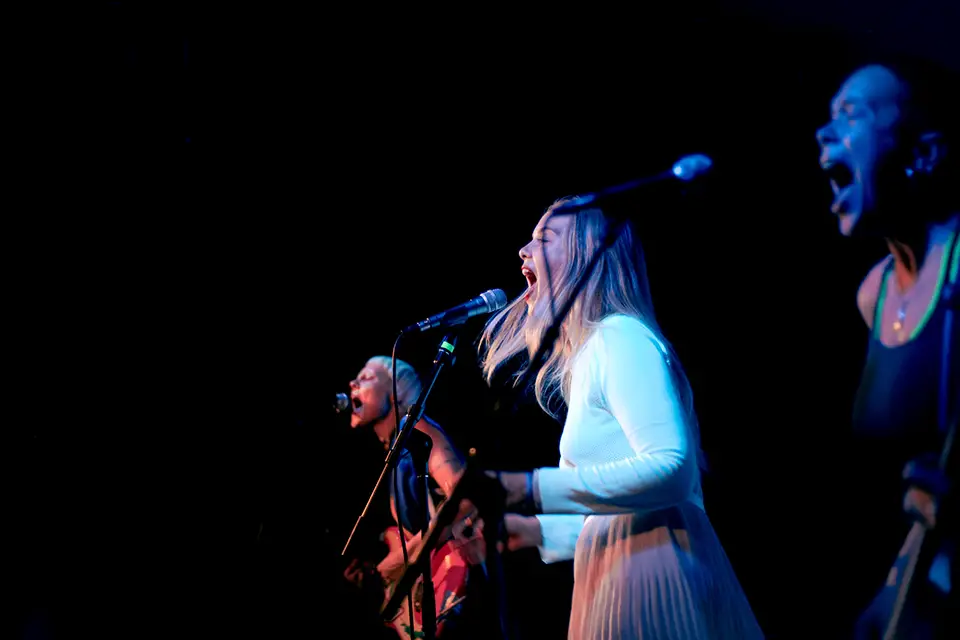 — —
— — — —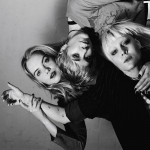 ? © Nicole Almeida


:: Stream Dream Wife ::