Tiffany Jade blends smooth Jazz and R&B to create the warm and seductive sounds of "It's Fine" feat. Josh Mosier.
— —
Today's artists are continually transforming sounds that blend genres together to create a new breed of music. They've chosen to step outside the confines of already defined genres in order to create their own. Bay Area native Tiffany Jade has done just that on her latest single "It's Fine," (feat. Josh Mosier) a slow burning fusion of smooth R&B, Jazz, and Pop.
"It's Fine" – Tiffany Jade ft. Josh Mosier
---
Atwood Magazine is proud to be premiering "It's Fine (feat. Josh Mosier)," the second single from singer/songwriter Tiffany Jade. Now based in New Orleans, Jade has used the culture of the different music scenes she's been surrounded by to her own advantage. She's put a refreshing, youthful spin on genres that are slowly becoming obsolete, enabling her creativity to be a limitless device. In her latest single, a lush guitar opens the track and is soon accompanied by a slow-tempo beat, followed by Jade's seductive vocals. A silky saxophone brings in a soulful, light, and luscious quality that makes you want to move and groove along to every note. The chorus is a catchy proposition for a suitor to join her on a stimulating adventure:
Come away with me,
Ride the wave with your body.
Come away with me
The blue water got me feelin' free.
Jade's carefree lyrics in conjunction with her soothing vocals are a convincing plea to sail away with her wherever she wants to go. The soft, succulent tones produce a picturesque scene that she wants someone to join her in. Josh Mosier then enters with a suave, enticing voice: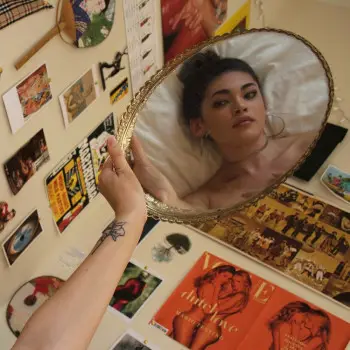 Come away with me,
Expand your mind and your thighs for me.
We can make this a fantasy
Only if you believe,
Only if you can see,
Into my galaxy,
Where we can be just you and me.
Mosier is persuasive as he invites his admirer to leave all of their worries behind and drift away with him. Together, the two vocalists have created a seductive and alluring universe for people to get pleasantly lost in. Co-produced by Samwyse, R. Swain, and Josh Mosier, the track is a bright, chilled-out, jam that doesn't let its Pop elements overpower its sleekness. 
Tiffany Jade is making music that's reminiscent of artists who've also taken to genre-bending instrumentation, like Hiatus Kaiyote and FKJ, while her voice adds an R&B songstress element similar to that of Jamila Woods and Ari Lennox. Having already been an opening act for Azealia Banks, Tiffany Jade is gearing up for a year full of brand new music and live performances in 2018. With a track as magnetic as "It's Fine," you'll be sure to want to follow her wherever she goes.
— —
— — — —
photo © Tyler Roi 2018
 art © Tiffany Jade

:: Listen to Tiffany Jade ::