Natti Vogel's indie pop anthem "I Don't Wanna Find the One" explores a number of themes of dating in 2017 while refusing to settle into a mundane relationship.
— —
Every now and then an artist comes around and modernizes classic pop sound with a sense of musical theatricality-think Bowie, Lady Gaga, even Panic! At The Disco.  New York cabaret artist turned pop-singer Natti Vogel falls in this lineage and provides a refreshing take on both pop music and modern romance in "I Don't Wanna Find The One."  Vogel, with his upcoming Serving Body EP (independently out 1/20/2018), is definitely someone you'll want to keep on your radar.
What a marvelous soirée
I've never seen a scene quite so scenic
We're the life of the party, you & I, they say
Like they mean it
But if they wanted to connect,
if they wanted to inspect, then they'd do it
Instead of trying to convince us
that they're fabulous, we're fabulous
"I Don't Want to Find the One" – Natti Vogel
---
Atwood Magazine is proud to be premiering "I Don't Want to Find the One," the latest single from Natti Vogel. The first thing that's immediately noticeable about "I Don't Wanna Find The One" is how incredibly fun it is: The bright, staccato piano pounding through the track sets a tone and a sense of anticipation that's only freed once the chorus explodes with Vogel's soaring voice and horn section. Vogel's vocals are delivered with a snarl of someone who's on the prowl for the next person that's going to end up in his bed.  The chorus is one that's hard to resist singing along to. From the catchiness of "I don't wanna find the one" to the growling hubris of "it's just an idiot fantasy," Vogel takes a simple lyric to a Broadway level of grandiosity in his delivery. It's undeniably sexy in the way that great pop music makes you want to put on your Sunday's best, go out, drink fancy cocktails, and flirt.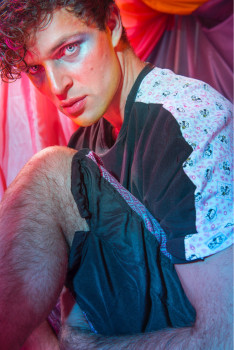 It's all just sticking to my tongue
sticking to my mouth
gotta get it out before I choke
I don't wanna find the one
That's just an idiot fantasy that we're waiting on
I don't wanna find the one!
Isn't love enough?
I don't wanna find the one
Vogel's lyrics explore a range of millennial dating habits.  Whether it's newfound excitement ("I'll admit that when I met you, I bet you would get to be a habit"), a clinging lover ("But now you hate to be alone, hate the sound of my phone whenever it's ringing"), or cuffing peer pressure ("Instead of trying to convince us that they're fabulous, we're fabulous"), Vogel explores it.
On the song, Vogel says, ""I Don't Want to Find the One" is a soaring anthem of freedom from the pressures of permanent coupling. Our 'Couple Cult' is people asking singles who they're seeing more than they're asking if couples are bringing out the best in one another."
His chorus sounds like an active rebellion against settling down with one person for the sake of settling down.  He reaffirms this in the final verse: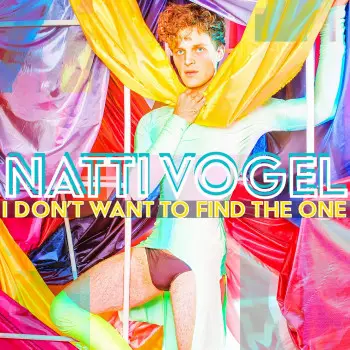 Love is so much better when you don't put pressure on it
and don't expect it to be everything at once, 'cause
It's such a gift to give it, to take it, to make it
Oh, I wouldn't trade it for a ring to rule your heart
Even though the song disguises itself as a cocky song about not settling down and continuing to live as the life of the party; it's more so a song about not staying with someone that you don't want to be with.  Love can be fun and temporary.  It doesn't need to be this long and everlasting existence; love can be as brief as a fling or a one-night-stand.
Natti Vogel's "I Don't Wanna Find The One" can be a defining moment for the indie-pop New Yorker.  It's equal parts catchy and dramatic.  It's also a vastly complex song that seems so simple upon first listen.  It's incredibly rewarding to listen to over and over, and Serving Body is sure to be the same level of fun and engaging.
Those in the New York area can catch his unique live show Monday, 11/20 at Pangea on the Lower East Side. Grab tickets here before it's too late!
— — — —
photo © Haley Varacallo
Couture © Jorge Koubbe
:: Listen to Natti Vogel ::