Irrevery flip outlaw-country on its head by bringing raucous energy.
— —
To call Brooklyn's Irrevery any genre really does them a disservice, as they also dip into writing and art – but the music really is attention grabbing, especially their alt-country "Desert Song."
To describe Irrevery as "alt-country" is really also a disservice; "alt-country" has come to be synonymous with artists that preserve a more traditional approach to country while maybe tying some rock music to it – think Blood Oranges or Jason Isbell. Irrevery certainly maintain the Americana and outlaw aspects of classic country, but they have little in common with other alt-country artists. Sure, there are outlaw themes to their lyrics, and some influence from the likes of Johnny Cash, but there's more Joan Jett (with a touch of Primus) than Jimmy Dean. They've created a truly unique form of alt-country that separates them from any of their contemporaries.  hey also managed to make a video that's equal parts cartoonish and unsettling for their debut album's "Desert Song" – a blast of punk energy to the outlaw-country genre.
While I keep on hoping,
You build our love its casket
And if I'm foolish enough to ask after it,
Shield your eyes from this box of pine
And sing me,
Tender, tender,
"Everything, everything
Is gonna be just fine."
Listen: "Desert Song" – Irrevery
---
Atwood Magazine is proud to be premiering Irrevery's "Desert Song." The whole of the track is built on a driving rhythm and unsettling scales. This instrumental, paired with Paige Johnson-Brown's foreboding vocals, is absolutely sinister but in a silly way.  The arpeggiated guitar notes throughout the verses also hit in the right way to strike up a sense of doom. The screeching guitar solo takes a blues-rock approach, shredding on a treble-heavy guitar tone.  It's a much louder, more abrasive fusion of punk and country than one would expect.  The video enhances this tone with the smiley-faced character-the villain.  The smiley is often seen digging or holding a literal heart. Much like the transgressive nature that it's used in The Watchmen or by Nirvana, the smiley face is supposed to make the viewer uncomfortable, echoing the sound of the track.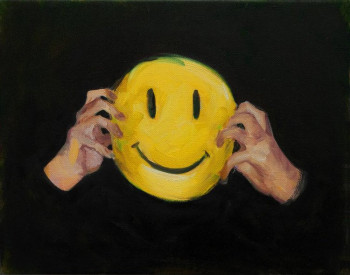 Johnson-Brown plays the video's protagonist and her distinct vocals definitely are one of the primary focuses of the track.  "Desert Song" is both a song of survival and of abandonment, making the burial-ending fitting, and Johnson-Brown tries to retrieve her heart from the smiley-faced foe.  In true outlaw tradition, she's tough as nails:
Tie me up with string
And fucking pump me full of lead,
I've got a shotgun for a mouth
And a bullet for a head.
Well maybe it would all be
better off if I were just dead.
She sings these lines with the confidence of a battle-rapper.  Her love may have left her in the desert, but she can still fend for herself with reckless nature.  She's angry sounding, but balanced.  As the track ends, she growls at the top of her lungs, "It's too fucking late for my heart" over and over.  It's attention-grabbing as it's juxtaposed against her cool nature throughout the rest of the song.  It sounds like a release, screamed literally from the middle of the desert when there's little else to do, except hang in there.
Paige Johnson-Brown describes the band's song thusly: "Desire is an exile, a desert that traverses the body. Never an individual exile, never a personal desert, but a collective exile and a collective desert."
Irrevery's debut album Irrevery Volume I is out November 19, and it really shakes up the worlds of so many different genres.  It's sure to be an indie favorite for those seeking something loud and unique.  It's equal parts intense, fun, and different-a true breath of fresh air.
— — — —
photo © 2017
---