Backed by a slinky guitar riff, pounding drums, and vocals that are equal parts Josh Homme and Black Keys, Electric Palace's "Pretend" will make you sing and swagger.
Listen: "Pretend" – Electric Palace
---
We've all had that one friend with the two faces. When you're hanging in the pub having a pint they're a great laugh; You couldn't wish for a better bud. But later when you've headed home their true self comes out. And it sure isn't pretty.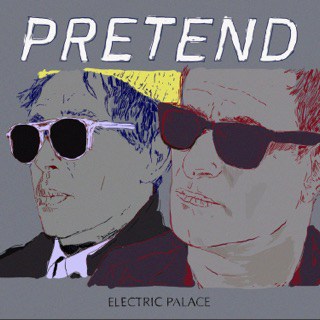 Electric Palace's new single,"Pretend" captures these two-faced monsters perfectly- from their sly way of communicating to the smug way they think they've got everyone fooled. You know who I'm talking about- every friend group has had at least one of them, at some point. It's the kind of person the band describes via email as "So nice to your face, but cold and calculated behind your back. They know exactly what they're doing. Yet they act so innocently about things too."
Now it's ringing a bell if it wasn't before, right?
The bi-coastal duo, consisting of guitarist TJ Rosenthal and drummer Joe Zdaa, previously released an EP under the name Monk Tamony in 2016. With an album on the way this spring, "Pretend" is a just a taste of what promises to be an uplifting yet vicious debut.
Starting with a slinking guitar riff and pounding drums, Electric Palace hit the ground running with an enticing rock'n'roll beat. The vocals are equal parts Josh Homme and Black Keys, making you want to sing along and swagger at the same time.
Cutting people down
Going over and out
Is how you think a deal should be done
It's the only way to go
If you wanna get somewhere
Yea but don't you think you're jumping the gun
After a beat of silence, the chorus lands with a whole new level of intensity- along with a repeating piano note that hones in the focus and rounds out the sound. By this point you're completely hooked and ready to go kick that friend out of the group.
But wait, you're not even halfway through.
Give it one more verse and chorus to have you desperately baying for blood and the song makes a subtle change. There's an abrupt drop in tempo and an organ kicks in. For a second it has the feeling that there's going to be an old school all out 1974 Allman Brother's solo competition but it's just a brief two-bar interlude for you to catch your breath and curse your foe before launching into one last verse and a blood-simmering finale.
When we're face to face
There so much I wanna say
But I keep on biting my tongue 
When the lights are low
Yes I bet you're so much different
So don't think you're fooling everyone 
You can look away
You can go pretend
But when you're by yourself
I Know you think about it
You can look away
You can go pretend
Ahhh Ahhhh
Let "Pretend" be you new anthem to build up your life and take down these frenemies, all while making you dance.
Listen: "Pretend" – Electric Palace
— —

? © 2020

:: Today's Song(s) ::
:: Stream Electric Palaces ::