Young, wild, and brutal; or rather, Total Brutal. That is Emily Moore's new solo project, and Atwood Magazine is proud to present her uplifting third single, "Egypt."
Stream: "Egypt" – Total Brutal
---
Between the pandemic, economic and environmental crises, people's hopes for their future fades away and is replaced by an anxiety that is becoming endemic. Sometimes, however, you'll find a little ray of sunshine that, despite everything, believes in a better future and tries to give hope to others. This is what Total Brutal, Emily Moore's indie pop solo project, aims to do.
Although the name may suggest otherwise, Total Brutal presents itself to the musical world as a spokesperson for self empowerment and seeing the world from a child's point of view. There is a twentieth-century Italian poet called Giovanni Pascoli, who talks about the so-called "Fanciullino" (translation for "Little child"). As the name suggests, Pascoli affirms that in every person there is a "little child" who lets everyone see the world with wonder and enthusiasm, rediscovering excitement for their lives  and for the future. This mirrors Total Brutal's philosophy perfectly, especially in her latest single "Egypt" – coming out on November 20th. Atwood Magazine is extremely proud to premiere it today.
Kids at school holding their history books
Chewing gum and passing time
Ancient Egypt and the pyramids
Anacondas and the Nile
Didn't want to believe it
Now I see it
The world can look so mild
Had to learn to retrieve it
All the feeling
That breed and make us wild
Moore is not new to the musical scene, so much so that she is a singer, songwriter and multi-instrumentalist who has worked for several years as a touring musician. Her resume includes such familiar names as Fun., Børns, and X Ambassadors – to name a few.
So, it's no surprise if, despite only having released a few singles so far, Total Brutal shows great musical completeness and maturity.
Both the chill debut single "Willow" and the psychedelic "Choosy Moms" have convinced more and more people to start listening to Total Brutal, and we are ready to bet that "Egypt" will be able to do the same. It's a piece whose bass immediately takes over your heart, combined with a catchy refrain and one great message; Moore's "little child" is out there, ready to fall in love with the future and conquer the world. And underneath it all, "Egypt" gets into your head so much that Moore manages to convince you to do the same.
I don't need it, it's just another holiday
(Not gonna rain on my parade)
Holding out for a different kind of yesterday
(Not gonna rain on my parade)
---
We can therefore define Total Brutal as a real ode to the rediscovery of ourselves and the world around us, as well as a call to women to remember their own value, both to themselves and to others. Women need to be themselves, develop confidence and speak up. We're allowed to make our voices heard – in fact, we must share our thoughts and experiences. And we thank artists like Total Brutal, who encourage us to do just that every moment of our lives.
Kids at home planning their perfect life
Winters in the south of France
Paris evenings in the summertime
Guess we never got the chance
 
Didn't want to sit idle
Bite the bridle
The world will make you tame
Had to lose the denial
Redial
There's magic in the game
"['Egypt'] is about trying to get the feeling back of being a kid excited about the future instead of living in the past and being afraid of the future," Moore tells Atwood Magazine. "I constantly need to remind myself to play more and lighten up. It's easy to get lost in the seriousness of life but I want to go through life having fun and viewing everything with curiosity."
Stream Total Brutal's "Egypt" exclusively on Atwood Magazine!
I don't need it, it's just another holiday
(Not gonna rain on my parade)
Holding out for a different kind of yesterday
(Not gonna rain on my parade)
And I find myself living in the background
Thought I can't get out
Finally nostalgic
Looking at a future with no past to doubt it
— —
Stream: "Egypt" – Total Brutal
— — — —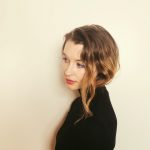 © Jasmine Safaeian
:: Stream Total Brutal ::
---