Humans are very, very imperfect – so much so that often times, we would rather deny the existence of our own faults, than learn them, accept them, and commit to being better. The Strike's brand-new music video for their single "Faint of Heart" sheds light on discrimination with a simple, yet profoundly meaningful visual that allows us to easily understand the effects of prejudice and perhaps learn to empathize with victims of discrimination.
Feel the room get colder
You can rest your head
on my shoulder
Won't you move a little closer
Watch: "Faint of Heart" – The Strike
https://www.youtube.com/watch?v=3qo4Ou0Au2M
---
Atwood Magazine is proud to be premiering the music video for "Faint of Heart," the title track off The Strike's recently-released debut album Faint of Heart (independently released 6/30/2017). The six-piece out of Provo, Utah have struck their own special balance between today's modern, synth-driven "indie pop" sound and the driving, pulsing beats of '80s classic pop. "Faint of Heart" tells something of a heartaching love story, its poignant personal lyrics coming from a place of solitude and dire need. Frontman Chris Crabb fills his clean voice with longing, supported by Brady Bills on guitar, Chase Baker on bass, Myles Lawrence on sax, Marcus Anderson on trombone and keys, and Matt Millington on drums to create a dynamic and engaging experience.
Won't you come and sit close to me
Cuz I've been waiting forever
Waiting on this to start
Can you lend me your hand
I'm a little too faint of heart
In this moment together
Though we feel worlds apart
Can you lend me your hand
I'm a little too faint of heart
"For us the album is about vulnerability," explains The Strike. "Human emotions can be pretty volatile, and we wanted to make an album that spoke to the day-to-day inner dialogues that we have with ourselves. It is sort of an admission that we don't have the answers, that we are emotional, oftentimes irrational, and that it is ok to admit it. 'Faint of Heart' also represents a sonic shift for the band. It showcases some new textures that our audience has never heard from us."
A relationship song it may well be, but "Faint of Heart" the video seems to tell a little different story. We follow a man clad in devil's horns, who wakes up in the middle of a motel parking lot, goes in to ask about room and board, and is turned away by the halo-topped staff at the kiosk. He exits the room, rejected, and as he walks down the motel corridor, it becomes obvious that our horns-clad friend is an outcast here. All the couples and individuals around him share halos; their eyes follow him as he passes their shadows, his own unease extraordinarily apparent. He is alone, searching for his own comfort.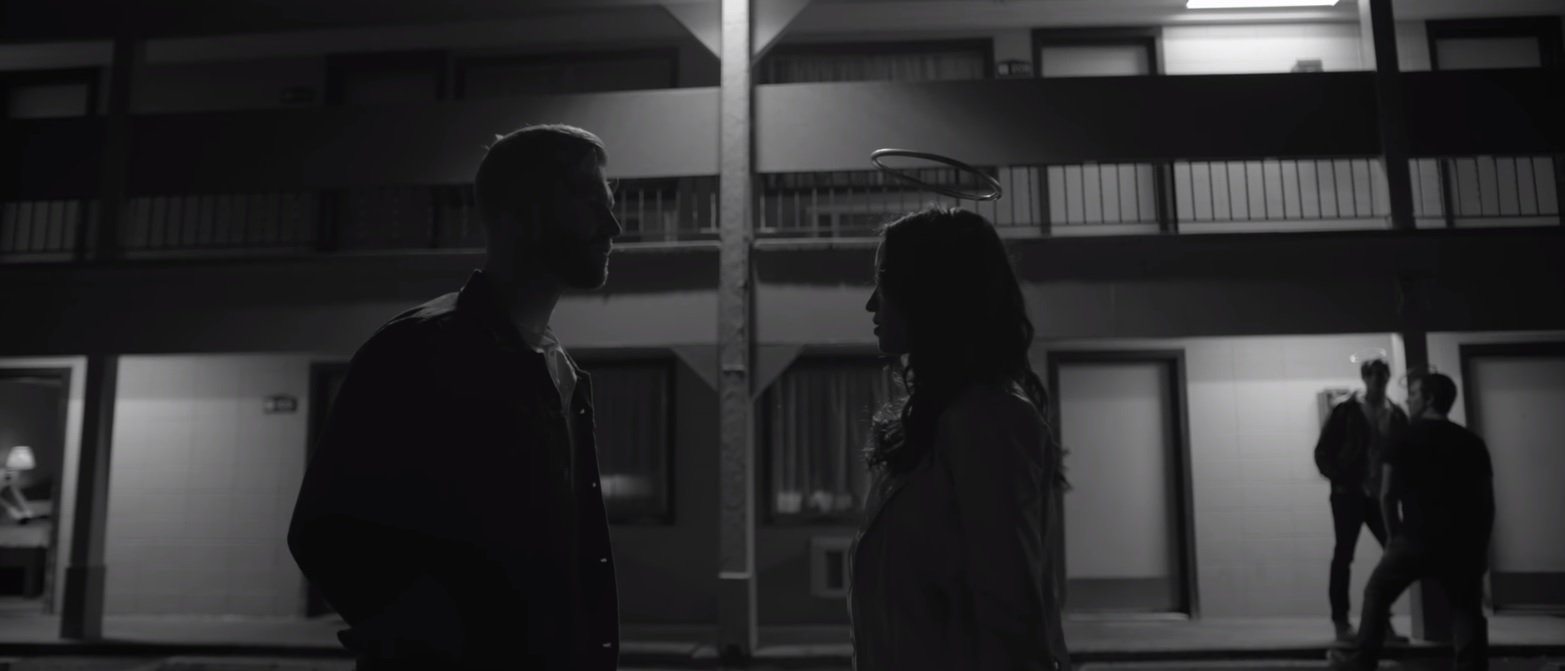 Just when it seems all hope is lost, a new figure comes into view: A woman with a halo stares right at him, unmoving. He's beckoned forward, and the whole world seems frozen as these two figures meet, eye-to-eye. Behind the solemn, electric moment, we hear band repeating the chorus. "Can you lend me your hand? I'm a little too faint of heart…" She represents the one who will turn him into an angel, and indeed as he follows her off the motel premises, we see a halo hanging over his head.
The Strike and director Cameron Gade attempt to deliver a thinly-conceptualized story of romance, alluding to the song's plea for an outstretched hand and the likening of a lover to a savior. However, "Faint of Heart" does more in its short timeframe to depict cruelty and separation – the ease with which we can discriminate our fellow human beings because they seem different from us. We learn a lot more about those feelings – a victim's suffering, the ability to feel lonely in a crowded room – than about the hurt from love's absence.
Because this was not the band's main intent, "Faint of Heart" isn't going to offer any solutions. Unlike devil's horns and halos, people of color cannot change their skin tone. A woman cannot become a man to avoid gender discrimination. Those who practice a religion will not adjust their beliefs to "fit in" – so the switch we see at the end, from horns to halo, isn't really relevant to the video's message.
What we do learn is something about feelings. If you've never been an outcast, you won't inherently understand what it's like to be the odd one out in a crowd. Those who have can translate that experience any number of ways – and certainly, The Strike's music video offers the perfect jumping off point to begin the conversation. Whether you're looking for love or a solid lesson in ethics, "Faint of Heart" is a well-made allusion to those deeper human emotions we hold so dear.
— — — —
cover © 2017
https://www.youtube.com/watch?v=3qo4Ou0Au2M
---
:: Listen to The Strike ::