With 'Flamagra', Flying Lotus once again proves his ability as a producer, but with an album this multidisciplinary, it may be more accurate to call him a director.
•• •• •• ••
Following up 2014's You're Dead!, it was hard to imagine where Flying Lotus, real name Steven Ellison, would go with Flamagra. FlyLo's discography has been marked by albums that explored every crevice of a singular theme, seemingly ramping up from the relatively pedestrian Los Angeles to the playfully existential You're Dead! Flamagra, the result of five years of work and tie ins with a feature film called Kuso, merges the personal with the worldly. The album imagines an eternal fire in Los Angeles – at times a great conflagration, and times a mild ember.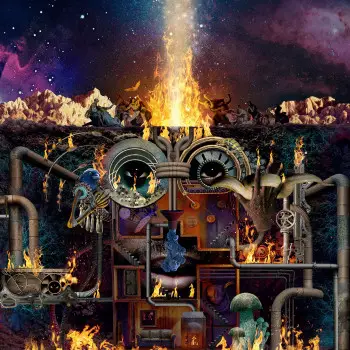 As FlyLo told GQ, "By the time I was getting ideas, it felt like Los Angeles was just burning, on fire in several ways." In one sense, it's literal – California's years of devastating fires one example – but as with anything Flying Lotus the execution is hardly so hamfisted.
Flamagra is an opus in its own right, though of a different sort than You're Dead! Clocking in at almost double the length of his 2014 album, the album is packed with more and more prolific guests than any Lotus album that came before it. Of course, the Brainfeeder regulars like Thundercat are out in force, but Solange, Anderson .Paak, George Clinton, Little Dragon, and the forever illegible David Lynch also make appearances.
You have to understand Flamagra in the context of Brainfeeder and FlyLo's greater oeuvre – and in this case, Kuso, a vignette comedy-horror film directed, scored, and produced by FlyLo.
---
Flying Lotus is far and away one of the most deviant producers of the current musical moment, and wildly prolific in his own projects and others. In 2008, at 25, he founded his Brainfeeder label that would give refuge to mainstream allergic artists like Kamasi Washington and Thundercat. There's an aesthetic that FlyLo cultivates on Brainfeeder that other labels simply don't represent. George Clinton, aging funk legend; Kamasi Washington, insurgent jazz virtuoso; and Thundercat, peculiar consummate bassist with R&B proclivities; all found a home on Brainfeeder.
What's remarkable about FlyLo's label though isn't only the broad palette of artists it hosts, but the way it offerers residents opportunities to collaborate. Flamagra then, is the utter apotheosis of Brainfeeders ethos in its sheer number of collaborators, guests, and curiosities.
And so listening to Flamagra is a bit like looking at The Garden of Earthly Delights, in flavor as well as its emphasis on surrealism in form. Just take a look at the album cover. The whole of the album has a clear arc and ethos, but each song on it could be a self-contained vignette. Flamagra sprawls and twists through jazz, R&B, hip-hop, dance, spoken word, and even a playful baroque piano section.
Together with FlyLo's refined production practices, a song may wind through six or seven musical ideas in a two minute time span. Choppy sections flow like a muddy river bursting its banks, beats fold over on themselves and give the listener a strong impression of temporal disturbance.
David Lynch's appearance on "Fire Is Coming" provides one good example of this, and feels especially appropriate on an album based around fire and steeped in surrealism. His voice-overs are doubled up by otherworldly echoes and varnished in Lynchian overtures to pastoral Pacific Northwest life. Ornaments of eerie piano accompany Lynch's story until it ultimately segues into a beat equal parts apocalyptic and throbbing. "Fire Is Coming" features the vague flickering of flames in the background, seemingly taking place in the same space as "Heroes" and the closer, "Hot Oct."
---
But FlyLo's production is never spasmodic. Despite the artifice of chaos, this is chill out music and every choice Ellison makes has a clear intention behind it and feeds back into the whole. "Heroes" sets the intention for album, "We are now joined together again/In the space that you've created/The world has changed/And so have you/You're different now/You're different now/The time of heroes has come again," seemingly foreshadowing the deluge of guests on the album. It ends with a clip from Dragon Ball Super, where a character pronounces their desire to become stronger to bring true peace to the galaxy – standard DBZ pablum but drawing yet another genre connection, this time to the strange marriage of chillhop and anime.
The final stretch of the album jumps from straight R&B with "The Climb" featuring Thundercat, FlyLo's close musical protegee, to some tender, swimming instrumentals like "Thank U Malcolm" to the chill wind down of Solange's feature on "Land Of Honey," to, finally, "Hot Oct." "Hot Oct." brings us back to "Heroes" – flames swell around the speaker and the same deep voice from the album's opener sends the album back to its start with, "But the fire, the fire never dies, the fire never dies, the fire never dies."
It would be impossible to cover all of the best moments from the album due to its complexity and sheer length, but of those that didn't appear above, "Takashi," "Burning Down The House" featuring George Clinton, the whimsical "Yellow Belly," and especially the kinetic "Black Balloons" featuring Denzel Curry are highlights.
With Flamagra, Flying Lotus once again proves his ability as a producer, but with an album this sprawling and multidisciplinary, it may be more accurate to call him a director. Ellison merges the disparate vignettes of Flamagra with uncanny skill to form a complex whole and another worthy entry into the Flying Lotus canon.
— —
— — — —
? © 2019
Flamagra
an album by Flying Lotus