Every Friday, Atwood Magazine's staff share what they've been listening to that week – a song, an album, an artist – whatever's been having an impact on them, in the moment. Here's this week's weekly roundup!
— — — —
— —
:: "All That She Wants" – Tom Hannay ::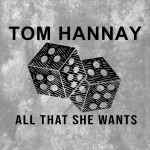 At what point can we just declare Tom Hannay the king of the cover? With a must-hear rendition of Springsteens' "Dancing in the Dark" already under his belt, Hannay returns with a chilling version of Ace of Base's "All That She Wants." His deep, emotive voice produces emotions untapped on the original and the end result lands leaves you somewhere between intrigue and sadness—yet desperate for more. 
Originally recorded for a film and then making its way onto his powerful debut album—The Fire Waits—it boasts a video comprised of clips from the movie. The result is a beautiful backdrop with which to listen, with our heroine wondering through life aimlessly while Hannay croons. The two combined create such an immersive experience that will make wear your replay button out. 
:: "Loveable" – ELIZA ::
I have to hand it to Spotify, their Discover Weekly playlists really hit the nail on the head sometimes. Last week, this song showed up as the first in that week's installment. "Loveable" is a spare, sultry, somewhat off-putting R&B track. It's strangely addicting, as well. Its atmosphere is created using minimal instruments – there's only a drum beat, bass guitar, and a continually layering pad of ELIZA's velvety vocals. Her range is stretched to its limits here, finding her in deep valleys and highly harmonized peaks. With the use of chromatic triads, the song takes on an alien quality, and the result is hypnotic and sexy and cool. As I sat down to write this, I realized I had know idea who ELIZA actually was. To my surprise, I discovered that it's actually the new(ish) stage name of UK artist Eliza Doolittle, who became known to me on Disclosure's 2013 debut, Settle, where she's featured on the standout track "You & Me" (later remixed brilliantly by Flume). I'm sure I'm enormously late to this realization, but I'm so glad I've rediscovered her. 
:: "Contaminated" – BANKS ::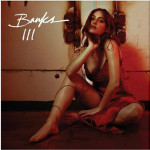 "Contaminated" appears on BANKS' newest album, III, that dropped today! The moody themed track is nothing short of captivating. Jillian Bank's mesmerizing and powerful voice shines through as she talks of a toxic relationship. A love that is infectious but knowing that it isn't right in the end. In the chorus, "And I Wish I could change it / And we're always gonna be contaminated, " Banks is sorrowful but accepting of the fate of her tainted love. The very cinematic element of BANKS' music is what always draws me in to listen and I'm excited to dive into the rest of the album.
:: "Aute Cuture" – ROSALÍA ::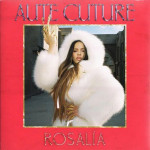 I'd been hearing a lot of hype about ROSALÍA since the end of last year, but it was taking me some time to fall completely in love with her. James Blake's "Barefoot in the Park", which features ROSALÍA, already intrigued me. Well, "Aute Cuture" came by and immediately, and a little after everyone else, I'm all for the Spanish artist who's been making waves everywhere. Though her biggest hit is "Con Altura", with J Balvin, "Aute Cuture" is a bold, burst of energy that makes me feel absolutely unstoppable even though I can't understand a word she's saying, and it deserves at least as much, if not more, recognition than the J Balvin song. The music video shows just how much of a force ROSALÍA is, its brightly coloured and glamour-filled shots never once overshadowing the power of ROSALÍA's stare into the camera. Proving she's even more of a boss, last week she released double single Fucking Money Man, with "Milionària" and "Dio$ No$ Libre Del Dinero", two opposite takes on wealth, which show her breadth of skill and just irresistible personality. "Aute Cuture" is an undeniable song, one that's bound to leave a mark on you whether you like it or not, and the one it left on me is that I know have officially joined the ROSALÍA cult and am thrilled to see just what heights she can reach next.
:: "Headspace" – Bloxx  ::
Who knew heartache could sound so upbeat? Fans of up-and-comers on the British alternative scene like Pale Waves, Sam Fender, and Sea Girls will love the fearless, fiery ambition of Bloxx. The female-fronted four-piece perfectly blends together crisp alt-pop melodies with grungy undertones, embodying and elevating that "DIY-garage-band-from-down-the-block" vibe. 
You're f*cking with my headspace
Keep bringing up my mistakes
You throw them back in my face
You're f*cking with my headspace
From the first listen, "Headspace" stuns — equal parts earworm pop and devastating lyrical impact with an undeniably danceable hook. The chorus builds around an infectious melody and stirring guitar riffs (just wait for that sweet post-bridge solo). This song expertly straddles the divide between unabashed vulnerability and stone-cold strength, finding balance between the high energy chorus and verses that showcase minimalist moments of calm. It's an effervescent kiss-off anthem, and truly, what more could you ever need?  
:: "Lovable" – Adam Ragsdale ::
After releasing an EP in January and an album the year before, Adam Ragsdale is back with a brand-new single that builds on his unique and personal aesthetic. "Lovable" delves deep into Adam's psyche to explore issues of anxiety, depression, and insecurity.
The track begins with somber keys that serve as a conversational partner to Adam's musings of self-doubt. Ben Cravens, the track's producer, handles the warm elements of the track in stellar fashion as to let each layer glow and compliment each other. As Adam works his way through this chapter of self-discovery, we're able to follow along with his deeply personal reasonings and maybe glean further insight into our own struggles along the way.
When asked about the story behind the track, Adam has said, "This track is meant to bring people together, encouraging us to be more transparent and vulnerable with each other so that none of us feel alone." It's easy to see how listening to and sharing a song like this could open the gates for deep and intimate conversations about some of the topics discussed. Whether the dialogue is internal or with a loved one, "Lovable" is an excellent catalyst for personal or interpersonal growth. An excellent addition to Adam's discography, "Loveable" has the potential to impact the lives of listeners in a very meaningful way.
:: "I Dare You" – The Regrettes ::
If you love a simple, fun and cute love song to dance to alone in your room, do I have a song for you. It's The Regrettes' newest single, "I Dare You," which is off their sophomore album, How Do You Love? out August 9th on Warner Brothers Records. The song is reminiscent of early 2000's rock music, somewhat like The Strokes or The Kooks, and I love it. The sweet lyrics makes it the easiest song to dance to, and sing a long as if I had someone to sing it to. I've followed The Regrettes for several years now, and I love the direction they're going in. I can't wait for their next album, and all the catchy tunes that will come with it!
:: "Midnight Cowboy"  – Surf Curse ::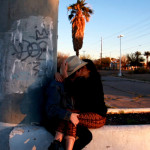 Surf Curse etched out a corner in the indie rock scene that is home to them and them alone. Their sound is a healthy mix of early 2010's guitar riffs with modern instrumental flair that combine into memorable tunes that one could laugh, cry, or dance to with unfettered glee. For their newest album, Heaven Surrounds You, the band is embracing a richer sound, showcasing a growth that fans have experienced with their first single "Disco," a song with a fast-paced tempo that will leave one grooving endlessly. The band continues their anticipation building with "Midnight Cowboy," a slower-paced track that ultimately still packs a hearty punch of stellar instrumentation.
Though subtle and simple at times, it nonetheless is pulsing with grandness through its hazy vocal work use of acoustic guitar. Towards the end of the track, as the final chants of "I've been living like a midnight cowboy" come pouring in, the track pauses with an acoustic guitar solo that adds a distinct charm to the overall experience. There's heart entrenched in "Midnight Cowboy," and because of this that the track will be one of the easiest to fall in love with for 2019. Here's to upcoming album and hoping it can provide listeners and fans the same amount of thrill, if not more so. 
:: Tiny Changes: A Celebration of Frightened Rabbits' 'The Midnight Organ Fight – Various Artists ::
This tribute to Frightened Rabbit's most beloved album and ode to the late Scott Hutchison is an emotional suckerpunch.  As a late convert to Frightened Rabbit's music, the grief that's followed Hutchison's death has come in sporadic waves (most notably Frank Turner covering "The Modern Leper" at Brooklyn's St. Vitus last year).  This album, which features various artists reimagining Hutchison's work provides a lot of care to the source material, while breathing fresh life into it.  Daughter's take on "Poke" is a gorgeous interpretation.  Julien Baker and Biffy Clyro both offer unique and refreshing takes on "Modern Leper."  Death Cab for Cutie's Ben Gibbard gives a relatively faithful and pretty "Keep Yourself Warm."  It honors Hutchison in the most touching way.
:: Case Study 01 – Daniel Ceasar ::
There's a certain level of eyeroll I do whenever I see the words "neo-soul" now. Really, what does that even mean besides slightly more pulse-inducing downtempo composed to moodlight a room rather than illuminate it. Sort of like how my Bob Marley tapestry is bathing me in a yellow glow—it's not actually useful for seeing anything—just to give my room more character than charcoal blackness (although charcoal blackness is pretty great when I'm vamping the night away). But I've never heard a mood record open up with a J. Robert Oppenheimer quote and neither will I opine it. The record is a solid block of mood and Caesar highlights it with Pharrel on "FRONTAL LOBE MUZIK." Well Pharrel usually is an all-caps affair, but here he's behind a vocoder, recalling Julian Casablancas' performance on "Instant Crush" but not absolutely stealing the show—just adding a falsetto that weaves its way from the tree tips to a soft landing on the ground. Perhaps that's what makes this record such a good study: it's a routine flight; prepping, launching, landing, cruising as if it already were driven by robots and we were none the wiser. Perhaps that coldness is why I can't relate to it as much as I want to. Or maybe I'm just letting it stop me.
:: "Eagle Birds" – The Black Keys ::
Let's Rock faced a lot of questions as the first Black Keys release since the group began a hiatus in 2014. Had any dust accumulated in their five years of not making music together? Thankfully, as this second single cleanly demonstrates, the answer is: hardly. One, this is a tremendously talented duo that has lasted 15+ years in an industry where most fizzle out without leaving much of a mark. Two, they managed to stay plenty active in music in the interim, both on solo projects and working for other artists, so there wasn't much time for any rust to arrive. 
The Black Keys' enduring command of rock music is demonstrated well on "Eagle Birds," the follow-up to lead single, "Lo/Hi." Only a few seconds in, the guitars and drum playing not only prove to be masterful, but even more critically, blend themselves together as seamlessly as can be. As Dan Auerbach begins to sing, he describes a love affair so tremendous, it takes our formidable national bird to encapsulate it all. "You can search forever, you might never find a love so real that will heal like mine," he describes. "Eagle bird, I heard you fly on by late last night."
The metaphor– and everything else about the song– works quite well in the end. "Don't nobody want to be lonely, everybody want to be loved some time," Auerbach sings on the pulsating chorus. It might as well be a message to legions of Black Keys fans: it sure could get lonesome in their absence, but it's mighty fine to have them back now.
:: "Poison" – Marissa Nadler ::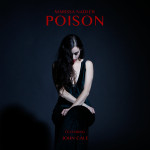 Marissa Nadler described "Poison" as a "conversation between a couple," and from a lyrical standout, this is a conversation bathed in pain. Coming face to face with the unpleasantries of a failing relationship is never welcomed nor wanted, but it is often needed. A sparse guitar melody surrounds Nadler's haunting echoes as she laments over the truth she must speak.
Babe, we're still kinda young
Should we cut our losses
And run, run, run?
Day in the barrel of a gun
Are we nothing but poison?
As she continues to croon, John Cale of Velvet Underground fame begins to harmonize with Nadler, only adding to the heartache that the track elicits.  The stripped-down sound of the track plays in its favor, allowing listeners to become fully invested in the story being shared, embracing the hurt and beauty Nadler is presenting. The duet finishes with the repetition of "are we nothing but poison" which closes out this tale with a feeling of unacceptance, a feeling most have more than likely come across in their life.  
— — — —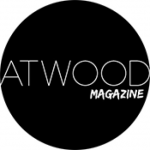 ---
:: This Week's Features ::