Goth Babe continues to offer listeners a refreshing DIY take on alternative music with "Imaginationcy", a product of living authentically and embracing the brighter parts of life.
Stream: "Imaginationcy" – Goth Babe
---
Griffin Washburn, better known as Goth Babe, has never failed to encapsulate the simple pleasures of nature and minimalistic living with his psychedelic dream pop beats created in the back of his camper on 100 watts of solar power. The latest, "Imaginationcy," is the first to be taken from his new EP Mt.Hood (released 12 July). It came a few months after the release of the single "Weekend Friend" and a year after his last mini-EP, Pacific II.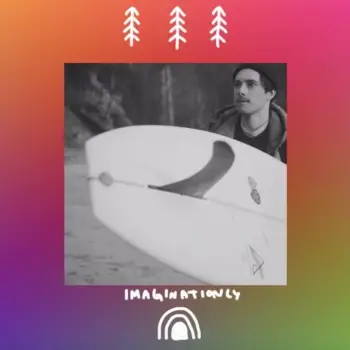 Washburn describes his creative process as involving putting together a loop on Ableton before constructing the timeline of the song, which is recognizable by signature distorted vocals, lo-fi guitar, and saturated with reverb. His roots creating raw, garage surf-rock from his dorm at age 18 have grown to reflect his lifestyle as he moved off the grid to pursue a life of intermittent climbing, surfing, and skiing excursions. It's the lifestyle creatives and adventurists alike dream of, leading an authentic existence while creating art that is both widely enjoyed and deeply personal. Throughout this stylistic development, the authenticity of Goth Babe's 'do it yourself' brand has continuously enamored fans within the alternative music scene.
"Imaginationcy" opens in a symphony of atmospheric synth and echo, followed by an upbeat melody that feels reminiscent of driving a van up the Pacific coast. The piece's music video captures just that image, as Washburn attempts to surf, climb, and snowboard in one day with the help and company of his travel partner Sadie the dog. This is a common theme in Goth Babe music videos; artfully shot scenic montages of the landscapes Washburn has fallen for offering a brief view into the motivation behind the songs. As indicated in the video description, the snowboarding segments of the video were filmed on the slopes of Mt. Hood National Forest- an allusion and perhaps further evidence of the inspiration behind the title of the unreleased Mt. Hood EP.
---
The atmospheric optimism and lyrical simplicity of "Imagionationcy" offers an apt reflection of Washburn's overall perspective on music creation. His deviation from the fast-paced city life of Nashville and Los Angeles has led Washburn to seek refuge in the rejection of materialism and social status and find solace in 'the brighter parts of life'. To Goth Babe, music represents a catalyst to free thought rather than an ongoing pursuit of fame and relevance. The phrase, 'Goth Babe is Griff Washburn enjoying himself' is commonly used in Goth Babe bios across platforms to capture that exact concept. The remainder of the Mt. Hood EP expands on the Goth Babe brand of pushing the boundaries of genre and blurring the line between art and artist.
— —
? © 2019



:: Today's Song(s) ::
---
:: Stream Goth Babe ::