A dynamic and unapologetic post-breakup requiem reckoning with the broken pieces, MisterWives' passioniate return single "whywhywhy" is a true evolution of their music and a great sign for where they are headed!
staff writer Kelly McCafferty contributed to this piece
Stream: "whywhywhy" – MisterWives
---
Am I allowed to lay down my smile, and be bitter just for a while?
Break-ups are often turbulent, but the healing process can be truly phenomenal: It's a profound journey from broken to whole that is as human as it gets. When New York City pop band MisterWives returned this week with their first single in two years, they not only encapsulated the magic of the healing process, but also they used it as an opportunity to validate the pain and sadness that people can so often feel a need to shield from themselves and others. A passionate burst of intimate energy, "whywhywhy" is a true evolution of MisterWives' music and a great sign for where they are headed.
Never have we known a more dynamic post-breakup requiem!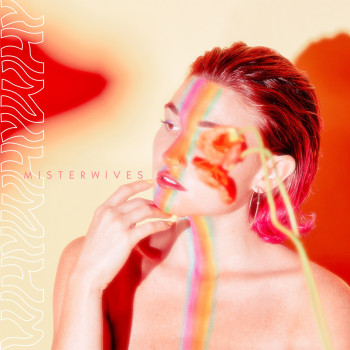 I turn up my speakers
so I can drown my thoughts
just a little bit quicker
dancing barefoot in the dead of winter
So I can numb this heart
that's full of splinters
They say time heals
All wounds but these
clocks are at a standstill
And I'm counting every
second that you're not here
But only in my dreams do you appear
Out now, "whywhywhy" marks MisterWives' first release after signing with record label Fueled By Ramen, as well as their first standalone (for now) single since 2017's sophomore album Connect the Dots. Consisting of Mandy Lee [vocals], Etienne Bowler [drums], William Hehir [bass], Marc Campbell [guitar], Jesse Blum [keys, trumpet, accordion] and Mike Murphy [Saxophone], MisterWives have been a mainstay of the American "indie pop" music scene since they began releasing songs in 2014, and consistently maintained a high-energy presence fueled by strong rock and pop influences.
MisterWives want everyone to have a good time, and they're always going to deliver it their special way. A truly wonderful aspect of this charismatic band is their refusal to conform to anyone's standards, whether it's the pop culture or us "indieheads" or anyone in-between. This individuality once again rears its bold head in the upbeat, energizing nature of "whywhywhy." In any other context, a title like this might reflect a slow, mournful soliloquy – but not for Mandy Lee and co.
As the dastardly indie pop crew make their way to a chorus, the band explodes in a dazzling array of inner tension and angst:
Am I allowed to lay down my smile,
and be bitter just for a while?
Don't keep pulling me under
we were meant to stay afloat
I see the embers they've not yet lost all their glow
Could you try to take a look into my eyes
And tell me why oh why why why
Why why why why why
Why oh why
MisterWives are first and foremost dedicated to staying true to themselves and the music they are creating. True to Lee and Bowler's tendency toward more complex storytelling, "whywhywhy" is far from a black-and-white love and loss tune – though certainly the chorus' request for an explanation feels eerily like a couple old Taylor Swift singles from back in the day.
To dig into the real meat of this track, all one need do is read between the lines. In singing the pre-chorus, "Am I allowed to lay down my smile, and be bitter just for a while?" Lee asserts her autonomy to do as she please, irregardless of what anyone (including her own doubt) tells her.
In refusing to feel bad for feeling bad, "Whywhywhy" turns pain into solace into self-empowerment.
MisterWives' return comes as a fanfare for the bruised and broken, capturing a critical part of the healing process' transition toward independence and emotional ownership. Excitingly enough, this is just the beginning of the next phase for a band that have delivered at every step along the way. If you're looking for a big, bashful summer pump-up jam, MisterWives' breakup song "whywhywhy" just may be the unlikely winner.
Stream the song below, and dive deeper into MisterWives' catalog on Atwood Magazine!
Don't keep pulling me under
we were meant to stay afloat
I see the embers
they've not yet lost all their glow
Could you try to take a look i to my eyes
And tell me why oh why why why
Stream: "whywhywhy" – MisterWives
— —





? © Shervin Lainez
---
:: Listen to Misterwives ::