Having released her critically acclaimed debut EP 'Self-Sabotage' last year, Australian pop artist GRAACE returns with the boisterously bold "Have Fun At Your Party."
Stream: "Have Fun At Your Party" – GRAACE
---
Released late last year, GRAACE's astonishing debut EP Self-Sabotage stunned audiences with its overwhelmingly authentic lyrical frankness, delving deeply into feelings of inadequacy and longing. The EP's production perfectly complemented the Australian artist's lyricism, which felt personal yet easily accessible and engaging. As a whole, the EP offered up a more somber sound than GRAACE's debut single "Kissing Boys," but with her newly-released single "Have Fun at Your Party," GRAACE clearly demonstrates that she hasn't lost her playfulness.
Released May 17, 2019, "Have Fun at Your Party" perfectly interweaves the emotional openness of GRAACE's more anguished tracks with the delightful jubilance of "Kissing Boys" to craft a sound that feels understandably familiar, yet miraculously unprecedented. A sparse opening immediately demands our attention, its tension and intrigue soon broken by GRAACE's delightful voice. As the instrumentation expands, her vocal performance unquestionably dominates, elegantly emphasizing the importance of her lyricism.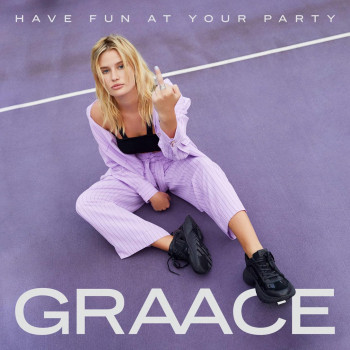 Go have fun at your party
I'll be sitting here sipping
on thoughts of your body
Now you calling me late and I'm sloppy
Go have fun at your party
I'll be sitting here sipping
on thoughts of your body
Now you're calling me late and I'm sloppy
Even in this more spirited sense of joviality, undertones of self-doubt are ever-present. GRAACE ruminatively reflects on her experiences within a bewildering relationship, yet her vulnerability doesn't, in any sense, feel self-pitying. She is just unapologetically presenting the situation, as it is. Even in songs drenched in uncertainty and doubt, GRAACE remains confidently self-assured in a way so few artists can pull off.
I don't even know
Every time what I'm trying to do to myself
'Cause I get high then I go home
and when I drive I'm on my phone
I can't stop thinking of ya when I'm alone
Speaking about the track, GRAACE explains, "I was 'dating' (I say that loosely) someone when I started writing this. We were both going through breakups and were both so confused about our mental states but also heavily relying on each other to pick each other up all the time."
With "Have Fun At Your Party," GRAACE showcases an exciting new side to her developing sound. This excitement is evidently infectious, with the Australian having already played a headline show in London, after supporting Tom Walker on his European tour. With US dates and more music on the horizon, this rising star's future looks radiantly bright — and just a single listen to her music will tell you why the buzz surrounding her is so feverish!
— —
Stream: "Have Fun At Your Party" – GRAACE
— — — —
? © Rebecca Parsons
:: Today's Song(s) ::
:: Stream GRAACE ::