Australian singer/songwriter GRAACE reflects on her astounding debut EP 'Self-Sabotage', her collaboration with Hayden James, and her ever-evolving sound.
— —
Since turning heads with her alluring vocal work on Hayden James' track "NUMB," which she co-wrote, there has been an ever-growing interest in GRAACE as a solo artist. Her first release "Kissing Boys" stunned with astute and observant lyricism, coupled with intriguingly dynamic production, that only served to heighten the track's palpable emotion. GRAACE's next single "Last Night" further showcased her beautiful songwriting which unashamedly doesn't aim to conceal any of her vulnerabilities.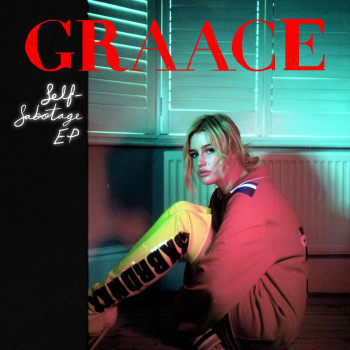 GRAACE's stunning debut EP Self-Sabotage, released in October, combines bewitchingly atmospheric production with her remarkably impassioned voice to showcase not only GRAACE's immense talent, but her intensely personal emotional journey too. Her ability to condense such distressingly authentic multi-faceted emotions into this EP is unrivalled; Self-Sabotage effortlessly manages to occupy your headspace in a remarkably reassuring and stirringly moving fashion.
Although every single song on the EP is remarkable in its own right, the way in which they complement each other to paint a vividly authentic portray of inexplicably difficult emotions is alluringly extraordinary. Her EP isn't made for passive listening, the expanse of emotion contained within it demands to be felt. Atwood Magazine spoke to GRAACE about her enticingly exquisite EP, her collaboration with Hayden James, and what to expect from her in the future.
Stream: 'Self-Sabotage' – GRAACE
A CONVERSATION WITH GRAACE
Atwood Magazine: Thank you so much for your time, GRAACE! Every single song on your debut EP is extremely emotive and encompasses so much vulnerability. Before releasing the project, were you ever apprehensive about releasing tracks, considering they contain so much intimate emotion?
GRAACE: I was super apprehensive about releasing the tracks. It took me a good year to write and record, it was often hard at times to record the songs too, feeling so vulnerable in front of one of my best friends who I recorded the EP with. I hadn't even considered the idea of people other than him listening to the tracks as I struggled coming home and showing my own Mum too. But I realised vulnerability and rawness is what makes me who I am, and I had to suck it up in order to reach and touch the people who are similar to me.
I love how all the tracks explore different sides to self-sabotage but together, as an EP, they feel so cohesive. What does the EP mean to you as a whole project?
GRAACE: I wrote the EP as songs and not as a whole, but then it clicked that the songs all trended the same idea; and that's when I knew the title straight away was Self-Sabotage. I noticed that these songs – even though written at different points of the past 2 years – were me doing the same thing to myself – going into relationships and friendships without fully loving myself. Releasing this project for me was such a huge relief and quite therapeutic, feeling like I was able to move on from my old ways and on to my new projects and songs.
Through the process of writing these songs, do you feel like you've learnt more about yourself and how to protect yourself against self-sabotage?
GRAACE: I was writing these songs for therapy without realising it because I refused to admit my mistakes or talk to anybody. Listening back, it was like my past self was talking to me and it was pretty surreal. Releasing the body of work for me was like a weight off my shoulders and felt like I was getting rid of old habits and baggage. I've learnt to admit my mistakes to myself now, in order to have a healthy relationship within self-love. Also acknowledging that I am worthy of love from other people and I don't have to sabotage relationships because I think I'm not worthy of another person's love.
The EP starts off with "Kissing Boys," perhaps the most vibrant track on the album, and ends with "Spoken Word," which is undoubtedly the most emotionally raw track on the EP. How did you decide to bookend the album in this way?
GRAACE: "Kissing Boys" was a playful way to introduce my music to everyone. It's more pop than other tracks, but the lyrics are still emotional and raw. It was my way of slowly introducing the more emotional and raw songs that had less production and more of a story. "Spoken Word" was really hard to put on the EP to be honest, but it didn't feel fair to be talking about crying and being sad without actually putting this on there. It was one of the hardest points in my depression and I wanted people to know that they shouldn't be ashamed of their emotions.
The live acoustic version of "SOS" is absolutely stunning, it really allows the remarkable lyricism to shine through. What was the songwriting process like for the track?
GRAACE: This was surprisingly the easiest song to write. I wrote it pretty much in an identical way I performed the live version. My piano and I in the dark. I was bottling up my feelings for so long that when I sat down, every lyric came flowing out of me and the song was finished in 20 minutes.
Given the deeply personal nature of your tracks thus far, it's natural that listeners feel intensely connected to their respective lyrical sentiments. Is there one particular track that your fans have connected with the most? And how does it feel to have established such a meaningful connection with people through your tracks?
GRAACE: "Last Night" in particular I think has resonated with the most people. The brutally honest lyrics about things people often don't want to talk about made the listeners feel comfortable with me as an artist. It's easy to brush off hard situations but the song is about admitting to being the bad person who made mistakes. It's hard to find that in songs nowadays. To know I'm not alone and hearing other stories that they have shared with me also makes me feel SO much more comfortable within myself. It's nice to know that I've made real connections with these people in my most honest and vulnerable state.
Your track "Last Night" was the first track of yours that I heard, and I've been utterly obsessed with it ever since. What led you to pen the track?
GRAACE: "Last Night" was the point where I realised my self-sabotaging nature. I was in the studio with Xavier and we had both recently gotten out of toxic relationships. We came to the conclusion we weren't happy within ourselves and that's what caused these relationships to fail. We weren't accepting the good things that came our way because we didn't think we deserved the love.
"NUMB," your 2017 collaboration with Hayden James, obviously brought a lot of attention to you as an artist. How did the collaboration come about and how's your life changed as a result of it?
GRAACE: We both were with the same management I had just signed with. Within 2 weeks I was in the studio with him which was a crazy moment for me as a new artist because I'd always been a huge fan of his. He sent me an amazing track that I was listening to in the taxi to his place which was about an hour and a half away from mine. Somehow, I managed to write the whole top line in that car and we then recorded the vocals in his house with the birds chirping throughout. I was in shock that he even wanted to write with me and then to hear 2 weeks later he wanted it to be his next single was so surreal. 'Numb' was what started the whole GRAACE project and made it possible to have a platform to release all my new music.
Looking forward to the near future, do you think the emotional sentiment of your lyrics will evolve on the next project you release? And if so, how?
GRAACE: I wrote for pretty much all of 2018 before we even released Self-Sabotage. I've been growing personally so fast and the songs still have the honestly and rawness. But getting out of my old habits has allowed me to write some happier and fun music. I want to be able to play my new material live and see people dancing and enjoying themselves because music is such an escape for most people. I'm excited to release some fun songs like "Kissing Boys" that are – production wise – more similar to "NUMB," but still have the story and message behind my other tracks.
— —
— — — —
? © Sony Music
:: Stream GRAACE ::