Toronto singer/songwriter Hannah Georgas steps into the spotlight with "That Emotion," an open, honest, and unforgettable song full of vulnerability and heart. 
Listen: "That Emotion" – Hannah Georgas
---
When you create music as open, honest, and unforgettable as Hannah Georgas, it's no surprise that your sound will begin to filter into new places where listeners can hear it and fall in love with music again for the first time. With her latest single, "That Emotion," that's exactly what happens. After years of experience in songwriting, highly-acclaimed and well-deserved achievements including JUNO nominations from "Best New Artist" to "Songwriter of the Year," Georgas recently decided it was her time to step into the spotlight.
Originally from Toronto, Canada, indie singer/songwriter Hannah Georgas has always let her music overflow, proving her shining essence in writing, musicality, and singing. On "That Emotion," Georgas taps into deep feelings and calls out, fearlessly, why staying closed off can be a bad thing.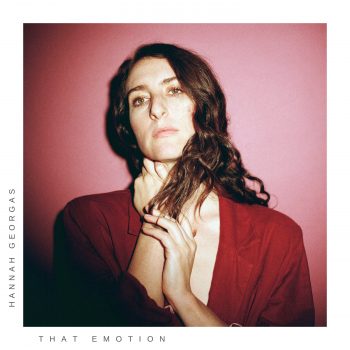 You've been scared to say it.
Big plans you've been making.
I wonder where you get it.
Habits you should be erasing.
Working together on this track with rock band The National's Aaron Dessner brought Georgas to the realization that the song itself needed to sound as if emotion lived in it. "Aaron and I agreed the production needed to bring out the truth in my voice," she explained. "I always felt happy with my songs but during these sessions we found something else—musically a new warmth and depth and, vocally, a delivery that is more raw and expressive, allowing the emotion of each song to shine through."
The song begins with a soft drum beat, pulsing as if it's a heart reaction to certain feelings. Georgas's voice then pierces the calmness together with slow guitars that somehow sound collected and feel warm at the same time. "You can feel something changing," she sings, as the slightly indie-pop beats creates a painting of how scary it can be to be truthful about how you feel. However, Georgas' reassuring and bright tone of voice throughout the song makes you feel as if you'll have a safe place to express your emotions to, even if you feel like you don't.
"The song is a portrait of one particular way that emotions can build up inside," Georgas explains. "You're going through the motions, suppressing how you really feel, and pretending things are ok — but your body knows…that deep down life and worry can weigh you down in ways your head might not acknowledge. This song was inspired by the feeling of hiding emotions you would like to express but feeling alone."
What seems to be the most beautiful creative element about "That Emotion" is that though the song may first sound short and sweet, the lyrics hold a lot of meaning.
For the first time, someone is acknowledging out loud that it's okay to be vulnerable and express yourself. It's better that you don't keep things bottled in. It's okay if you express yourself and it's okay to sing about anything and everything that you feel.
Hide behind all that emotion.
See how long,
how far you can keep going.
Georgas sings, "Hide behind all that emotion," but it isn't a command. It's almost like a dare. "See how long and how far you can keep going," she echoes, and though it may sound like she's pushing the boundaries of expression, she only does it because she cares, and whether the message of this song is an expression of her own inner monologue or one she's written for someone else, the song still suggest one main idea – that you're not alone, and you never were.
Following the release of her 2016 EP For Eleven, Hannah Georgas has more music projects on the way. With a love for performing live following her creative endeavors, she will also be embarking on a UK/EU tour that begins this April. For details more Hannah Georgas, visit her website here!
Listen: "That Emotion" – Hannah Georgas
— —
? © Vanessa Hein

:: Today's Song(s) ::

---
:: Stream Hannah Georgas ::