A haunting journey through darkness, FERGUS' aching debut 'Purple Road' EP is a raw, breathtaking unveiling of intimacy and emotion.
— —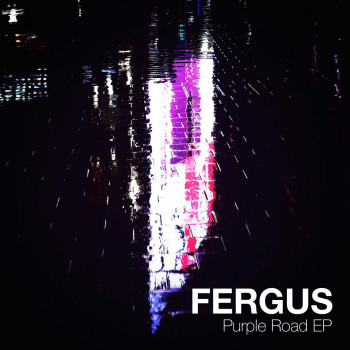 London singer/songwriter FERGUS is proof that there is beauty in even our darkest spaces. A haunting journey through his own inner pain and conflict, FERGUS' debut EP Purple Road (released October 25, 2018 via Goldun Egg Records) is a raw, breathtaking unveiling of intimate emotion. Aching with ethereal ambience and earthy indie folk, the seven-track record captures a rising soul on the mend as FERGUS pours himself into songs of failure, self-doubt, regret, loneliness, love, and ultimately redemption.
Introducing himself just over a year ago with the bittersweet soliloquy "You or Nothing," FERGUS treats his songs like a teenager might their diary: His music details the kind of experiences and emotions most us of avoid discussing, even with ourselves. In premiering his video in January 2018, Atwood noted, "'You or Nothing' is a vivid portrait aching with sincerity, the sort of exposed vulnerability that tugs at your heartstrings." FERGUS sings like he's alone with you and only you, surrendering himself in song.
"The Purple Road navigates a journey of complex emotions and enabled an unburdening of emotional torment…" FERGUS shared upon the EP's release. "I also wanted this collection of songs to convey a kind of toughness that only comes from being constantly vulnerable."
The ominous "Sinking" opens the EP with a mellow blend of ambient guitar and piano. We hear the artist wrench his heart out as he captures the pain of falling in love: "Your arms are wrapped around my bones; if you don't love me, let me go." This sense of dark urgency elevates into a heavier pain in "Nobody Knows" as FERGUS explores some of humanity's worst traits. The 26-second spoken-word "Fool" offers a moment of light in the melancholy, its bright melodies and commitment to self-improvement filled with a refreshing energy that maintains through tearjerker "Crutches." An inimitable reflection on pain and its impact on our persons, "Crutches" puts the full weight of FERGUS' majesty on display as the artist's darkness translates into musical beauty. FERGUS concludes with the driving "Willow," an upbeat and energizing song of renewal and transformation. We feel the crushing weight that permeated this record begin to lift as FERGUS attempts to leave one world behind and enter a new frame of mind, state of being, etc.
Whilst "You or Nothing" remains FERGUS' catchiest song and "Crutches" his most enlightening, the entirety of this debut EP is worth a close and careful listen. FERGUS' first record is a heavy-hearted and meaningful exploration of human depth and how we deal with our own emotions. We serve to learn a thing or ten from this singer/songwriter, who has dwelled in the deepest parts of his being and translated that into poignant grace.
We all have our demons, but FERGUS is among the few of us who can translate those demons into something magical, compelling, and bigger than itself. Experience the full record below, and peek inside FERGUS' Purple Road EP with Atwood Magazine as the singer/songwriter goes track-by-track through the music and lyrics of his debut!
Stream: "Purple Road" – FERGUS
:: Inside Purple Road ::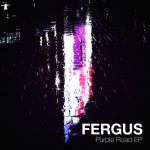 — —
Sinking
'Sinking' is about falling under someone's spell. You don't want to – you know better – but they've hooked you and left you marked, intoxicated. It's about that feeling in your stomach. The feeling that twists and churns as it hurtles towards its conclusion. Like a storm they lift you up and they let you down; they tip you over, wreck you, and they swallow you whole – inevitable as the sea.
Nobody Knows
This song is about toxic superficial relationships. People who, on the surface, are your friend, but, they're actually using you as a punch bag and floatation device – pushing you down to keep themselves up.
Fool
About a month after we recorded 'what you gonna do' something happened that really upset and frustrated me, and I made another voice note about it. i was in the studio a couple of weeks later to record 'nobody knows' and we had a couple of hours left over. so, we decided to tackle another acapella with even more me.
Crutches
The first song that REALLY took it out of me to write. It's about sadness and loneliness, feeling like you're gonna drown – sometimes like you want to. and also the things or people we may abuse or use to get through it. i was really down at the time and it was difficult to finish; and when i did i hated it! but after a couple of days i loved it because, despite everything, it sounds hopeful and uplifting – the kind of juxtaposition that life is. it's right at the centre of the EP for a reason, and gave it its title.
What You Gonna Do
This was a voice note I made in bed one night, it was a few weeks before valentine's day and i felt super alone and sorry for myself, but also fed up of feeling like I have to change who I am, or how I look for someone, especially things I can't change.
You or Nothing
'You or Nothing' is more of a snapshot than a story. It captures an unknown feeling caught between complex emotions. I like the combination of the simple, clear sounds and the maybe-dark-maybe-sweet lyrics. There's a holiness to it you can hold up and examine in the light, but you might not like what you find.
Willow
This one started out as a poem set to music really – a lullaby, after close friends had a baby girl called Willow! I wanted to paint a beautiful, peaceful image lyrically, inspired by this new life, a new beginning, and voyage into the unknown. The message is, that fundamentally, everything is going to be ok – "don't weep for me, Willow". It's as much a message to me, as it is to her and makes an uplifting (and welcome!) contrast to the first two songs.
— —
— — — —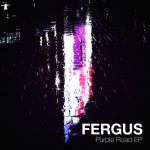 ? © 2018
:: Stream FERGUS ::
---