Niall Horan's second studio album 'Heartbreak Weather' brilliantly blends classic rock sounds to modern day conversations in songs that highlight both heartbreak, vulnerability, love and healing, capturing the attention of fans across the globe.
•• •• •• ••
It's been exactly a full decade since a sixteen year-old Niall Horan stepped onto the X-Factor UK stage in 2010 without any idea whatsoever that he'd go on to join on of the biggest boybands of the century, but now with the Irish singer-songwriter's lively One Direction days behind him, Horan has found time to show more of himself not only as an artist but as a person in his solo music. Heartbreak Weather, the singer's second solo studio album, is a heart-warming and vibrant mixture of the artist's younger musical influences from classic rock to bluesy sounds to feel-good pop of today. With wide-spread adoration for the album from fans all over the world, Niall Horan's music has never sounded more like him.
Listen: 'Heartbreak Weather' – Niall Horan
---
After five years with One Direction, going solo has both its ups and downs. The good thing about going solo is that you get to call every creative and artistic shot on your own, and the bad thing about going solo is you get to call every creative and artistic shot on your own. In the years following One Direction's hiatus announcement in 2015, Horan has revealed that it was an adjustment writing songs and recording by himself in a studio, but after moving out to California, working with Capitol Records and releasing his first debut album, Flicker, that later led to a sold-out world wide tour, it seems that the singer is now a lot more comfortable in his artistry. The honest writing and eclectic sounds that radiate off of Heartbreak Weather prove just that.
The journey in to Horan's second album began as early as October of 2019 when the first lead single, "Nice to Meet Ya," was released. Just before the song went live online, Horan wrote, "After nearly two years since Flicker, I'm ready to go." Fans were so eager to hear the song that not even a minute after its announcement, Horan's website crashed.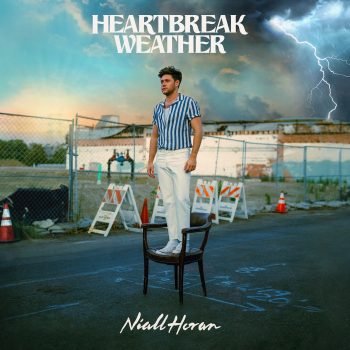 Met with raving reviews of the track's bluesy feel and high praise from radio airplay across the world, "Nice to Meet Ya," it should be easy to say that the song opened doors for Horan's new era, but if you listen to the rest of Heartbreak Weather," you'll find that isn't true at all. With songs that are meant to hypnotize whole stadiums to dance to the sweetest ballads you might ever hear, the record is a flurry of emotions that Horan uses to capture the storm that falling in and out love reflects.
With the records release date on March 13, 2020, Horan and the rest of the world were beginning to match reality with Covid-19 and the effects of its outbreak. Because of stay-at-home orders and the ban on large gatherings promo for the record was sadly cancelled, but that didn't stop the singer from telling his fans why he still chose to release his album at this time.
Thanks for an amazing response to my new album Heartbreak Weather. It's obviously a very strange time in the world right now but I hope that in the crazy time my music is bringing you something nice and everyone is safe in their homes whilst doing so.. Love you all.
Consequently, for thousands of people all over the world, Horan's fans have claimed that this album is their happiness in this strange and weird time. Like any great artist, Horan's fanbase was born out of young movement and they just never went away. Many fans who have seen him perform life with One Direction have followed him and support him to this day, and it's safe to say that many of them are grateful for the record.
The album's opening song, "Heartbreak Weather," is like an instant shot of positivity. With a catchy melody, easy to follow beats, and a heartfelt declaration of gratitude, Horan reveals that the kind of music he's been working on the past two years is not only a new kind of portrait of himself, but also of his sound. Different from Flicker, which was filled with love ballads and a lot of acoustic guitars, "Heartbreak Weather" plays with funky sync sounds and Horan's voice creating a harmony that doesn't sound as disastrous as a heartbreak would feel. He says himself, "It feels different when you're with me."
Watch: 'Heartbreak Weather' – Niall Horan
---
In similar fashion, songs like "Cross Your Mind," "New Angel," and "Black and White" are also perfect for dancing to, and not only does Horan show off his new found spot on the pop music scene, it's also evident that he's still influenced by the heavy beats and in-your-face melodies of classic rock and pop tunes.
On the flip side, now that he's a solo artist, Horan is able to do things in songwriting that he was never given the freedom to do as part of a boyband, and what most music listeners may not recognize is that Horan's honesty and ability to capture fleeting moments of emotion into quick and comforting poetry shines through in his acoustic ballads. Songs like "Put A Little Love On Me," "Dear Patience," "San Francisco," and "Still" put Horan's songwriting on display for people to hear him sing in ways they may not have heard him before.
Are you all dressed up but with nowhere to go
Are your tears falling down when the lights are low
Another Friday night tryna put on a show
Do you hate the weekend
'Cause nobody's calling
Listen: 'Put A Little Love On Me' – Niall Horan
---
From his heartfelt lyrics to elevated use of acoustic guitar, classic piano, and strings, these songs also make it evident that Horan hasn't at all shied away from the music lover he's always been. Influences from The Eagles, Fleetwood Mac, and Bruce Springsteen radiate off the tracks.
While Horan has revealed that one of his biggest passions in life is songwriting, he also loves touring, bringing his charming guitar playing, and feel-good music to outdoor venues all over the globe.  However, with a global pandemic on our hands, all of that has been pushed back. On the day before his album release, the singer tweeted in his signature humor, "Surely as far as 'difficult second albums go,' I've smashed it with my timing." It doesn't stop him from feeling hopeful and reassuring fans about Heartbreak Weather's upcoming world tour with fellow friend and singer-songwriter, Lewis Capaldi. In an online statement, Horan wrote: Given the unprecedented circumstances I have decided to not move forward with the 'Nice To Meet Ya' World Tour this year. This was a difficult decision, but the well-being of my fans and touring family is always my top priority. I look forward to being able to bring new music and a new tour for all of my fans around the world in 2021.
In the meantime, Horan's been self-quarantined in his house, spending nearly three hours on Instagram live, sometimes multiple times a week to perform, chat with fans, reveal his songwriting process, and remind everyone through music that no matter how bad the weather might be, there are still songs we can hear until everything goes back to the way we knew it.
— — — —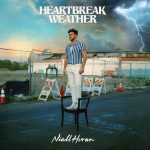 ? © Dean Martindale 2020




Heartbreak Weather
an album by Niall Horan
---