London singer/songwriter Jolé captures the power of memory, presence, and loss in his stunning new single "Alpine Green," a poetic indie folk lullaby full of poignant longing, heartache, and solemn acceptance.
fo fans of Sufjan Stevens, Bon Iver, Dustin Tebbutt
Stream: "Alpine Green" – Jolé
---
There is nothing more important in life than memories. Our memories are what make us who we are – they are the burdens we bear and the lessons we carry with us into every new day. Loved ones stay alive through memory, just we will remain in our loved ones' minds long after our own passing. Memories deserve to be cherished; they are all we have. London singer/songwriter Jolé captures the power of memory, presence, and loss in his stunning new single "Alpine Green," a poetic indie folk lullaby full of poignant longing, heartache, and solemn acceptance.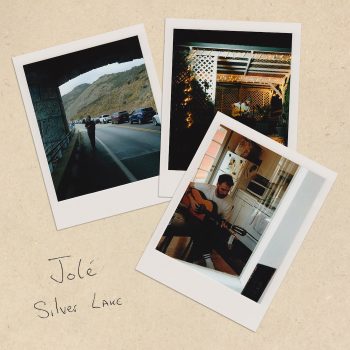 I can see
A sea of alpine green
Something that will stay with me
Sky is wrapped in blue
I wish that I could share with you
Like a photograph when times are good
When a flower begins to bloom
Life never felt so good
Atwood Magazine is proud to be premiering "Alpine Green," the lead single off Jolé's forthcoming Silver Lake EP (out August 21, 2020). The artist moniker for British artist Joshua Oliver, Jolé's breathtaking folk first entered our ears in early 2016: Acoustic and raw, his songs rang out as burst of light in a dark space. 2019's self-titled debut album Jolé offered a well-rounded look at an artist growing in multiple directions all at once, showcasing electric and acoustic folk and folk-adjacent themes with finesse and heart. Amassing over 2 million combined streams, the record served to both close one chapter of the young artist's life and open another all at once.
Jolé's first studio offering since that release, "Alpine Green" arrives as a deep breath of renewal – one that is nuanced, weighted, but nevertheless full of inspiring humanity.
Its theme of memory and connection through past interactions speaks to not only to those who have lost a loved one and dealt with prolonged distance, but also to all those who have experienced disconnect from loved ones during the present COVID-19 pandemic.
"I wrote this song whilst being really home sick," Jolé tells Atwood Magazine. "The narrative is about experiencing something beautiful or uplifting that you wish you could share with someone that can't be there. It's about feeling grateful in the moment but wanting someone you love to experience it with you also. However, in not being with that person, holding them in your thoughts or in your memory can sometimes be good enough."
As someone who lost a parent far too soon, I know too well what it's like to want to share a special occasion with someone who cannot be there to share it with me. I've known that feeling for nearly three years now; the pain dulls over time, but the absence is itself a looming, ever-present feeling. "Alpine Green" immerses me in a wash of the past: Of being together with my mom as a child and as a coming-of-age young adult. It gives me the chance to sit back and dwell in random car rides where we spoke to each other about who knows what; of getting tucked in with a kiss good night as a young child; even, of getting yelled at, which did happen from time to time.
"Alpine Green" gives me the chance to relive a meaningful connection close to heart. It's a testament to Jolé's blossoming musical talent that he can craft such a subtly stunning, emotionally unveiling experience in under three minutes. The song is not, of course, directly about any death; instead, it's about dealing with distance in-between yourself and a loved one. This can be a permanent distance, or one that will let up soon; no matter how near or far, you are nevertheless away from that person in the present, and that's the part that hurts the most.
Many of those listening to this song upon its release will still find themselves in some sort of lockdown or self-quarantined state.
Hopefully we can all find some solace, strength, and inspiration in Jolé's words and in his sounds. Tender, gentle, uplifting, and bittersweet, "Alpine Green" will bring you a little closer to your faraway loved ones, and a little more in touch with yourself. Get lost in the serene tranquility of Jolé's new song exclusively on Atwood Magazine, and please take a moment out of your day and call someone you love.
You're far
But distance doesn't break a heart
It gives us time to know our love
Grass all wrapped in dew
Oh I wish that I could lie with you
Oh I know what I would hold on to
A memory, when times are good
That's when I think of you
That's when I think of you
Oh I know what I would hold on to
A memory, when times are good
That's when I think of you
That's when I think of you
— —
Stream: "Alpine Green" – Jolé
— — — —
? © 2020
:: Stream Jolé ::
---