ATWOOD ON TOUR
Redefining Rugged: Jamie N Commons Talks Folk and Blues, Nashville, his Debut Album, and Modeling
What does passion entail? Intensity, perhaps; emotion, certainly! There is no single correct way to define passion, but you know it when you see it. Passion exists in the twinkle of one's eyes; it is that intangible, yet palpable aura that glows vibrantly about an individual.
Jamie N Commons is one of the most passionate individuals I have ever met. He can sit for hours and talk about music from far and wide, spanning eras and cultures – be it folk, blues, rock and more – and he will relish every second of that conversation. Some call people like him and me music nerds, and I, for one, wear that label with pride. To have such a deep connection to something, and to know in your bones that that is what you want to dedicate your entire life to, is among the most special feelings in the world.
Passion drives people to do great things. It is what drove 27-year-old Jamie N Commons toward a life of music, and it is what kept him working, every day, on his forthcoming debut album for the past two+ years.
That same passion bursts through like a relentless ray of rock 'n' roll sunshine on "Marathon," Commons' new, groovy single. Constantly pushing forward while exercising considerable restraint, "Marathon" showcases Jamie N Commons in all the right ways, exhibiting his smooth-yet-gritty baritone vocals, his up-to-date, authentic blues-rock fusion, and his tight control over everything from timing to dynamics and energy.
Got held up, now my head's hung low
Got tangled up where the rumors grow
And it's hard to explain just what she means to me
But if you love it, man, then you set it free
Channeling classic, rootsy American blues into a bouncy rock 'n' roll rhythm, Commons sets forth as an entity unto himself – one made only more impressive when one considers his British heritage. Displaced by both time and space, Commons truly owns his art in every way possible, and it shines through in both his person as well as his live performance.
Opening for fellow Brits Catfish and the Bottlemen earlier this fall, Commons and his band gave young American crowds an exciting taste of what's to come: His diverse, high-octane set was the perfect fuel for an evening of relentless, searing rock music. Soulful and bluesy, and powered by Commons' insatiable passion, these shows presented an old style of music in a new and easily digestible way. Maybe – just maybe – blues and blues rock can return to some form of mainstream popularity through Jamie N Commons.
It's a long shot, but crazier things have happened.
A versatile musician, a lively performer, and – as of recently – a Timberland model, Jamie N Commons is redefining the term "rugged" as it applies to music. His passion is immense and his authenticity is undeniable: This man's heart and soul belong steadfastly to music. Commons is in it for the long haul – the "Marathon," if you will.
Commons and I met the morning after a Timberland press event for their new Fall collection, at which I had had the pleasure of watching Commons and band perform. A coffee in both our hands, we chatted nonstop like schoolgirls until it was time to be off. Over the course of our interview, I got to know the man with his guard all the way down, and I can say without hesitation that his effervescence is infectious. He is the real deal: Experience Jamie N Commons through Atwood Magazine's exclusive interview!
Watch: "Marathon" – Jamie N Commons
A RUMBLE WITH JAMIE N COMMONS
Atwood Magazine: Thanks for meeting with me, Jamie! To start off, if you had to describe yourself in three words, what would they be?
Jamie: Blues, Rock, Trans-Atlantic; is that four, technically? There's a dash – a hyphen.
Is that for your music, or you as a person?
Jamie: Yeah, I mean it's a pretty much accurate summation of both, I think. I'm actually quite happy with that answer; pulled that one out of the bag!
Do you find that your music speaks a lot to yourself?
Jamie: Oh, definitely! Yeah, it's what I do, really. It's definitely beyond obsession – it's everything I do.
Where are you from, again?
Jamie: I am from just north of Bristol in the UK, and also just outside Chicago.
Both?
Jamie: I grew up in both. When I was six or seven, I moved to Chicago, and then we moved back when I was fourteen or fifteen.
So you had those pivotal years in Chicago, and then you went right back to England.
Jamie: Yeah
You sound straight out of the American South. What turned you onto those soul and blues rock influences?
Jamie: My dad had a really good record collection – he was obsessed Johnny Cash and Nick Cave, and Hank Williams – big Hank Williams fan – and Steve Earl, and people like that. So that was always going on in the car or whatever, and… I'm not a massive blues guy though, but I think, like, for so many people of my age, a big turning point was in 1998 when the O Brother, Where Art Thou? soundtrack came out. It was such a random genre of music, especially in England, where I'd definitely never heard anything like that – that genre. So after that, I kind of worked my way backwards with the blues and all that kind of stuff, and whatever that sound was. I mean, I guess they were aping a bit the Lomax Southern recordings – you know, field recordings and stuff – so that sound, and then I found this whole world of, that thing where there's days of recordings – weeks! They're now all for free on this fantastic website, where you can get more for free now, and they're just… The coolest bit of it is that you can go and listen to full sets from like Newport Folk Festival from like, 1965… I think it's the Library of Congress' site, just search "Lomax free recordings." You can listen to, like Howlin' Wolf's set from Newport Folk Festival in, like 1961 or something, and it doesn't exclude the bits in-between songs, and there's as much talking as there is the songs. Like, ten minutes of Howlin' Wolf just talking, which is the coolest thing ever! Obviously the songs are cool as well, but you never get to hear those people talk, you know what I mean? And he's exactly how you would imagine – just really loud and intense and threatening.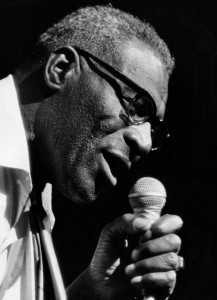 :: Newport Folk Festival excerpt ::
"You see, a lot of people don't understand the blues, but I'm gonna tell you what the blues is… I hear a lot of people saying, "The blues, the blues," but I'm gonna tell you what the blues is: When you ain't got no money, you got the blues. When you ain't got no money to pay your house rent, you still got the blues. A lot of people holler about "I don't like no blues," but when you ain't got no money, and can't pay your house rent and can't buy you no food, you damn sure got the blues. That's where it's at, I tell you… If you ain't got no money, you got the blues 'cause you're thinking evil." – Chester Burnett (Howlin' Wolf) talks about the blues, Newport Folk Festival 1966
It's the context of the music that I think people lose... You know, when you listen to music from the 1960s, you hear The Beatles, but you can easily forget the pieces in between - that it wasn't all the glamour, it wasn't just about music; it was a whole culture.
Jamie: Yeah – well the other one is Wolfgang's Vault, have you been on that site? It's all some guy compiling illegal or semi-legal bootlegs – though it seems to be a legal site, so I don't know how that's worked out… But anyway, they're constructed the same way, where – and not all live albums are constructed that way – where they don't stop, so you can listen to whatever – like, some of the Crosby, Stills & Nash ones from when they first came out are just incredible, but it's the whole set! And it's so incredible to hear how much time they take tuning up – just stuff like that – or like, them talking in-between songs for full-on four minutes! On every single song, it's tuning up and just talking utter drivel – you know what I mean? Just, not even good at it! Now, you see polished stage acts and they know exactly what they have to say, and it's like WHAM! onto the next one – like this "craft" – but [Crosby, Stills & Nash] are just rambling, probably under the influence of something –
But is the polish something to aspire to? Like, can you see yourself being that rambler, one day, on the stage? And does that take away from the experience?
Jamie: No, you can't afford to do it anymore. I think watching those guys now – well, not them specifically, but – I remember when I saw Leonard Cohen when he came out of retirement four or five years ago. I thought he was only coming out of retirement for that summer, so I saw him three times that summer, which was the first time I realized that people had planned stage banter. Every single show had the same jokes in the same spots or whatever, so I think people expect another level of professionalism now because they can compare it to the Internet. You can see everything, so it has to be a more polished project.
I feel like that takes away from the authenticity of the set.
Jamie: Oh, for sure – yeah! That's the strange thing. I think people would enjoy it if it was more bespoken and unique, but – yeah, it's a weird dichotomy.
You've been on the road for a little bit. Have you been planned out to a T?
Jamie: This tour is definitely an attempt at that level. I've got a new American band based out of Los Angeles now, and yeah; there's a level of showmanship, and all our equipment is incredible now; we've really planned it out. It's ambitious now. It's really… We're playing a good-sized room with the Catfish and the Bottlemen guys, which is a great, fun tour to be on as well. It's a younger crowd, which I've never really done on a tour; like, I toured with Lianne La Havas before, and that's mainly an older crowd, so it's always been an older audience, but this is like fifteen year old girls; this is like The Beatles kind of stuff!
They want to be wowed.
Jamie: Yeah, or just loud! They're just having loads of fun; they're not jaded in any way, so they're just loving us and the music! So it's good… But yeah, this band, this tour – everything is setting up for a highly ambitious run of shows, hopefully on our own back when the record comes out!
In terms of your musicality, do you have a preference for the upbeat vs. those more bluesy, soulful sounds?
Jamie: I played this show in Nashville about a week ago, which was so… Kings of Leon were running this stage at this music and food festival in Nashville, and they asked me to come down and do a few songs. They had, like, a soul band going on, and basically all the people they there were singing a song or two of like, a Stax classic, or like Al Green or Ray Charles – something like that. So I got to sing Al Green's "How to Mend a Broken Heart" and Ray Charles' "I Got Woman" with the most ridiculous Nashville 60-year-old session guys. I would say arguably I've not had a better experience in my entire life, everything included… So at the moment, I'm kind of [leaning toward bluesy]. There's a couple songs in the set that are that kind of stuff. With this one song in particular, on the production, I was like, It needs to be Al Green "How to Mend a Broken Heart," it needs to be exactly like that – that kind of mood. And we recorded that one with Brendan Benson down in Nashville with players in exactly that kind of situation – so I'm a little bit in love with that.
Is that a love song?
Jamie: Mmhm, it's a song called "Caroline." There was a previous version of it – actually, one that I didn't particularly like, but the label thought it was great, so they put it on [the EP] as a demo. I think seven or eight goes later, the one on the record is just fantastic. I'm not ever usually happy with anything I do, so it's one of those, like…!
Yeah, you don't seem shy about it.
Jamie: [laughs] Yeah, no. Obviously when you hear the record, we could talk for hours about mistakes on the rest of them, but that one is just, like… We did it all live to tape, with the players and stuff, and it was just, yeah – that's what it needed to do. But anyway! Point being, I'm enjoying the ballads because of that show in Nashville and getting to do it live how all the people you grew up listening to did it… And not being able to hide anything. When you get through to the other side of that, it's actually probably better than it would have been if you had planned it all out. It's like a trapeze kind of act, in a way. Also that day I got to sing harmonies with Michael McDonald, so that was pretty much the best moment of my life! We sang with Sam [Moore] from Sam & Dave – I don't know if Dave is still with us – Sam is quite old, and he was singing his hit "Soul Man," and so everyone got on the stage. Michael beckoned me over, and we sang harmonies to "Soul Man" through one microphone, which is like the biggest thing ever! He's like the running thing on the tour van for like, five years – always whacking Michael McDonald, like as a cheeky little post-show thing to do.
Listen: "Soul Man" – Sam & Dave
---
And now you've played with him, so -
Jamie: Yeah, it was one of those night where it was just bananas, and obviously with Kings of Leon as well, who are probably one of my favorite bands. Getting to share a stage with Kings of Leon and all that lot was another of one of those things where… Starting out playing guitar on the side of your bed, and then doing that kind of thing, I never thought I'd get the opportunity to even play music in Nashville, let alone with that kind of crowd!
Tell me about 'Marathon.' What did you have in mind when you wrote that song?
Jamie: It was a very basic concept. My label boss Alex [da Kid] had this beat that sounded very energetic to me and all that kind of stuff, and I had this concept for where a girl keeps running around. As soon as I heard it, it just sounded like that kind of thing, and yeah – it was written very quickly, to be honest. It's a very quite basic concept for a song, but sometimes the better ones are the quickly written, less thought-about kind of ones.
After listening to 'Marathon', readers might want to go back through your older material. If you had to pinpoint one or two songs from your previous works to highlight, what would you want people to be looking at - to get to know you better?
Jamie: I would recommend the first EP, which I don't think actually came out here (in the States).
They'll find it.
Jamie: Yeah, it's findable. That one, because it was mainly self-produced. It's definitely much more of a channeled kind of thing, and we recorded it to tape in two or three days, so it sounds very accurate – whereas the EP after it maybe got a little bit bogged down, and – uh, interesting, shall we say? I think there's some really good songs on there, but it's like seven songs! It's not an EP; they just kept on adding on. I wanted to keep it a bit smaller, but… That was my first dealings with a major label, of Oh! You really have to make yourself clear and pointed, so it was a good learning experience. An edited version of that EP is a good EP.
Watch: "The Preacher" – Jamie N Commons
---
Did you ever think you'd be a model for an outdoor apparel company?
Jamie: Absolutely not, and I still find the whole thing quite hilarious, really – as does my girlfriend! No, I've definitely never been particularly the stylish kid, at school or anything like that. To be, in a certain way, a product of visual and not just audio is bananas, but I think it's the right brand to do it. It was good getting involved and talking to the CEO and stuff. They're so, so passionate about it –  I didn't know anyone could be that passionate about clothes! – but he was explaining to me about how it's an old style, and they're trying to mix new elements into it and relaunch the brand as The Modern Trail.
That kind of sounds like your music - it's an old style with new elements in it.
Jamie: Well, this is what this was coming to, yeah there's a certain massive parallel there! So that's why I thought it was going to be a really good match, and the team definitely got it all. It was a very creative, collaborative kind of thing, rather than just like, "And then you go here, and we film you there," and all that kind of stuff. They were able to like, get us really involved in the advertisement and the ideas and all that stuff. I think it looks a lot more organic than a lot of product things that you see out there – but no, that parallel was definitely what sold me on the idea.
Are you an outdoorsy kind of guy?
Jamie: Yeah! In England where I grew up, it's about a two and half mile walk across fields to the nearest bus stop, so I'm definitely a country mouse. Space – I like space.
What's been the most exciting aspect of the past year for you, so far?
Jamie: I'm going to say that Nashville thing, but at the same time finishing this record, since it's been such a long time in the record. Finishing it… It's just about to go to mix, so there's a few things getting tweaked, but I'm overwhelmingly happy with the songs and how they turned out. It was a very tough process to get it in any way even made.
Have you had more creative control than you did in the past?
Jamie: Almost entirely – I've self-produced a lot of it… You've got me before they've PR'd me, [laughs] so I don't know how far I should go down that street, but it was very, very… very tough to make! It was an arduous process; read into that what you will, but anyway it's made now and people seem to be happy with it. However it got birthed, it got birthed.
You've been on tour with Catfish and the Bottlemen. How's that whole thing going?
Jamie: Really good, as I said it's a younger crowd which is so fun to play to. A lot of these songs were designed for energy and youth and vigor and abandon. It's not just a bunch of guys like me standing around, chin-stroking at the effects pedals! People are actually listening to music as music, appreciating it. Catfish and the Bottlemen are such nice lads, and it's cool to play with a rock band! They're the last of a dying breed to cross over, it seems, so I'm glad I got the opportunity before everyone decides it's fully over.
Well you're keeping it alive, too!
Jamie: Exactly [laughs] in my own way. It's bonkers to me that kids don't want to listen to that sound; it's so exciting, you know?
Let's just not even go there.
Jamie: Oh, okay yeah. It's a whole tangent there.
What do you spend your time doing when you're off-tour? Trekking through the wilderness terrain in your Timberlands?
Jamie: Not far off actually! When I'm writing, I stay up and go on a lot of late-night walks, which is a really fun thing to do. Otherwise just hanging out, really. I'm obviously a massive Netflix, blah-blah-blah, like everyone else, predictably.
What do you watch on Netflix?
Jamie: Well at the moment it's Mr. Robot – have you seen that one yet? Ugh, I'm four or five episodes in, but it's a dangerous show! I wonder if that's going to catch on with some ideas; it's very anti-everything that everyone's perceived to like at the moment. I think that's maybe why it's catching on – everyone's like, "Yeah, you know what? This is all complete bullocks!" But anyway – anyway! You don't want me to talk about TV shows.
Watch: "Rumble and Sway" – Jamie N Commons
---
It seems like your music captures the live aesthetic. Is there a distinguishing factor, for you, between the live show and the recorded music?
Jamie: Ideally not, but at the same time…
Does one reflect the other?
Jamie: Yeah, I think entirely. Especially these days, it's a very different concept; I think they need to be a lot closer than they used to be. That's not necessarily a bad thing or a good thing, but… They are becoming one and the same. Live and record are definitely becoming expected to be one.
Do you create for the live show, or does the live show support the sound on the record?
Jamie: I don't know… I've got quite a short attention span, so I think there always has to be something happening, and there's always way too many parts on it and way too many bits of music going on. When you get to the live show, it's always a nightmare because there's about seven guitar lines to play and you're like, I don't even know where to start with this one! Which is the most important?
Any favorite albums of 2015 so far?
Jamie: Nathaniel Rateliff & the Night Sweats. It's the best! I've known Nate for five years, and I'm so glad it's all happening for him now. He's such a ridiculously talented human being. He's got this solo album, In Memory of Loss, which came out on Decca/Rounder like, four years ago which no one at all bought, but it's one of my favorite records of all time! Every time he'd come over to the UK, a friend of mine was looking after him at Decca Rounder and no one cared, because it's a reissue label and/or classical crossovers. No one was pushing it whatsoever apart from her, so every time he came over we'd buy him drinks and all this kind of stuff – and now it's all happening for him! He was a great big influence on me. Getting to see him play… Him and an acoustic guitar is just something crazy!
Listen: "Look It Here" – Nathaniel Rateliff & the Night Sweats
---
There's no mistaking it: Jamie N Commons is a musician in love with music. Come with him on his amazing journey, won't you?
Follow Jamie N Commons on Facebook, Twitter and Instagram
Watch: "Marathon" – Jamie N Commons
Jamie N Commons 2016 Tour
2/24 – West Hollywood, CA – Troubadour
2/25 – San Francisco, CA – The Chapel
2/26 – Portland, OR – Aladdin Theater
2/28 – Boise, ID – Knitting Factory
tickets & more info at jamiencommons.com