The Rare Occasions' new EP begs a certain semantics/philosophical question: What does it mean to be "futureproof"? Let's break it down. When something is waterproof, it is impervious to water. Water cannot hurt it, damage it, or negatively impact it in any way. If substitutional logic applies, then when something is futureproof,  it is impervious to the future. The future cannot hurt it, damage it, or negatively impact it in any way. In essence, that which is "futureproof" is unaffected by the passing of time. It won't become obsolete.
you found love but now you're on your own
you want it to be futureproof
you can save a picture on your phone
but you can't save your fleeting youth
Already somewhat of an Atwood Magazine favorite, The Rare Occasions are one of New England's most promising indie bands. Brian McLaughlin, Peter Stone, Jeremy Cohen, and Luke Imbusch formed The Rare Occasions in a Tufts University practice space in 2012, and quickly released the 6-track Demo Recordings later that year. Slowly gaining a cult following in their current New England home, the band have released a handful of singles (Atwood premiered "An Actuary Retires" in October 2015) and three EPs – 2013's Applefork and 2014's Feelers, and now 2016's Futureproof. Further affirming their talents, The Rare Occasions also won Grand Prize in the 2015 John Lennon Songwriting Contest. Each successive release has found the band growing together, but Futureproof is an exponential jump: Blood, sweat and tears are all over these four songs.
Futureproof serves to only further assert The Rare Occasions' increasingly bold, daring ethos and lyrical depth. Give a listen to the EP while enjoying Atwood Magazine's track-by-track review!
Futureproof – The Rare Occasions
Futureproof
The EP's title track is a perfect re-introduction to The Rare Occasions, who will always prefer their music to convey their message in their format. Lead singer/multi-instrumentalist/songwriter Brian McLaughlin has never been one to follow traditional "pop" song structures, and he's not about to start now. Listeners can anticipate verses and choruses, as long as they also expect songs to twist and turn in the process. Whether that means a dreamy futuristic post-chorus soundscape or something else, The Rare Occasions know how to keep an audience's attention.
I know you're drifting back into your head
to how she kept her books beside your bed
and kissed you slowly through the afternoon
but that was back when she adored you
"The song is about the inevitability of change," says McLaughlin. "No matter how much you want something to be permanent, it's not. Futureproofing is an engineering term that means designing against the possibility of becoming obsolete." Still fresh into their adulthood, The Rare Occasions hit upon one of life's darkest and more harrowing quandaries. When acknowledging the transience of relationships – the coming and going of beings, like passing waves – there is an impulse to question the worth of our actions.
But the Rare Occasions do not devalue the present. Even if "Futureproof" uses a failed relationship as its template, the band's approach is an optimistic one: "The road is sprawling out in front of you – you wanna do just what you wanna do," sings McLaughlin in the second verse, "so rip a page from Kerouac, and make a promise not to circle back." Commit to improvement, in some sense.
This isn't easy; we are all holding onto pieces of our past that we can't get back. We would love to think of our brains as having two feet – one foot in the present, and one foot in the future. But life doesn't work like that, and human beings are, fortunately or not, far too intelligent to exist so two-dimensionally. We will always remember that which was, which cannot be again; something will not be "futureproof."
So what do we do about it? In the chorus, McLaughlin sings:
You can save a picture on your phone,
but you can't save your fleeting youth
We are always going to be moving forward… The seconds only tick in one direction. "Futureproof" is the songwriter's catharsis: Coming to terms with an end he might not have seen coming.
---
Loans
everyone's got their own plans
a map of brooklyn on the backs of their hands
but no one ever seems to find their way out the door
The sure-footed pad line opening "Loans" sets a confident tone for the whole song, a defiant track about finding your own way through the rough and tumble of 'la vie'. We don't know where we're going to end up, but that doesn't mean we need to accept help from those that won't offer it without a slip attached. There's a Strokes-y rebellion lying at the heart of this mix, and The Rare Occasions are likely to outsmart us with references to French philosophers and Greek mythology. They'll always be one step ahead, and it's refreshing to see a band unafraid of asserting their intelligence alongside their art and expression.
they're always saying
"you'll never make it on your own.
why don't you take another loan?"
before you know it
you're hardly fighting for yourself
owned by everybody else
and I'll never understand, no I'll never understand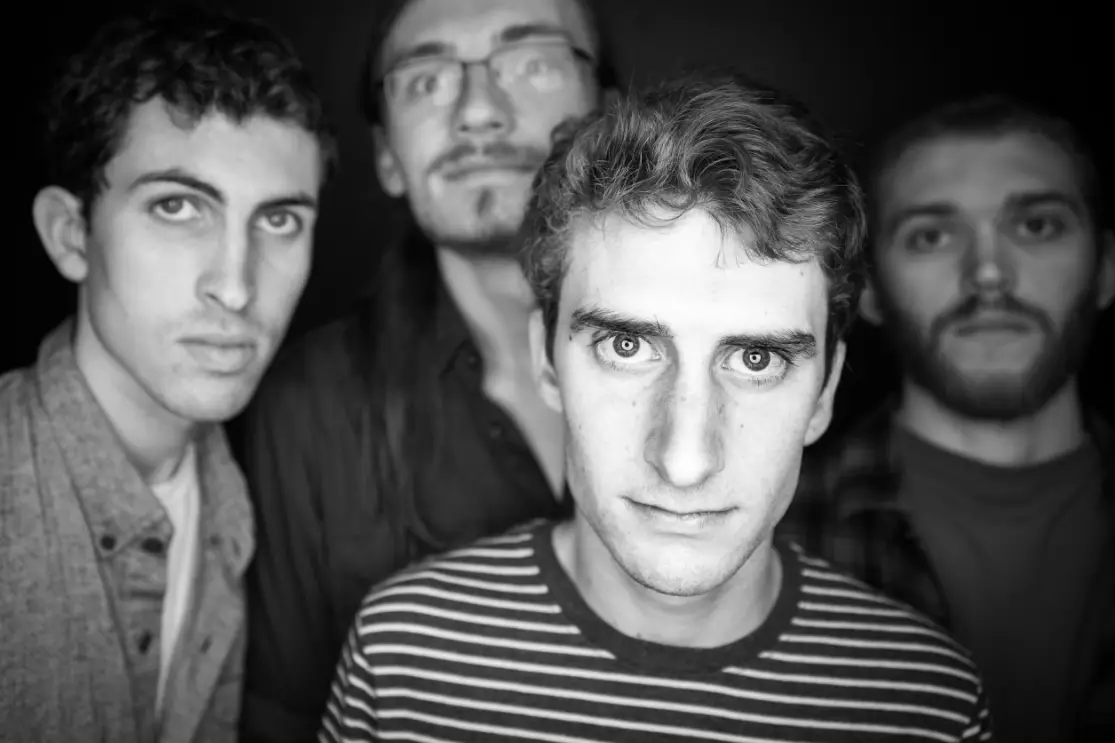 ---
Notion
"Notion" opens like a fairy-tale – a ten second expansion of melodic glory brings us to a brave cliff before subsiding. "Sure it's a calming notion, perpetual in motion, but I don't need the comfort of any lies," sings McLaughlin as he breaks through the fairy-tale, asserting real life.
I don't see what they see when death is staring at me
I see a window, a limit, to live it, or not at all
A colorful expanse of explorative music, "Notion" goes as deep into meaning and purpose as it does into music. An illustrious post-verse bass solo creates its own imaginative world before The Rare Occasions dive back into their philosophical concerns. The song quickly reveals itself to be a series of interconnected parts, all spun together in a seamless, mathematical web. It's a brilliant example of how clever music can also be ear-catchingly delightful.
Food for thought throughout, "Notion" gives us a lot to consider. Life has its ups and its downs, but that isn't a reason to not live each day to our fullest potential.
I'm sure there won't always be sunshine
but there's this momentary beam of light
you don't have to wait those salty decades
to get through the gate it's all in front of your face
---
Bug Eyes
Mclaughlin's genius as a storyteller comes into full view on EP closer "Bug Eyes," a haunting three-verse ballad that rips at your heart like a Disney animated short film. Softly and sweetly, The Rare Occasions create a world around two lovers:
the street was buzzing low as darkness wove around
one of those nights that float a foot above the ground
she stood close to him, moonlight cast across the square
and smiled softly as a hush fell through the air
and he said "don't give me those bug eyes"
The Tree of Life takes its toll on all of us, however. Love grows and swims with us as we age, but we aren't futureproof.
they carried on the way an oak collects its rings
another chapter written every passing spring
and as the skies lit up with auburn, red, and merrigold
she saw in his face the fact that they were growing old
and he said "don't give me those bug eyes"
"don't give me those bug eyes"
"Bug eyes," he says to her. It's their special pet name; the connection that they share, one soul to another. It's a representation of their love, which makes the song's final verse all the more difficult to stomach.
there comes a time we all must place our pencils down
maybe tomorrow maybe fifty years from now
when he came home from what what meant to be a routine test
she knew at once and felt a sinking in her chest
and he said "don't give me those bug eyes"
"don't give me those bug eyes"
A beautifully lush, yet instrumentally sparse background builds alongside the story, waxing and waning in time with the lyrics' emotions. No amount of metaphor or euphemism can make up for the pure love displayed in those final lines. One can imagine the crinkly smile that comes alongside the weathered, loving phrase that holds as much weight in that moment, as it did the first time it was uttered. "Don't give me those bug eyes."
For all the majesty, torment and creativity that went into crafting the Futureproof EP, "Bug Eyes" is likely to be most remembered. It is complex and multifaceted, but also simple, quick, and immediately relatable. Futureproof is musically and lyrically enriching, asking the tough questions and capturing the band at their finest. So concludes another excellent chapter in The Rare Occasions' catalog.
Or is this just the beginning?
:: The Rare Occasions Tour 2016 ::
8/11 – Syracuse, NY @ Funk 'N Waffles
8/12 – New York, NY @ Rockwood Music Hall
8/13 – Cambridge, MA @ Middle East Upstairs