Every other week, Anthony Kozlowski pens the Atwood Magazine column Tunes & Tumblers, pairing new and classic albums with cocktail recipes. He quickly found however that drinking alone is a sad business. So he invited his friends into a recording booth to aid in mixing delicious drinks and to discuss the music that they all love. Strap on your headphones and enjoy a cold one on us. 
 
Pour yourself a cold one of whatever you've got lying around and settle down for a new episode of Tunes & Tumblers, featuring Waterparks' Awsten Knight and their newest single, "Brainwashed."
   
words by Lilly Eason
We keep spirits high and out of our glasses this week as we sit down with Waterparks' very own Awsten Knight to sip an aptly-named, alcohol-free Red Drink. While we shimmy our shoulders to Waterparks' newest tune, "Brainwashed," we chat about their astoundingly alphabetical discography, including their upcoming album, Intellectual Property. Between fidget spinner sessions and synesthesia examinations, we examine the cave that 2020's Greatest Hits was written in and re-living the old stuff, in a bad way. Cheers!
Check out our newest episode of Tunes & Tumblers on Spotify and Apple Podcasts.
Wanna drink with us? Then you've gotta do it responsibly. Here's Kaitlyn's recipe for a "Red Drink"!
•• ••
Red Drink
INGREDIENTS
1/2 Jar Maraschino Cherry Juice
1/2 oz Lemon Juice
1 drop Lavender Oil
10 Maraschino Cherries
Sparkling Rosé Apple Cider
1 tsp Tropical Punch Kool Aid
RECIPE
Stack Maraschino Cherries in 1 cube of a large square ice tray
Add lemon juice and lavender oil
Fill with Maraschino Cherry Juice and freeze
Add frozen cube to lowball glass, top with Sparkling Rosé Apple Cider, sift Kool Aid powder, and you'll soon start seeing red!
Have your own idea for a Tunes & Tumblers pairing? Let us know in the comments, or hit us up on Twitter.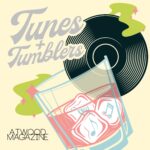 © Kaylyn Wiggenhauser
design by Kaylyn Wiggenhauser
---