If rock music was a monarchy, Sunflower Bean would proudly wear the crown today, and the rest of us, willing subjects, would happily bow in their presence.
— —
The best kind of rock music is the one that begs to be played really loudly; that empowers you and brings you to catharsis; that makes you feel like a badass. It's the kind of music that sticks in your head for all the best reasons and energises you, converting you from casual listener to devoted fan in just a few minutes. Sunflower Bean's new EP, King of the Dudes, released today via Mom+Pop, is exactly that.
Listen: 'King of the Dudes' – Sunflower Bean
---
Self-titled opener "King of the Dudes" is a burst of energy that is the most reminiscent to Sunflower Bean's most recent album Twentytwo in Blue. The song's first verse is an empowered and ambitious statement that reflects a band at its prime, who's established its identity and is now enjoying exploring all different facets of it. Sunflower Bean are a necessary voice in today's rock music landscape, and they know it.
I know what I want and I know how to get it
I won't let you stand in my way
My way, you're in my way
I don't need to think
I just reach out and take it
It's what I was born to do,
To do, to do do do
Gender roles exist only to be subverted and destroyed in King of the Dudes, with singer and bassist Julia Cumming growling out lines like "I'm the king of the dudes", "I can be your queen if", "If you've got the balls to meet me in the alley", and "I felt the joy of a man disillusioned" and playing with words to toy with your expectations.
Cumming has never been as confident as she is on this EP, playing around with images and sayings normally attributed to men and then claiming her extremely deserved place among the male-dominated world of the great rock and roll stars. When she defiantly asks "Do you really want to come for me?" on lead single "Come For Me", you're at once intimidated and in awe of her. And you do not, under any circumstances, want to wrong her.
"Fear City" explores Sunflower Bean's more vulnerable side, speaking about disagreements in relationships, not being heard, and needing to escape. The first few seconds of its chorus is one of the best moments in the EP.
EP closer "The Big One" is the best example of just how tight and in sync the band is, with all three members working together to create a regal atmosphere that's slightly coated with anxiety and danger. On the song, Sunflower Bean close the EP telling us how they want to be remembered after they're gone:
When I die bury me in a bed of silk and linen
Push me out into the lake,
set a flame, already burning
You think you can make me sink?
I'm already sinking
Cause I'm a tree, big and branches,
and I'll shade you in it.
Shade you in it. Shade you in it.
They recognise their greatness and catch you by surprise, challenging you to try and defy or forget them. Even when they go, they want to go out in true rockstar fashion with fire and silk and a spectacle. Because they truly deserve nothing less than a spectacle and an incredible celebration of their legacy, despite still being very young. If rock music was a monarchy, Sunflower Bean would proudly wear the crown today, and the rest of us, willing subjects, happily bow in their presence.
— —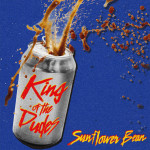 ? © Andy de Luca
:: Sunflower Bean Tour ::
01/26/19 – Los Angeles, CA @ Bootleg Theatre
01/31/19- Vancouver, BC @ Queen Elizabeth Theater #
02/01/19 – Portland, OR @ Keller Auditorium #
02/02/19 – Seattle, WA @ Moore Theater #
02/05/19 – Minneapolis, MN @ Palace Theater #
02/07/19 – Chicago, IL @ Chicago Theater #
02/08/19 – Milwaukee, WI @ Pabst Theater #
02/09/19 – St. Louis, MO @ The Pageant #
02/11/19 – Nashville, TN @ Marathon Music Works #
02/14/19 – Raleigh, NC @ The Ritz #
02/15/19 – Washington D.C. @ The Anthem #
02/17/19 – Dallas, TX @ The Bomb Factory *
02/18/19 – Houston, TX @ White Oak Music Hall *
03/01/2019 – Philadelphia, PA @ First Unitarian Church
05/01/2019 – Morrison, CO @ Red Rocks Amphitheatre #
# = with Interpol, * = with Courtney Barnett
:: Stream Sunflower Bean ::