Lenachka explores love and loss in her upcoming music, and talks with Atwood Magazine about why sometimes what you want isn't always what you need.
Stream: "Cigarette" – Lenachka
---
After wildfires you will always see plants growing up through the ashes. Colour slowly replacing the black and grey. The fire and ash creating the perfect conditions for these plants to begin their journey again. A rebirth if you will. The pandemic has been its own wildfire both on a micro and macro level. Old systems have disintegrated; people have suffered horrific losses; and the dreams and plans that were in the process of coming true went up in smoke.
I meet the artist Lenachka on an unusually warm evening in January; me in the UK, her in LA; and I quickly discover why she has been so quiet musically for the past few years, and what turned the faucet of creativity on in her life.
---
Lenachka, born Helene Immel, is a singer/songwriter and producer. In early 2012 producer Charlie Peacock (The Civil Wars, The Lone Bellow) came across a cover of Taylor Swift's song "Safe and Sound" on YouTube, by an aspiring singer/songwriter named Helene Immel. He immediately sent her a note saying, "Heard your cover of 'Safe and Sound'. Really like the sound of your voice. Just wanted to let you know my door is always open to you to send songs as you create them."
Helene took up his offer. Their goal: To make beautiful pop music the whole world will sing. Lenachka released her self-titled EP in 2015. Since then, Lenachka appeared on a handful of features but all but disappeared from view. Then in July 2020, she released the moody and mysterious released "Cigarette." Her understated, unique vocals were still there; the story was mysterious as ever; but what had changed was the mood. Where light once shined through into even the darkest of rooms, the room now is cloaked in darkness, the atmosphere is heavy with hurt, and monsters lurk in the shadows.
Lenachka is ensconced on a grey sofa, swathed in a knitted cardigan with a pair of glasses worthy of a librarian perched on her nose. In stark comparison to the darkness that surrounds me, she is surrounded by white walls and morning sunlight streaming through the windows. In spite of the technical difficulties and a brown snout (her dog) that makes an appearance in the corner of our screen, we talk all things love and loss, the cathartic nature of music, and reimagining and finding yourself again at 27.
Lenachka wrote her debut EP at 17, recorded it at 21, and now at 27 is writing and recording her new songs. A ten-year gap has elapsed, and in the time in-between, "so many great things and so many painful things took place." Lenachka tells me that as soon as she returned to LA after living with her family in Sacramento during lockdown, and began trying to write through her heartache, everything came pouring out. "I broke the seal, and I had all these songs pent up in me that were just waiting to be written. About this person and about the last year. It's crazy that it's almost been a year since it all happened, and I am still over here like yesterday."
When I ask her about which song from her new set of recordings is the one that means the most, without any hesitation at all, she tells me it is the first one she wrote. She describes it as being very ambient and full of urban influences, though she knows that carries a lot of preconceptions. "This is was the song that unleashed all the other songs, because it really just made me excited again and I feel like I found, stylistically, the groove. The mood of the song is the best. It puts me in a great mood."
Listening to the yet untitled song after our interview, the word that kept coming back to me is soothing. In spite of the really, really sad lyrics, the music itself soothes your ears and your soul. It enters softly, with Lenachka's unique voice coming through the speakers. The chorus is where the hip-hop influences lay. It is a song you could cry to, but it is also a song you could just vibe to. The song is pretty much the musical version of our interview.
Truth is, I really loved you
And this is, still really hard to do
How could how could how could I
Ever get you off my mind
Tell me tell me tell me why
You decided to walk out of my life
Lenachka goes onto say that "a lot of the other songs that came after this one were more painful. There is one called 'Sad Song'. "I'll sing another sad song/ I don't want to feel like shit forever/ I'll sing another sad song/ Until I feel a little better". She has been completely hands-on throughout the creation of these new songs, both because of necessity but also because in the past she never felt her music was a true representation of her as a human and as an artist. "I never felt it was really true or as true to my style as I wanted it to be so during that time there could have been a lot more music if I had been happier stylistically with where they were going. But I was in this place where I didn't know how to produce and I couldn't verbalise what I wanted to these producers well enough, obviously, to get to a place where I liked the music, so I just started producing my own simple tracks."
Lenachka enlisted her friend producer Daniel Pashman to help her stitch her new songs together whilst remaining the driving force behind her music. Her writing as process is as such that she begins by creating the instrumental track at home using drum samples or synths, then moves onto recording the lyrics over top, and finally adding other instrumentation in the studio. "Even my producer said yesterday, 'You're the most hands-on person I've ever worked with because over here fine tuning every tiny little sound.' No one will hear the tiny little things that I hear but at the end of the day I have to be completely happy with where it is because then I can confidently go out and show this to people and be proud."
Lenachka also shared her musical inspirations, and like everything about her, they were unexpected and spoke to the rich tapestry and the eclecticism of her tastes and her music. "I am always listening the jazz artist called Stan Getz. It's just going on for hours. If I'm driving, it's Frank Ocean who is a big, big artist who I am very inspired by. A lot of Russian music too, that most people would never guess in a million years because it sounds like it's from 2002 but it just makes me feel at home. Erykah Badu is someone who I have recently gotten to listen to, and I know she's been around forever, but I feel when I started writing more and finding all these drum samples from these hip-hop songs that I loved, everyone was like you need to listen to Erykah Badu. A lot of low-fi hip-hop. I love instrumentals that don't have lyrics and it allows me to just listen to a song and I'm singing melodies all around it."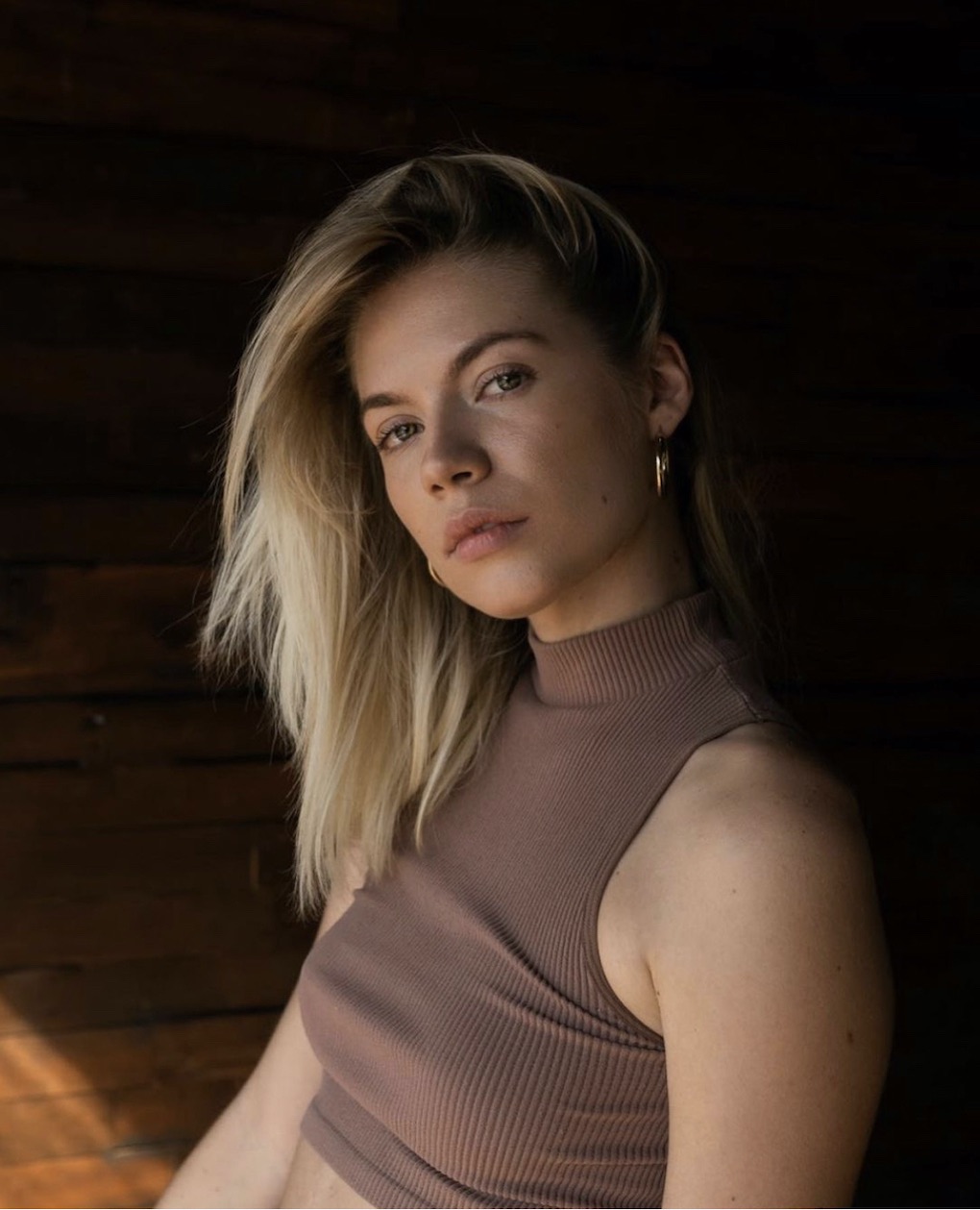 Lenachka alluded to what 2020 had been like for her in a social media post. She lost her job and a love of her life within two weeks of each other, lost her home and ended up back at her parents' house in Sacramento. "I moved out when I was 17 so to show up at 26, crying with three boxes. What was the last ten years for? I worked so hard and to have all these things and now I'm back to just have three boxes and nothing of my own."
You can hear the hurt in her voice as we talk about all that she had and all that she lost in such a short space of time, like so many people around the world, who had it all and then the pandemic came and washed it all away. "For the first time in 10 years I was without a job and in that same exact season, which was a span of a couple of weeks, I was dumped and that literally threw me down into a spiral. So much rejection all at once that I really lost all kind of confidence in myself. I never even realised that, how little I thought of myself and how I always talk myself down. I didn't think I was worthy musically."
Despite or perhaps in spite all of this, Lenachka assures me that "It's something I did not want, but it is what I needed." She goes onto say that "it made me rethink so many things, including music because music was something I really put on the back burner for the person who left me, because I loved him so much and wanted to have kids with him. I don't think I would be writing these songs again if it wasn't for all of that." She goes onto say that though making music has been cathartic it has also elongated the grieving process. "It has taken me twice as long to get over this because I feel like the first six months the world was falling apart around me and I'm over here crying for a multitude of reasons and then a whole six months later was I ready to write and talk about it."
Lenachka and I spend a few more minutes talking about losing the love of your life and all the parts of yourself you begin to no longer recognise and all the other parts that you had neglected like dirty laundry. "I'm all in in a relationship, guns to the wall and I worship the ground that they walk on and I forget that I even exist; their closet is pristine, my closet is a mess."
As our interview draws to a close, Lenachka says something that has stayed with me and cemented my belief in the power of music:
I've found peace with everything. There are still things, but that will take time. A couple more songs, and then maybe I'll be ready to be better.
— —
— — — —
? © Lenachka
:: Stream Lenachka ::
---