Blood Harmony explores soundscapes that range from radio-ready pop hits to stripped down ballads, never losing its polish or unique cinematic quality, and reveals that FINNEAS is a master at telling stories about those who surround, or once surrounded, him.
— —
FINNEAS once described his discography, the sum of all its parts, as a special kind of mosaic: "You know those pictures that are made up of a lot of different pictures that are really tiny? And the colour shades just stay in the picture. I feel like you see this in Disneyland a lot, if you look way into a hundred different pictures of different families and you zoom out and it's a picture of the Golden Gate Bridge or something. My hope is that eventually it will all just contextualise itself," he told Atwood Magazine in April of 2018.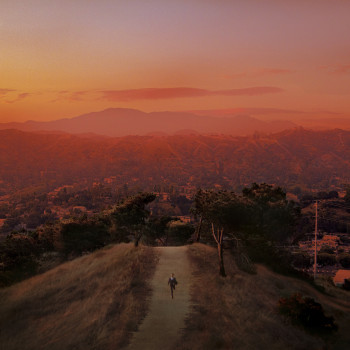 Today, FINNEAS releases his debut EP, Blood Harmony, and even before you press play, it teases beauty and drama. On the EP's cover art, FINNEAS is seen on his own, running away from a city during the most stunning sunset, dashing into the unknown.
On our day-to-day lives, the sunset always manages to steal our attention. At around the time the sun goes down, people are eagerly looking at the sky and searching for the shades of orange, pink, red, and yellow that are bound to infiltrate it, and those more social media-inclined are ready to capture the moment and share it online. It happens every day, but more often than not it makes us look around and appreciate the beauty of the world we live in if only for a few seconds.
But the sunset is also a transitional moment, marking the point where day turns into night, and Blood Harmony is the most transitional point of FINNEAS' career so far. It takes courage to trust yourself, leave everything that's beautiful and safe behind, and bolt into a future that's yours, and yours only, to build and thrive in, as he's doing on the EP cover. Blood Harmony is somehow even more arresting, beautiful, and pivotal than what, visually, it promises to be – if the cover art takes your breath away, the EP's seven songs will provoke an even more visceral reaction.
Musically, if you glance at the EP from a distance, the picture it paints is one of a deep examination of human relationships. A closer look reveals the different shades of relationships we're about to encounter, from the heartbreaking mourning of a friendship lost in "I Lost A Friend", to the symbiotic, infatuated co-dependency of "Die Alone". Blood Harmony explores soundscapes that range from radio-ready pop hits to stripped down ballads, never losing its polish or unique cinematic quality, and reveals that FINNEAS is a master at telling stories about those who surround, or once surrounded, him.
Listen: Blood Harmony EP – FINNEAS
The EP opens with "I Lost a Friend", a previously released single that manages to acutely reflect all the pain and confusion that comes with losing a friend. The song is at once a slow burning introduction to the EP and an emotional punch that stops you on your tracks. It begins almost acoustically, with FINNEAS playing the piano and reminiscing about the friendship that has slipped away with fantastic similes.
I lost a friend
Like keys in a sofa
Like a wallet in the backseat
Like ice in the summer
I lost a friend
Like sleep on a redeye
Like money on a bad bet
Like time worrying about every bad thing that hasn't happened yet
The storytelling and emotion sucks you in, and gradually the song's sonic universe expands, allowing synths, drums, and layered vocals to seep into the track. By the time you arrive at the bridge, FINNEAS' voice is disguised by a vocoder, and it sounds like the opposite of the song which you started listening to. In under four minutes, FINNEAS manages to convey his grief through the lyrics and uses sound as a metaphor to show how a feeling that starts as something so small and intimate can rapidly grow into something daunting and all-consuming.
Watch: "I Lost a Friend" – FINNEAS
---
Love is the most common thread on the EP, and it sounds great on FINNEAS. He perfectly chronicles the start of a relationship on fan favourite "Let's Fall in Love for the Night", an acoustic-guitar led song that's the musical equivalent of the scene where the movie's heartthrob asks the shy female protagonist to dance. Or a cooler, better, 2019 update on the classic "Start of Something New" from Disney's High School Musical – a song that hints at the beginning of a one-of-a-kind romantic journey.
"Shelter" prolongs the theme of love, and is a high energy, radio-ready take on seeing someone as your safe haven. The production on this song is remarkable, offering a fresh take on a pop anthem about being way too deep in love. "Lost My Mind" is a more subdued telling of a similar story, with FINNEAS realising he's in love and wondering if his feelings are reciprocated.
It's on EP closer "Die Alone" that the stakes are as high as they can be. FINNEAS' favourite song off the EP is a romantic meditation on stumbling into love and being in it for the long haul. It takes the word forever as seriously as possible, promising to be there for his loved one through it all. The lyrics are better than most wedding vows out there, and the song's production elevates the intensity of the feeling. It's the song that, during his upcoming headline tour, will probably to be the emotional high point of the night and have fans using their phones' flashes to fill up venues as FINNEAS pours his heart out on the piano onstage.
Watch: "Shelter" – FINNEAS
---
On the other end of the spectrum is "I Don't Miss You At All", a cheeky and ironic song about getting over an ex. Capturing the same energy of the "fake it 'til you make it" mentality or the idea behind repeating positive affirmations until you achieve what you desire, FINNEAS swears to not miss and barely remember a love from the past while also contradicting his own statements by bringing up very specific details about that person. If he repeats it enough, it's bound to become true, or so the song goes.
I swear I don't
Miss you at all
And I barely still remember
Who's in the pictures on my walls
No I can't
Recall your scent
Jasmine tuberose and lily
Or your silly French accent
All but forgotten
About those eyes
The shade of green that if he'd seen
Would make F. Scott Fitzgerald Cry
But I won't
Break down at two AM and call
Cuz I don't
Miss you at all
A definite highlight comes on "Partners in Crime", a story of a dangerous and fading love that subverts the Bonnie and Clyde trope, revealing the not-so-glamourous result of buying into Hollywood stereotypes of intertwining love and thrill-seeking. It's one of the songs which covers the most ground on the EP, but FINNEAS' lyrics use the backdrop of drugs, cops, and mutual trust to really recount how what was once love got lost in the middle and disintegrated into something less. There's a movie waiting to be made of this song alone.
Blood Harmony is a sign of greatness and an oath that even better things are to come. The word prodigy is thrown around carelessly, but it truly rarely gets as prodigious as FINNEAS is on Blood Harmony, a project where every word and sound is meaningful and touches you whether you'd like it to or not. If a debut EP is this ambitious and achieves so much, one can only imagine what a debut album will accomplish.
What's maybe the most impressive thing about Blood Harmony is that despite all the pain it carries, hand in hand with the love it proudly wears, it creates a world that you can't help but crave to get lost in and explore. There are hidden corners waiting to be discovered everywhere, and suffering sounds worth it if the payoff is being swept off your feet by such all-consuming love. The EP is a songwriting and production triumph, but it succeeds the most because it makes you want to see the world the way FINNEAS does, with all its dramatic red hues, beautiful landscapes, thrilling escapades, unapologetically deep feelings – all underlined by the blind courage to step out on your own and be heard for the first time. There's no going wrong when you, like FINNEAS, wear your heart on your sleeve and manage to find the beauty in everything.
— —
— —
? © FINNEAS 2019
:: FINNEAS Tour 2019 ::
10/05 – Austin City Limits Music Festival – Austin, TX
10/15 – August Hall – San Francisco, CA – SOLD OUT
10/17 – Masonic Lodge at Hollywood Forever – Los Angeles, CA – SOLD OUT
10/18 – Masonic Lodge at Hollywood Forever – Los Angeles, CA – SOLD OUT
10/20 – Thalia Hall – Chicago, IL – SOLD OUT
10/23 – Warsaw – Brooklyn, NY – SOLD OUT
10/24 – Paradise Rock Club – Boston, MA – SOLD OUT
:: Stream FINNEAS ::