Phillip-Michael Scales' "Lover, Let Me Be" is a rollicking, gritty and soulful exploration of the moral ambiguity that often surrounds tangled, messy relationships.
— —
Getting tangled up in another person's tough relationship sounds like a recipe for trouble, but it's exactly what brings Phillip-Michael Scales' latest single its edge. The Chicago-based artist digs back into his early roots and soul influences in his steamy new track and video,  "Lover, Let Me Be," which Atwood Magazine is proud to be premiering today.
"Lover, Let Me Be" is the first single from and inspiration for Scales' new EP Sinner-Songwriter, out June 8th. As the title of the EP might hint, "Lover, Let Me Be" is a rollicking, gritty, and soulful exploration of the moral ambiguity that often surrounds tangled relationships.
A crescendo of strings places us in the middle of the action as the song begins. From the first line ("Lie to yourself, but don't lie to me"), there's a sense of forbidden longing. Scales goes on to detail the sticky situation of becoming caught up in the other party's troubled relationship. He states that "Lover, Let Me Be" is "about the moral ambiguity of being tangled in someone else's bad relationship." The music he wrote specifically "reflects that thought with the time signature and gritty tones," which any listener can pick up on almost immediately.
Lie to yourself but don't lie to me
Is the man in your bed on your mind when you sleep?
I got caught up when I saw ya,
The room started spinning
Time stopped and my heart dropped
I was all in
Wish I had known, now look at the mess we're in
With each new line, there's a swing between desire and frustration, adding to the moral quandary Scales weighs throughout the song. And the swagger of the chorus adds to the push-and-pull of the entire song. Interestingly, Scales notes, the melody of the chorus was inspired by an unlikely source: "I was watching some interview with Donald Glover and the melody with "Do you? Don't you? Why don't you want me?" popped into my head." Emboldened, Scales "decided to give it some bravado and change it to "I know you want me," [which] became a much more interesting perspective for the song."
Do you? Don't you? I know you want me
I know I should leave
Will you? Won't you? Why do you haunt me?
Lover, let me be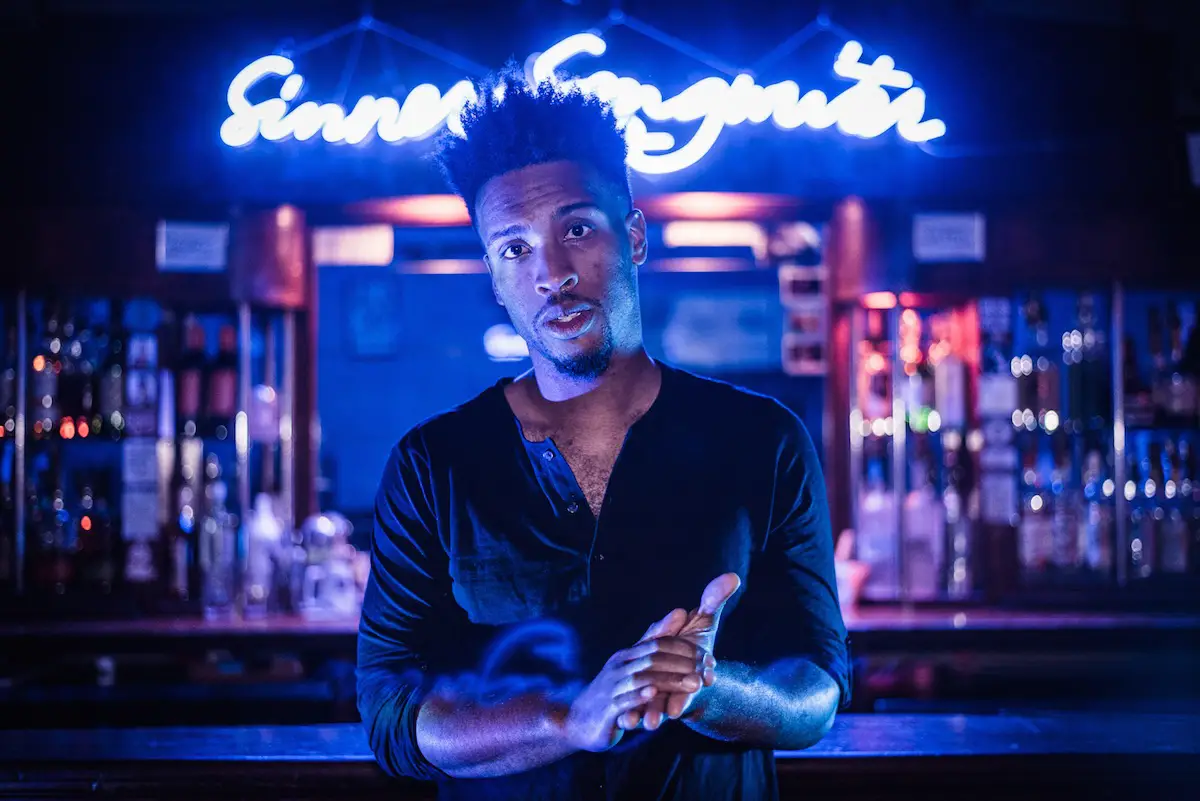 Interesting, indeed. As Scales asks, "Am I right? Or just a saint, justifying sinning?" we're asked to consider the ambiguities of the tangled-up situation…and wonder what we might do in his place. Though the song's title and refrain expresses a desire to leave the relationship as is, it's never as simple as that. With all its allusions to temptation, the song is a temptation in itself, an engaging invitation to explore the nuances of right and wrong in a tangled-up relationship.
The music video features two lovers on opposite sides of a pool, usually near the deep end. Bright lights sever the darkness, adding to the surreal, secretive atmosphere. Throughout various shots, the two appear nearly close enough to touch, then further away. By the video's end, the two never touch, despite floating on a mattress together, adding to the furtiveness of the scene. Scales notes that the scene appears as it does for more reasons than one: "When we were filming, it was crazy when we got on the mattress in the pool…the whole time [we] were laying on this mattress, all of our movements were SUPER slow because we didn't want to accidentally fall in!" The video mirrors the song in that, Scales states, "these two people are wandering around spaces that they're not likely supposed to be in," and plays up on those "clandestine vibes."
"Lover, Let Me Be" is filled to the brim with soulful grit—but what would you expect from B.B. King's nephew? Though most would find King's a tough shadow to live in, Scales is confident in his own identity. Relying on his own talent and direction yet keeping innate elements of soul at the forefront of his music makes "Lover, Let Me Be" a bold creation of Scales' own, one that's left us hungry for what's next.
"Lover, Let Me Be" – Phillip-Michael Scales
— — — —
? © Victoria Sanders
:: Phillip-Michael Scales ::