Atwood Magazine spoke to Polartropica on how she concocted her delightful dreamy synth-pop, creating the ultimate ear candy on debut album 'Dreams Come True.'
— —
Polartropica is a unique artist on the rise with her fanciful esthetic and infectious bubblegum psych. Born in Taiwan, but raised in California, she's built a musical dreamland through imaginative melodies, ultramodern synths, and classic string arrangements. Crafting stunning songs filled with spaced-out whimsy, Polartropica demolishes genre boundaries to explore a quality that's all her own. Using both organic and synthetic instrumentation, she brings her colorful and quirky sound to life.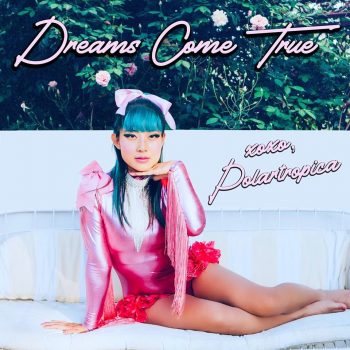 Unveiling her wistful new album Dreams Come True (March 14, 2020 via Freezeway Records), the ten-song release showcases stories driven by people, animals, world news, and her experiences as a queer Asian-American. Each enchanting, ethereal track offers its own powerful message of love, understanding, and acceptance. Polartropica believes in supporting one another instead of a world divided and that notion rings true throughout.
Atwood Magazine recently spoke with Polartropica about her distinctive style, words of compassion, and more. Get all the info in our exclusive interview!
Listen: 'Dreams Come True' – Polartropica
A CONVERSATION WITH POLARTROPICA
Atwood Magazine: From your unique aesthetic to your space-pop music, you create a fanciful dreamland of pure imagination. How did you develop such a rare style?
Polartropica: I've always loved stories for as long as I can remember – it didn't matter if it was fantasy or science fiction, in films, cartoons, or artwork.  When I'm creating the music I'm simply trying to create a world for the music – setting the scene so that the audience can have the full experience.  I want everyone to be immersed in the fantasy so I think the visuals and aesthetic reflect that.  If only I could send a mini disco ball and ice cream cone with every album download … I also love fruits and animals, so those just organically make their way into my visuals and music.
You've crafted a 10-track release showcasing a stunning blend of whimsical synth-rock. Which song off the album is your favorite and why?
Polartropica: "Disco Daydream" (Track 5) was inspired by my friend who had a really awful boss but also had a cool cat named Sid.  Whenever we chatted about her day, she would either be home watching Netflix with her cat or going to a cool concert or show! The song is also a reminder that we are all so much more than our jobs – some folks might be living their dream life through their jobs which is awesome, but for many of us, our friendships, experiences, and hobbies outside of work are a better representation of who we are – or at least are things we can look forward to – that also make life so much more wonderful.  Sometimes all you have to do is close your eyes and imagine you are at your favorite show, or with your pet, or on a vacation for a little escape (I do this all the time)!
Another one I really love is Breakthrough (Track 10) – it's the most unique song on the record.  Originally inspired by and dedicated to the students from Stoneman Douglas and all over the US taking a stand against the NRA and government officials financed by gun lobbyists.  It's about that surreal feeling when the world completely changes without warning and completely transforms your reality and understanding of how things work and who has control.
I feel like we are getting into that sort of space now with the pandemic. Musically, this one was also the most experimentally adventurous song on the record and it really was so lovely to write this one with my talented friend Bobby Halvorson.
The album focuses on insightful stories about people, animals, world news and your experiences as a queer Asian-American living in California. What drew you to these topics and what was it like examining such profound subjects?
Polartropica: It just felt most natural to make art about the things I care most about, and experiences that were most vivid for me.  If I can't get a thought out of my head, sometimes the only way to stop obsessing over that world news event, or treatment of animals in the zoo, or a personal dilemma is to write it into a song.
Your upbeat, electrifying track entitled "Disco Daydream" details exhaustion after a long workday and the desire to just relax. What are some of your favorite ways to unwind and chill out?
Polartropica: Enjoying a watermelon or apple and reading magazines with my rabbit, Ronnie, eating a nice meal with a friend, watching a Planet Earth, a fun movie, or drinking a delicious beverage while listening to a dreamy record!  In Los Angeles, we are so lucky because there are always small art events and DIY shows with incredible musicians and artists and I love meeting up with friends to stop by different events + midnight snack at a taco truck!
"Wild Lyfe" focuses on a deep message that underneath the masks we hide behind, we are all the same and all creatures should be treated with kindness and love. What are some ways you show compassion and what message can you give to others to do the same?
Polartropica: We try our best to bring folks from different backgrounds and experiences together, and elevate causes and important issues when we can through sharing with the community or facilitating connections.  Just communicating with one another and making space and time for activism on the local level is so important.  Some of these issues we face that require compassion can seem like an epic uphill political battle, but if you start in your own backyard, there is so much we can do that directly impacts the community.  Benefit shows work really well, it's empowering and such great energy when everyone is coming together for a good cause.
Watch: "Wild Lyfe" – Polatrtropica
I understand that you came up with the name Polartropica because you admire the pairing of two complete opposites - polar and tropical. Can you explain this concept further?
Polartropica: It's a make-believe space where the two spaces mix and intermingle!  Imagine a polar bear relaxing on a tropical island, or a flamingo skiing in a place like Antarctica but we are not on earth – we are on little magical island planets shaped like hats in outer space where animals travel via neon rechargeable glitter pods that serve watermelon mango lime smoothies with rainbow psychedelic pop rocks.
What's next for Polartropica?
Polartropica: We'll be headlining the all-ages Love Is Gay Fest 2020 for our release 6/5 at The Bootleg Theater in Los Angeles.  Originally we had been planning a Fall tour to Europe and Japan, but depending on the state of the world at that time, we'll likely play local shows and festivals for the time being to try out new material while I finish writing the new record, which will also be recorded and produced in Tulsa, Oklahoma this year!
In the meantime, we are also working on parts 2+3 of a short film trilogy, music videos, art installations, and collaborations. We're so excited Dreams Come True is out in the universe, thank you so much for having us!
— —
? © Olivia Hemaratanatorn
:: Stream Polartropica ::
---