Recommended If You Like: James Arthur, Ed Sheeran, James Bay, Jason Mraz
When you love someone, you let them know. You let them know ten times a day, because reminding them of your love feels in itself like an act of love. Every time you tell them, you're bringing a little more light – a little more warmth – into this cold world. Love is a flower that requires nurturing; when you tend to it, it grows stronger. There's always time for a loving lullabye, and Allman Brown's "Sweetest Thing" is an intimate ode from the heart.
Miami heat, palm trees in the breeze
You're the sweetest thing, the sweetest thing I've ever seen
Sand at my feet, ocean after that
Silver light of the moon dancing on the waves
Listen: "Sweetest Thing" – Allman Brown
---
Atwood Magazine is proud to be premiering "Sweetest Thing," the latest single off Allman Brown's upcoming debut album 1000 Years (independently released February 10, 2017). Reminiscent of artists like James Bay and Jason Mraz, London's Allman Brown relies primarily on his soulful, hearty singing and his immensely evocative guitar to give a musical voice to his authentic poetry. Indeed, "Sweetest Thing" is a powerful piece of musical literature: Its words are enough to swoon even the most stoic and stubborn, but its story is not one to be wasted on a stranger.
Girl you got me high, just with your eyes
Every word you say, well it's a lullaby
Pull me inside out, put me upside down
Silenced all of the noise that I could do without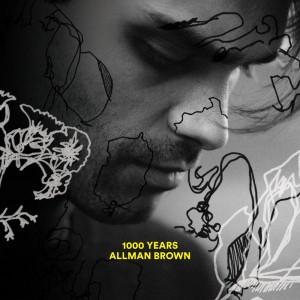 Brown's singing is soft and sweet as he makes his way through the verse; he pledges his love so matter-of-factly, you might think he were talking about the weather. It's second nature to him to express these feelings; he isn't shy about them, nor is he wary to share all of himself. Yet as entrancing as his lyrics alone may be, "Sweetest Thing" sinks its hook deep during its transition moment: "Whoa-oh-oh-oh…"
It's amazing how little one needs to really say in order to capture an audience. Allman Brown stops us dead in our tracks with his little vocal riff, cascading upwards with a blissful fire. Inimitably catchy and perfectly resolved, this riff becomes Brown's lasting mark on the song – and he knows it, too. It's the perfect segue as he escorts us into the chorus:
You're the sweetest thing that I ever did see
Like a bird taking wing or tears that set you free
You're the sweetest thing
That I ever did see
How does one express love? Not in pounds or ounces, nor in leagues or kilometers. We do not measure love like time, weight or distance; how could we? Love is unlike any other force out there, incomparable to the everyday. Still, we must try – and Allman Brown does so through vivid, beaming imagery. A bird taking wing and tears that set you free; these are not to be taken lightly. One would think Shakespeare had taken the most powerful ways of expressing love, but he barely scratched the surface; four hundred years later, we are still finding new ways of saying "I love you."
There's magic in this memory
Like the shadows that dance up on the silver screen
And years from now, when I look back
I'm still under your spell somehow
"I wrote Sweetest Thing when I was on a trip to Miami with my wife," explains Brown. "At night from our balcony we could see the city stretching out away from us all lit up, and on the other side the long strip of the beach. Beyond that the ocean heaving in the dark. Sweetest Thing is about that time and that feeling of humidity and intimacy. It is tonally and musically inspired by the old classic track 'Save Tonight' by Eagle Eye Cherry. I wanted to write a smooth and acoustic guitar driven pop song to remind myself of that time."
It's safe to say Allman Brown succeeded in his quest: "Sweetest Thing" is delicate and expressive, like a love note written on the petals of a flower. Brown finds balance between life and love, capturing a moment in its full flavor – sight, smells, taste, and all. At the end, "Sweetest Thing" truly is something sweet – so much so, that we want to listen to it time and time again.
If you love someone, let them know with "Sweetest Thing." Get to know Allman Brown, one of our 2017 Artists to Watch, through Atwood Magazine's exclusive premiere, and look out for his debut album 1000 Years, out 2/10/2017!
— — — —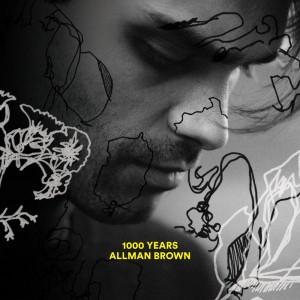 Connect to Allman Brown on FB, Twitter, Insta
cover: Allman Brown © Jodie Canwell