On "Pretty Girl," Clairo's biggest hit to date, the Boston-hailing bedroom singer/songwriter offers her committed audience a candid, uptempo story about changing oneself in search of a partner's approval.
— —
Human relationships don't require perfection – after all, such connections are comprised of flawed individuals. Yet, romantic partners constantly fall victim to the notion of perfection. Sometimes we find ourselves idealizing our lovers, overlooking their faults and placing them on a pedestal of glory; in other moments, our own personalities are sacrificed as we overinvest our identities in what we think, or perhaps know, our partners desire.
In this endless chase for perceived faultlessness, a relationship's health inevitably depletes – but the latter issue of inner doubt and false reconstruction is what leads to a loss of self. And as the partner who 'lived a lie' at the mercy of love, it's retrospectively relieving to get out of a relationship that felt cloaking, even if that ending is painful. Perhaps 19-year-old bedroom pop singer Clairo – real name Claire Cottrill – understands this self-love process better than other romantics who find themselves lost in their partners, whether they too are teens or full-grown adults who still have some learning to do. But there's no need to take our word for it, because on "Pretty Girl," Clairo's biggest single to date (self-released 8/17), the Boston-hailing gal offers her listeners a reflective, open-faced story on letting go and, frankly put, being fake.
I could be a pretty girl
I'll wear a skirt for you
I could be a pretty girl
Shut up when you want me too
I could be a pretty girl
Won't ever make you blue
I could be a pretty girl
I'll lose myself in you
Listen: "Pretty Girl" – Clairo
On its titular surface, "Pretty Girl" reads arrogantly, as though the narrator is referring to herself rather than a concept – this mistake could be made even more easily if the listener is unfamiliar with Clairo, a chick whose personality is best characterized by words like 'chill' and 'vibe-y' rather than 'haughty' or 'vain.' She started off making music in her suburban bedroom – although that bedroom's been exchanged for a dorm room, now that she's in college – and her DIY music videos illustrate her lowkey, lo-res charm. It's this aesthetic that makes Clairo feel like a friend more than a successful indie songwriter with over 10 million streams on Spotify alone.
Yet, at the same time, Clairo's look is merely a cherry on top of her artistry. Her words – simple, resonating and fluttering over catchy synth beats – are the foundation to her creative appeal. "Polaroid of you dancing in my room, I want to remember / It's getting harder to understand how you felt in my hands," she sings over a drum machine and the high, computerized chirps that cycle throughout the song's entirety. It's an instantly memorable pattern, and it's equally lovable as the single artwork for "Pretty Girl": Clairo laying in the grass with vintage, millennial-era shades as rainbow lettering surrounds her head like a princess crown.
Although this image may initially seem irrelevant, it elicits the same dreamy feeling that the song sonically evokes. And as Clairo reprimands herself in another verse – I was so blinded by you, now I cry / Just thinking 'bout the fool that I was / I was such a fool! – but later decides that she's better off without her ex-partner's said negativity, listeners who relate to such introspections are surely wearing the same calm, lackadaisically relieved face that Clairo sports so happily.
— — — —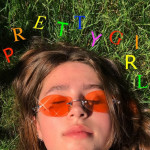 photo © Clairo
:: Stream Clairo ::