Six years after Pentatonix's successful self-titled originals album, the a capella five-piece is back with 'The Lucky Ones,' taking their listeners along their emotional journey into adulting.
Stream: "The Lucky Ones" – Pentatonix
---
Ten years ago, five a capella artists performed together at NBC's The Sing-Off.
What drove them to this was their mutual love and passion for music, unknowing that 10 years later they would not only make their living off it, but also be one of the biggest a capella bands worldwide. Today, Pentatonix has three Grammy awards under their belt, a successful YouTube channel with over 18 million subscribers, and had multiple RIAA certifications for multi-platinum, platinum, and gold-selling albums. Additionally, they have collaborated with musical legends such as Kelly Clarkson and Whitney Houston and have performed hundreds of thousands of sold-out shows worldwide.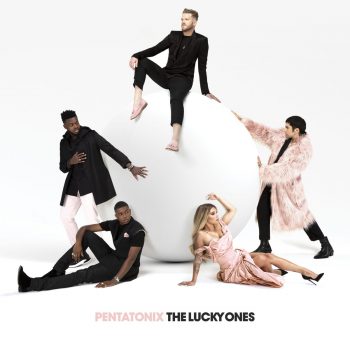 During the pandemic, they have released their At Home EP, which consisted of six cover tracks, such as "Break My Heart" by Dua Lipa. With their five Christmas records, which include their multiplatinum singles "Hallelujah" and "Mary, Did Dou Know?," the five-piece band is a staple on every Christmas playlist. They are now back with a new band member Matt Sallee (who replaced ex-member Avi Kaplan) and a brand-new originals record called The Lucky Ones.
Six years after their last original record and a plethora of cover albums, Pentatonix are more than ready to fill several radio stations and playlists with the melodic sound of their unique a capella style. The Lucky Ones is an album that was created pre-COVID times but filled with lyrics and numerous stories about relationships that seem more relevant than ever now. From love to loss to happiness, every emotion that a human body can possibly feel and experience is present in this record. "I feel like we really told our stories in this album," band member Scott Hoying says over the zoom call.
The Lucky Ones is the band's third release of music during the pandemic, delivering a record exploring the ups and downs of adulting and simply being human. Atwood Magazine had the pleasure to chat with Mitch Grassi and Hoying about their journey over these 10 years, their musical creation process, and their unique storytelling narratives!
The Lucky Ones is out now on RCA Records.
— —
Listen: 'The Lucky Ones' – Pentatonix
A CONVERSATION WITH PENTATONIX
Atwood Magazine: This is the first Pentatonix originals album since 2015 when your self-titled album debuted at #1 on Billboard's Top 200 chart. How does it feel to finally release an originals album again?
Hoying: I mean, it's thrilling. Honestly, I feel like we have waited so long to release a new album. And it's just so exciting that we can kind of tell our own stories and put out this record that we're very proud of. Also, we all feel like our songwriting has just gotten so honest and vulnerable, and we fine-tuned it. Putting out this art into the world is really exciting for us.
Pentatonix have been around for more than a decade now. What drew you to a capella singing in the first place?
Hoying: For me, it's actually kind of a crazy story. Firstly, I didn't know anything about a capella. I heard of it, I knew it existed, but I was not really involved in it. And then I went to USC for college and looked up things I could join to make friends. At USC, the a capella scene is really huge. So, I auditioned for all the a capella groups there and ended up getting into "SoCal VoCals." From then on, I felt inspired by the craft and really fell in love with a capella. Then a lot of people in "SoCal VoCals" were on a show called The Sing-Off. So, I was like, I want to be on that show, I should audition for it. Mitch, Kirstie and I did a little cover in high school, and I hit them up asking if they would like to do The Sing-Off with me. And now, 10 years later, it's what we do for a living. It's crazy.
Grassi: My story is a little different. Scott and Kirstie were one year ahead of me, meaning that they had gone off to college. I was still in high school. That year, I was in my senior year. I actually skipped my high school graduation to audition for The Sing-Off in Los Angeles with the band. Right out of high school, it was like a truck hit. It was just like everything at once.
Taking the circumstances of 2020 in regard, how did you create this record? If it has been created remotely, how was that experience?
Grassi: So, we created this record actually right before COVID hit the world. We finished it right up just as the pandemic was happening. I don't fully remember how it initially began. Basically, we started working with these two guys, called Matt Koma and Dan Book. They are amazingly talented people. As much as we have inspired each other within the band, it was really nice and creatively refreshing to get a new perspective coming in for this record. They helped us to think about songwriting in a completely new way. We became a little more personal with our songwriting and storytelling.
Hoying: The second we started writing with Matt Koma, there was new energy for this record. As Mitch just said, Matt Koma had such a fresh perspective of what Pentatonix could be. That really inspired us. So we ended up writing a bunch of the album with him. The creative collaboration was really natural and profound.
Listening to your new record from start to finish, what is the storytelling narrative that you want to communicate to your audience?
Hoying: I think it's just about life experience. We've been a band for 10 years now, so we have dealt with some sad situations, but equally a plethora of very exciting and happy situations. It's kind of analyzing that and addressing it, taking the highs with the lows, and there are songs about love, loss, and gratefulness. I really do feel like we told our stories in this album.
One of the songs that really stood out to me, in particular, was the uplifting hymn ''Love Me When I Don't.'' What was the inspiration behind this track?
Hoying: So, we actually wrote the song with Matt Koma. The song itself is about being able to lean on the people around you, the ones that are close to you. We all feel insecure, we all feel down and terrified at times. It's nice to have those people around you that can lift you up and "love you when you don't love yourself." And I think that's something everyone in the band can relate to.
Grassi: Yeah, especially as an artist, because it's really easy to get into your own head and getting trapped in this big cycle and really feel a lot of self-doubts. The song doesn't even have to have a romantic connotation. It could be us singing to each other, about being able to lean on each other when we're really uncertain. Also, this current climate is a time of uncertainty too.
When did you start writing this new Pentatonix originals record? Is it a document of the band's musical evolution in the past six years?
Grassi: Good question. I guess in a way it is about how we evolved. I like to describe it as a "very present" record. If you compare the new record to the two original records that we have created prior, you can really sense this great maturity. You can really feel that we are dealing with all these really human issues, love, self-awareness, doubt, pain, and loneliness. It's our emotional journey into adulthood.
The chorus of the song ''Never Gonna Cry Again,'' especially the line ''I have changed myself for the internet'' really stuck with me after listening to the record. What message do you want to bring across with such a powerful chorus?
Grassi: Well, this one is a song we can all relate to. I feel like everybody in the band has in one way or another been really personally been affected by the internet, specifically by social media. We feel this immense pressure to change ourselves and wanting to present us in a certain way in the music industry. You feel like you have to be a certain way for people to like you. What I think is so beautiful about this record is that it really parallels our own evolutions of being unapologetically ourselves. As a public figure, it's really difficult to stick to your guns and be yourself on a public platform because there's so much negativity trying to tear you down.
Hoying: Yeah, it's so hard to get out of that mindset. There are voices telling you that you have to be perfect online, that we have to show everybody how perfect our lives are. It's unrealistic. And it's also contrived sometimes. I really love "Never Gonna Cry Again" because it's addressing this issue. I think it will bring a lot of people comfort because it's showing that we all feel that way about being "perfect" online. The internet has good things too, it brings a lot of serotonin and fear at the same time.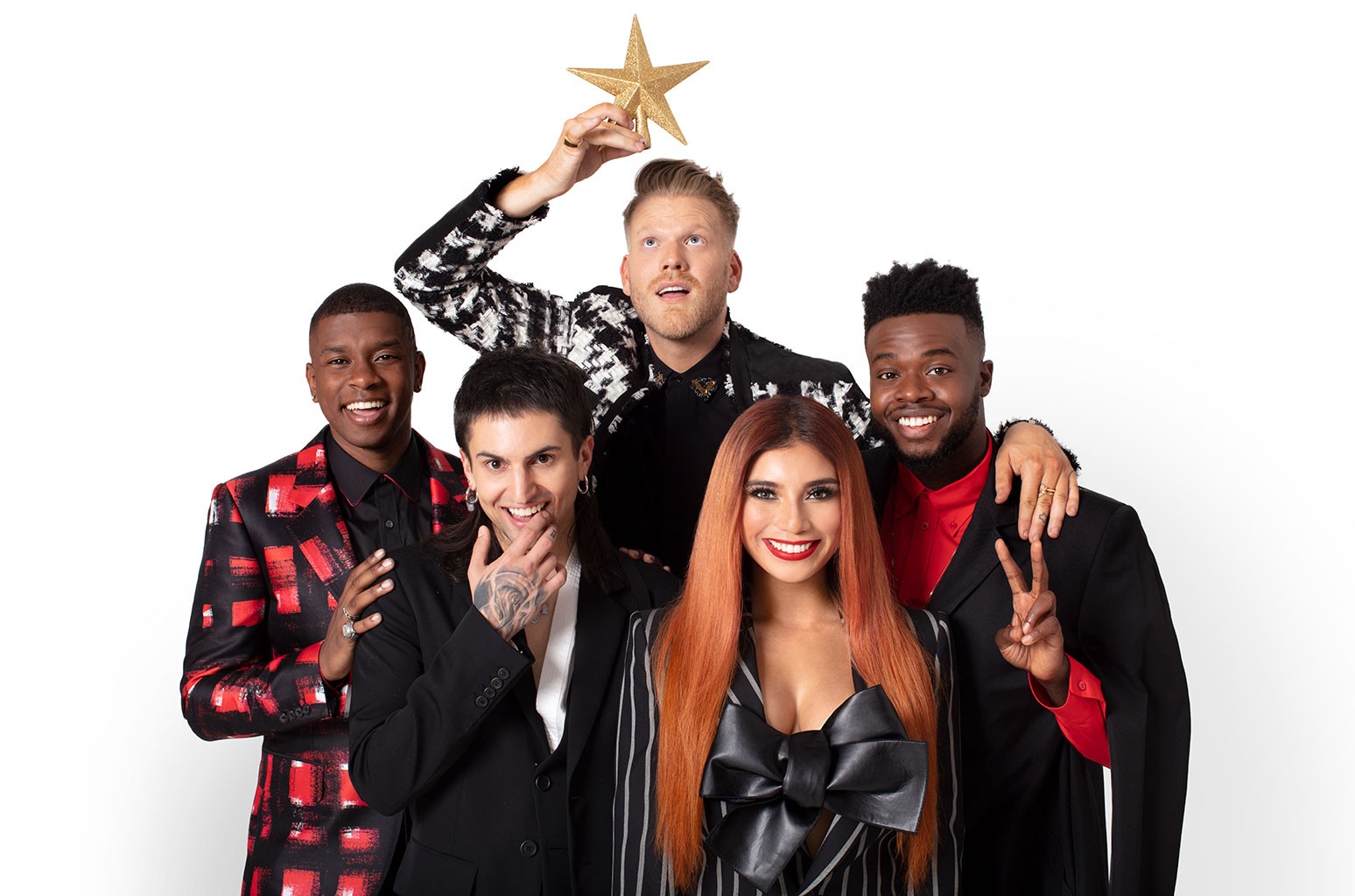 That's a really good definition of the internet. Why did you choose to put the album's title track at the very end of the record?
Hoying: I think the song summarizes our story. This song has a lot of homophonic harmonies, it's very group involved. It just felt like a nice little bow on the album at the end. I really think that the message of this album is, as I mentioned earlier, that we have been through ups and downs, we have had love, we have had loss. But what's so incredible is that throughout all of this decade, we are still connected. We all feel extremely lucky to have such an amazing career. And we are just honestly happy to be making music.
Grassi: I think it's important to show that we are still human at the end of the day and that we are grateful for this incredibly surreal ride that we have been experiencing together. That we are unified through all this. It's this beautiful moment of reflection and compassion.
''Be my eyes when I can't see'' is the chorus of ''Be My Eyes.'' What does this metaphor in the track stand for?
Hoying: It's like "Love Me When I Don't" – it's about leaning on the people you love. You could see it as a significant other, a best friend, your parents or even God. It's just about letting someone be there for you and accepting that you don't have to be okay, super-strong, and independent all the time.
The record tells various stories about love, relationships, and friendships. Obviously, the past year has been a very isolating experience for everyone when it comes to human touch. Have any of the songs been influenced by the pandemic in particular?
Hoying: I mean we wrote all these songs like a year and a half, two years ago.
Wow, that's such an impressive document of the time. They seem to be relevant more than ever. Truly timeless?
Grassi: Thank you! Oh, I know. Sometimes it's a little creepy, like how some of them resonate so much with this new pandemic era. It's so weird.
Watch: "Coffee in Bed" – Pentatonix
What were your main influences whilst writing this record?
Grassi: It's hard to pin them down. What I have always admired about Pentatonix is that we all come to the table with this massive list of different influences. And I am really impressed honestly, that this record almost seems like you can't really categorize it. As somebody who can have a little bit of a pretentious attitude about art and music (*laughs*), I think that's an amazing thing. I think you want to be a little off the wall. You don't want to be put in a box.
Hoying: I feel very proud of how this album turned out. Sonically, it's like nothing we have ever done before. Which is terrifying but also liberating and amazing at the same time.
Lastly, do you each have a personal favourite of this record? If so, which ones and why?
Hoying: Honestly, it's really hard to choose, so I am gonna name a few. "Coffee In Bed," "Bored," and "The Lucky Ones" are the songs I listened to first when I listened back to the album. I mean they come from personal experience and they are very happy songs. They are all about love and gratefulness, which is an emotion that I enjoy experiencing.
Grassi: I am also gonna pick a few because I can't really choose only one. I really love "Be My Eyes" and "Side." Two very contrasting tracks, but I love the honesty, the simplicity of the songwriting, the music elements, and the rawness of "Side". "Be My Eyes" is completely different. I don't think I was part of the songwriting process, but wow, I am so deeply impressed by the songwriting. I think the way the lyrics play with the melodies and the way the chorus hits makes just feel so good. It makes me feel so happy. I'm really, really proud of that.
That is so lovely to hear. Are you excited to tour this record when it is possible again?
Hoying: Oh my god, yeah. We have been touring for ten years straight, and then having to go into complete stillness and be at home all the time has definitely been a shock to the system, in a good and in a bad way. I feel so pumped to be back on the road one day. Just feeling the energy of the crowds. That sounds so thrilling.
Grassi: Oh, definitely, yeah. I mean there are definitely pros and cons to the life of touring. It does become your lifestyle after a while, so it was quite shocking to come to a screeching halt. But eventually, we would love to perform again.
— —
? © Jabari Jacobs
:: Stream Pentatonix ::
---