Penny and Sparrow bottle change with their new record Finch, an indie folk alt-pop album that brings surprises and delights along the way.
Stream: 'Finch' – Penny and Sparrow
---
Most of the time, change isn't instantaneous. It's slow and steady – creeping along, making it incredibly difficult to feel or even notice. Songwriters have the unique ability to capture change – even if it's slow. Inevitably, when you go new places, meet new people, and try new things you evolve. But in what ways? How does it make you actually live your life differently? After years of traveling, touring and writing, Kyle Jahnke and Andy Baxter, the duo who make Penny and Sparrow, unknowingly bottled this change into an album. They called it Finch.
The change wasn't just in their mindsets. Musically, Finch introduces elements of R&B along with head bops that pivot away from their iconic folksy tone. While evolution is present, the fundamentals of what have catapulted Penny and Sparrow to the level of success they see today stays present as well. Swelling strings, heart-melting harmonies and stories you can sink your teeth into; Finch has everything you want from a Penny and Sparrow album and more.
Penny and Sparrow are not an act to be missed. Make a special note to see this duo on tour. They not only light up a room, but they also melt it. Finch is a masterpiece, and we cannot wait to hear what they do next.
Atwood Magazine sat down with Jahnke and Baxter to dig a little deeper into this evolution, what brought it on, and how it's manifested itself in their newest body of work. Dive into our interview below, and listen to Finch, out August 2!
Every album we name a track after a principal character in Les Mis, and this album's winner ("Bishop") is my favorite track.
A CONVERSATION WITH PENNY AND SPARROW
You guys are kind of known for having these strong themes to each of your albums – with Let A Lover Drown it was about reflecting on love, with Wendigo it was kind of about death and fear, and now with Finch – it seems to be about evolution and change. Can you tell me more about that?
Andy Baxter: You're sweet for noticing. You kinda nailed it too! Kyle and I spend a lot of time together and we manage to get in semi-deep conversations multiple times a week. That's become a normal part of van culture and over the past few years we've traveled a ton, seen a bunch of new places, and met folks that didn't eat/dress/talk/fuck/think/believe like we did. All of those moments glommed onto eachother and got us talking. As a result we've been changing. It's been beautiful and we're really happy and (in the aftermath) we wrote an album. We didn't set out to make them about change, but looking up after all the work, that's what they're about.
In your songwriting process – do you guys just kind of start to write for your next project and see if there is a strong theme to latch on to, or is the theme decided before the writing begins?
Kyle Jahnke: It depends on the record – for Wendigo, we knew the album title and the general direction before we started the songwriting process. For Finch, we looked at the songs after we were finished with the record, and found a common thread between the songs and where we were both at while we were writing them.
Sonically, there are a few unique choices in the album I haven't heard from you guys before. First with "Long Gone," which is a song I love by the way - it almost has an R&B feel to it, tell me about that coming to that sound.
Jahnke: Thanks! Long Gone is definitely a different sound for us, and I love it for that reason. Every song/album we want to be true to the sonic and lyric choices that make us feel something. For us it meant a bit of a reinvention, or at the least not to be scared of changing what we have sounded like in previous records. The melodies that kept coming out were more rhythmic than before, and we decided to lean into it – which then changed the lyric and instrumentation choices. We didn't want to overthink.
---
And then "Cult Classically," which first I'd love for you to tell me about that song title because I think it's so catchy. And then also, I'd love to hear about some of the choices sonically from kind of the twinkly synth tones matched with the full swelling strings – such a unique and beautiful combination – how did you come about these choices?
Jahnke: Sonically it's a little of so many things we love. We wanted frequency change and density of instruments to be the dynamic changes, so adding strings and background vocals at the end made sense for the song. Our buddy Alex Page did the strings and knocked it out of the park. The call-and response type effect he did leading toward the back half of the song blows us away. We added the Critter (the synth) on a whim with our producer Chris Jacobie, and ended up loving what it did to the sparse spaces of the song.
Baxter: That song is the best kind of weird because it sort of retells about the time Kyle and I got really high at the hotel Boulderado and stayed up watching infomercials and talking about life. (This particular night actually weaves its way into a few other songs on this album as well) Lyrically the song is a conversation between two lovers, one modeled after Kyle and the other modeled after me, and what it would be like if they'd had the night we had. (If you take out the infomercial and you add in sex & erotic tension) Long story short, this song was a blast to write and we gave it the title that seemed to fit best.
What song stands out to you guys as a favorite /Is there one your particularly excited about playing on tour?
Baxter: Those are different answers for me. My favorite will probably change, but right now it would be Bishop. Every album we name a track after a principal character in Les Mis, and this album's winner is my favorite track. I was reading a ton of Bradbury Sci-fi & Othello at the time and that bled all over the song. I love that. The one I'm most excited to play live is, "Don't Wanna Be Without Ya." I'm super curious what folks will do with a Penny and Sparrow head bop song in a concert setting.
Finally – to get away from the album for a minute – I know you've had a lot of influences in your career from John Paul White to Bon Iver – I actually had the chance to interview Johnnyswim a few years back and I know you had the chance to work with them and Drew Holcomb on Goodbye Road. That EP seemed to be purely driven by just a joint vision and passion for the music you were creating – nothing else. I could be off, but how did this experience and project shape how you look at creating music moving forward?
Baxter: Those people are our siblings and we love them. Touring with them was as lovelier than you can imagine and there was a lot of shit that we carried away from it. I think the main takeaway was a reignited desire to be prolific. Both Johnnyswim & Drew are pragmatically creative. They build opportunity and THAT is difficult to teach. We left our time with them being reminded that all the fun shit we wanna do and make ISN'T too much. Thus, folks who follow us shouldn't be too surprised that we're working on a musical and several other albums right now.
And finally, you head out on tour soon – any venues you're particularly excited for?
Penny and Sparrow: Definitely. We're jazzed to go back to the Paramount in Austin! And this time around we get to sing at Bowery Ballroom in New York & Thalia hall in Chicago. We're pretty giddy about that.
— — — —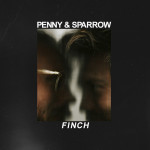 ? © Noah Tidmore
Finch
an album by Penny and Sparrow
---