Jamestown Revival's 'San Isabel' is the product of seclusion and focus, stories that tackle life, dreams, love, and everything in between. The stories they tell are as relatable as they are all-encompassing.
Listen: 'San Isabel' – Jamestown Revival
---
Albums are supposed to take you on journeys from start to finish, a story amongst smaller stories making you feel complete by the end. Today, this is more of a rarity, and when you stumble across one that truly creates a journey, easing you in and out from one song to the next, it's something to celebrate. Jonathan Clay and Zach Chance, the duo who make Jamestown Revival, accomplished this rarity when they retreated to Ward Lodge Studios, overlooking the San Isabel National Forest in Buena Vista, Colorado to create their cohesively sound and uncoincidentally named new album, San Isabel.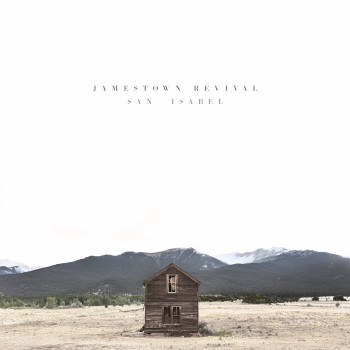 Released June 14 via Thirty Tigers, San Isabel is a compilation of silky-smooth harmonies and bright guitar licks that tell real and raw stories.
Of the inspiration behind the album, Clay comments, "We wrote this record with sort of an overarching theme, which is cutting out the noise for a minute and maybe stepping away from social media, from the internet, and from the complicated, busy nature of most of our lives—and focusing on existing for a minute. If this record inspires people to do a little bit of that, then we would be really happy with that result."
---
"Crazy World (Judgement Day)" is the perfect introduction to this 11-track album. The soft harmonies and pulsating strings introduce you to the style that is ever-present throughout while allowing your ears to realize that you are about to take a journey with lyrics like,"yeah man it's still a crazy world, I guess some things are never gonna change. Yeah, man What you gonna do? It's harder every day just trying to make it through. It's true, maybe judgement day is overdue."
This song tackles how the world can feel overwhelming. The further you get into it, the older you are, the more there is to leave you feeling discouraged, lost, and alone. This is the start of the journey. You almost need to keep listening to hear where they are going to take you next. And where they do take you is somewhere hopeful. If "Crazy World (Judgement Day)" delivers the message that the world is overwhelming, "This Too Shall Pass," track two, gives us hope that everything is going to be alright.
A juxtaposition that mirrors the ups and downs of life perfectly, "This Too Shall Pass" picks up the pace while keeping their original rootsy sound and bright melodies. It spreads the message that as long as you have people in your life who you love and that love you back, the world can't touch you. You're going to survive.
---
The album continues with the soft and easy "Killing You, Killing Me." This song is stripped down to a hypnotic level. Zach and Clay's voices ebb and flow, taking you on the exact journey they're experiencing. Why not leave something or get rid of something that is causing you so much pain? Why not allow yourself to be happy with what you have? These are the questions that seem so simple, but when you're in the middle of trying to answer them, they couldn't be more complicated. Jamestown Revival managed to put that pain and confusion into a beautiful ballad that will make listeners feel a little less alone.
Honey can't you see
it's killing you it's killing me
Got to leave that ball and chain
Living that way only brings us pain
The album continues weaving us through melodies and stories, leading to "Round Prairie Road" at the halfway point of the album. This tune almost has a Beatles-like feel to it. Lyrics and melody alike, the song brings a sense of peace and almost sadness. It takes you on the circle of life, on the feeling of being home and how home brings comfort and simplicity. This is one of those songs that has a feeling attached; It feels like going home again.
---
"Mountain Preamble" is next, a quick two-minute track of plucking guitar and whispering hymns that guide us to the latter half of the album. With almost a "Never Going Back Again" by Fleetwood Mac feel, the plucking of the guitar's high and low notes lead you along, allowing you to digest what you've just heard and what you're going to hear next.
The latter half of the album continues on theme with an upbeat "Mayday Man" and the beautiful closer that is "Winter's Lament," but this is all after an interestingly placed cover that actually perfectly encapsulates the album.
Chance and Clay decided to cover "California Dreamin'" as their ninth track in a melancholic but oh-so-Jamestown Revival way. The entire album is about the hope, fear, joy, pain, and confusion that comes with leaving your home and chasing your dreams. All the implications – good and bad – with doing that, and what more encompasses that feeling than the classic that is "California Dreamin'." A brilliant placement that may seem random at first, but after devouring the album, makes perfect and complete sense.
San Isabel is a product of seclusion and pure focus. These are the type of albums that can only exist when you set everything else aside and just focus on the work. Its brilliance lies in its simplicity. It is meant to be listened to as it was made: without distraction. Turn off your distractions, sit back, and let it take over – we dare you.
— —
— — — —
? © Paul Pryor
San Isabel
an album by Jamestown Revival
---
:: Jamestown Revival Tour ::
* = w/ The Cordovas | ‡ = w/ Ian Noe | § = w/ John Craigie
June 17—West Hollywood, CA—Troubadour‡
June 19—Solana Beach, CA—Belly Up Tavern‡
June 20—West Hollywood, CA—Troubadour‡
June 21—West Hollywood, CA—Troubadour‡
June 22—San Francisco, CA—The Independent‡
June 24—Portland, OR—Mississippi Studios‡
June 25—Seattle, WA—Neumos‡
June 26—Missoula, MT—Top Hat‡
June 28—Salt Lake City, UT—The State Room‡
June 29—Denver, CO—Bluebird Theatre‡
June 30—Aspen, CO—Belly Up Aspen‡
July 1—Telluride, CO—Club Red‡
July 13—Whitefish, MT—The Barns at Big Mountain Ranch
August 1—Tulsa, OK—The Vanguard‡
August 2—Omaha, NE—The Waiting Room Lounge‡
August 3—Minneapolis, MN—Fine Line Music Café§
August 4—Milwaukee, WI—The Back Room @ Colectivo§
August 6—Indianapolis, IN—The Hi Fi§
August 9—Chicago, IL—Lincoln Hall§
August 10—Springfield, IL—Boondocks§
August 11—St. Louis, MO—Delmar Hall§
August 15—Dallas, TX—Kessler Theater‡
August 16—New Braunfels, TX—Gruene Hall‡
August 17—Austin, TX—Scoot Inn‡