Dublin's Soda Blonde dive into their breathtakingly bold sophomore album 'Dream Big' in an intimate conversation about community and connection, empowerment and liberation, and what "success" means to them today.
Stream: "Bad Machine" – Soda Blonde
---
I feel like my job is to be as human as possible and to expose all of my innermost thoughts without fear of judgment. Not to tell people what's right or wrong, but just to be vulnerable and allow them to figure that out for themselves.
– Faye O'Rourke, Soda Blonde
"I know what I am, I know what I could be," Soda Blonde's Faye O'Rourke sings with cool, seductive confidence. Her voice is a beacon of visceral emotion as she lays her soul out on the table, exposing those innermost thoughts and feelings we seldom speak aloud. "Put me in my place, but nothing can hold me," she declares. "I won't hide."
This is more than a moment of emotional reckoning; this is the breathtaking title track to Soda Blonde's sophomore album, Dream Big – a record built on ambition, raw passion, and the unabating drive of the human spirit.
Dream big like everyone, baby
Take all of everything darling
It's only sad from the outside
How's about you try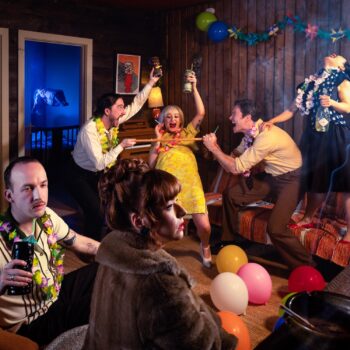 Released September 8, 2023 via Overbite Records, the majestic follow-up to 2021's radiant debut album Small Talk is not just a musical expansion, but an evolution of the world Soda Blonde – comprised of O'Rourke, Adam O'Regan, Donagh Seaver O'Leary, and Dylan Lynch – introduced us to just a few short years ago.
"I think this record really showcases the fact that we have a lot of trust in each other, and we're comfortable, and that the sky's the limit in terms of what sounds we can make," O'Rourke tells Atwood Magazine. "We're never putting pen to paper before we write, saying, 'we want to achieve this' and 'this is the theme' and 'this is the next thing.' It's an exploration in trust, I think, a lot of the time, and you can hear that on the record because each song is so different to the next. It's very uninhibited, this album. We're more comfortable as people in our own skin, and that shows."
New in name but not in spirit (having played in bands together since their teenage years), Soda Blonde's cinematic pop sound is singular in nature, and in Dream Big they hold nothing back.
"We were really just making the music that we want to hear," Adam O'Regan says. "We have arrived at a point of complete ownership. We're now managing ourselves completely. It's been a period of growth, self-building and self-liberating – all that sort of stuff. The whole picture is in our hands and it feels really good."
Soda Blonde began teasing Dream Big earlier this year with the album's lead single "Bad Machine," an angular expression of self-acceptance and reflection delivered through fiery guitars, searing synths, pulsing drums, and O'Rourke's spirited vocals:
I want to live
But I don't like lonely
Take me alive
Or baby drive it in slowly
Every part of me like a bad machine
Breaking everything all the time
Every part of me has been wired to repeat
I've got a bad desire by design
O'Regan calls "Bad Machine" an easy favorite: "I'm really proud of a lot of the kind of guitar stuff on this album," he smiles. "People will call us a synth band and stuff like that, and of course, synths are a part of our sound, but I don't really feel that we're a 'synth band,' and maybe I don't really want to be considered as a 'synth band.' There's a particular kind of rage and a bite that you can only really achieve with the electric guitar, and so I'm pleased that we've been able to kind of bring some of that to the record."
---
The band premiered Dream Big's sophomore single (and album opener) "Midnight Show" this past August with Atwood Magazine. A passion and purpose-driven anthem of integrity and resolve, "Midnight Show" is a bold and beautiful mission statement from a band determined to forge their own path – making it the perfect way to kick off an album that dares to be different.
"It's about how things are consumed, and the pressure of having to be social media influencers as well as artists,"Faye O'Rourke explains. "It can sometimes feel like a form of prostitution, all the things that are required of us. I don't enjoy putting myself out there and exposing myself in those ways; it's easier for me to express myself one on one or through music. So that has been a journey, asking, 'What do we have to do to make this work?' Do we just submit ourselves over to this virtual playground, and not take it personally?"
Lying low, dancing slow
Everything is changing but I don't grow
Tell me though, if you know
Never mind I have a midnight show
I've been told I'm a pro
It was never what I wanted though
Tell me though, if you know
Never mind I have a midnight show
---
Dream Big is beautifully dramatic and boldly dynamic – uncompromising both in its values and in its sound.
Soda Blonde hold a microscope in one hand and a mirror in the other as our innermost thoughts and feelings get a soundtrack of their very own. The immediate seduction of the starry-eyed "Midnight Show" and the jagged drive of "Bad Machine" prove a powerful one-two punch, but it's the full weight, warmth, and wonder of Dream Big that makes its journey so special. "You are so damaged," O'Rourke declares in "Boys," channeling inner pain and fracture into a visceral and textured anthem. Our physical (and mental) fragility comes to the forefront on the beautifully bittersweet "An Accident," a tender ballad balancing tragedy with hope: "An accident can happen at any time, should be glad I'm alive, along for the ride with you," O'Rourke concludes, opting to look up despite all the negative forces outside of her control.
"When we've had that in the set over the last year, that's one song that I can actually completely let go," O'Rourke says of "An Accident," which she wrote about her own parents and the fear of losing her mother. "I found myself sort of in floods of tears in certain musical breaks in it, and then I'm pulling myself out of it just before – and things like that."
In "Space Baby," Soda Blonde breathe fresh energy into a song about love, honesty, and claustrophobia, by quite literally removing the breaths themselves: O'Regan, who produced the album, employed a chopped production technique to the track, sucking out all the air to recreate the lyrics' stifled sensation. "It was so much fun to play with the idea of 'space' in the production," he says. "The journey goes from an air-tight verse to an expansive chorus. I had read about Thom Yorke cutting out all of the breath in Kid A to give it an inhuman feel. I stole that idea while mixing this one."
The band revive an anti-WWII slogan for "Why Die for Danzig," a song that delves not only into war, but also into how people treat refugees differently depending on where they come from: "How many bullets do you have to sеll?" O'Rourke roar in a moment of heated passion.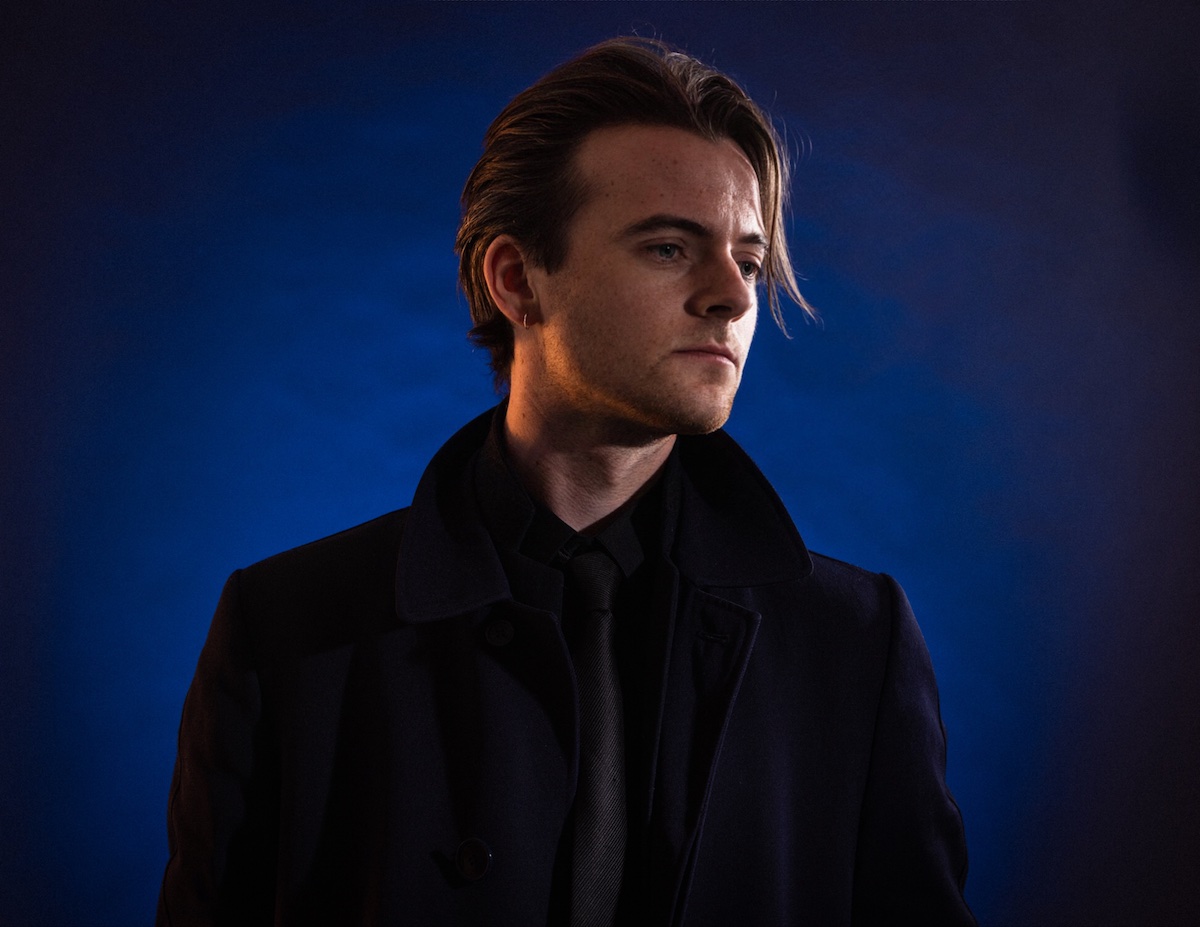 A particularly moving highlight, the spirited and soaring anthem "My First Name" is an emotional reclamation of O'Rourke body, her womanhood, and ultimately, her identity: "I am subject to my biology but not subject to how the world views me," she says. "I want to be comfortable in an aging body and to make others comfortable too, even though I'm not there yet.  "I've gone through a lot in terms of my journey as a woman this year, and I think that, for me, there's an ownership on this record that can be heard. It's aggressive and self-assured, and I feel it's an important stance to take – even if it is just bravado."
I want to be clear
I want it in the driver's seat
Between my teeth
You know that it's sad but
They said he was a lucky man
Such a young girlfriend
I don't really care what anybody says
It's never gonna phase me
Lady Madonna has gotten to lazy
Gonna make you be fair
Go make those cheques out to my first name
Gonna make you be scared of me
I'll make your night and ruin your day
"My First Name" and Dream Big's smoldering, unfiltered finale "Going Out" are two of O'Rourke's personal favorites. "I'm really proud of 'Going Out,'" she says. "I know that's probably a little bit more of a deep cut kind of from the album, but just how that was made, because that was essentially completely improvised on the spot. All the lyrics were in one take, improvised, and they stuck. I'm really proud that whatever happened in the room together just allowed this sort of subconscious thing to flow and to hit the nail on the head perfectly. Some of those lyrics are for me, my best lyrics, and I was not conscious – it was whatever the music was, wherever the music was taking me was allowing me to get to places that I couldn't really consciously get to with my writing."
---
Emotionally breathtaking and sonically stunning, Dream Big sees an ambitious and empowered Soda Blonde grabbing the reigns and charging ahead fearlessly.
For the longtime bandmates and best friends, the crux of this album is that their ambitions and dreams are still very much alive, but the dream itself needs revision. "What does the dream look like for an artist in 2023? I think it needs to be kind of reimagined a bit," O'Regan says. "I think that's where we're at now since starting the Soda Blonde members club."
Soda Blonde recently launched a novel Members Club, where for €4.99 or €9.99 a month (or €90 a year), fans can get intimate, behind-the-scenes access to the band – including special live show access, voice memos, demos, un-released b-sides, and more. For the completely independent band, this is what dreaming big in 2023 looks like: Creating a community that goes beyond the cold "likes" and "shares" of social media.
"Connection is the only word I can use, but I don't think it really sums it up," O'Regan smiles. "It feels loving and supportive. The walls can come down in a way that doesn't happen when you're just just putting yourself out there on social media and trying to do whatever you can to get eyes on you. It's a different thing because you're bringing them into our living room, essentially."
"We wouldn't necessarily be the most vocal people on an online platform, just because there's four of us and we are self-conscious people and self-deprecating to a degree, so this is a way of being ourselves to people that already know us in a way, and that's really valuable," O'Rourke adds. "It feels comfortable; it feels safe. We can really express and show our personalities and connect with people that way. It's not a marketing tool; it's just a way of connecting."
Maybe that's the key takeaway from Dream Big: Finding ways of connection in an increasingly disconnected world.
"In a world where everything is so disposable, we hope people feel like they own a piece of this album," O'Rourke shares. "We hope they feel a sense of empowerment, realizing that the journey is a common thing, and we're all on the same path."
"I hope it lasts for them," O'Regan adds. "They can keep coming back to it, and they can keep finding stuff in it. I hope they can find themselves in it, and I hope it gives them a sense of encouragement.
"I think we want the music to last beyond the moment," O'Rourke concludes.
It all comes back to those lyrics in the title track: "I know what I am, I know what I could be… Dream big like everyone, baby."
Soda Blonde may be the dreamers in this story, but they've no doubt taken all of us along for the ride of their – and our – lives. Experience the full record via our below stream, and peek inside Soda Blonde's Dream Big with Atwood Magazine as Faye O'Rourke and Adam O'Regan take us track-by-track through the music and lyrics of their band's sophomore album!
— —
Stream: 'Dream Big' – Soda Blonde
:: Inside Dream Big ::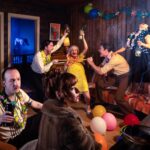 — —
Midnight Show 
FAYE: This song was lead by the piano hook. When I first sat down to write I had the music of MSTRKRFT in my head all day long. I wanted to create something that could be driven by a single motif and have the vocal melody dance around that. It's first recorded version was made in Glasson Co.Meath with a good friend who made it immediately into an electronic dance track. I didn't know what ambitions I had for the song at the time but it was quickly picked up by the rest of the band and stripped apart and rearranged. Lyrically it tackles the disillusionment I have towards the music industry and its demands on artists. I leaned towards a more theatrical lyrical style in order to draw comparisons between mainstream artists and strippers. If I can't do this job, whats my next option? Whats the closest thing to what I'm currently doing? Would it be dancing for money? Would that be a more sustainable career?
ADAM: As with many of our songs, this one went through many iterations before we arrived at the album version. We had a very robust electronica, four-to-the-floor arrangement that we were all enjoying. It had a very cold inhuman quality to it that I felt was interesting against the drama of Faye's lyrics. I always love a good marriage of electronic instrumentation and acoustic instrumentation. With that in mind I composed a string and brass arrangement for the songs outro, in order to take a complete sonic left turn. When it came time to record the parts, we were so blown away by the Glas Quartets gorgeous performance that we decided to rethink the entire thing and make the strings a much more prominent feature.
BAD MACHINE
FAYE: This song was originally written as a soft arpeggiated guitar piece.. I had some throw away lyrics but a decent chord progression and melody in my mind. I loosely arranged it and decided it might be suitable for one of my contemporaries to perform. When we went to arrange the album Adam picked up on the song's potential as I was playing it quietly in a corner. It exploded from there. Adam started playing this absolutely ferocious affected guitar part that ignited a real buzz in the room. From there it was about matching the lyrics to this mammoth piece of music. We settled on the title Bad Machine and from there it was an arduous back and forth trying to iron out and justify it's meaning line by line.
ADAM: We didn't have any definite ideas for the sonic direction of this album going in, but one thing I was definitely interested in was more guitar. There's a particular bite that can only be achieved by the electric guitar and we wanted to explore that. What started out as an acoustic country ballad quickly morphed into this angular behemoth. It was a very thrilling part of the album process and one of the defining moments.
BOYS
FAYE: Boys was one of the first pieces of music written for the record. It instantly had  a real pop driven melody and it wasn't something that I was thinking too deeply about when I was writing it. I wanted to build a really well crafted pop song without burdening myself with too much introspection. It's about betrayal and the perniciousness of social pressure. Once I brought it to the guys it took on this nostalgic 90s club feeling which reminded me of the music I would hear my older cousins getting ready to go out to. Those songs moved and effected in a way that was beyond my comprehension at the time and always left me feeling deeply melancholic even though they made me want to move.
ADAM: There's been a number of occasions where Faye is apathetic about a song she's written. It always amuses me. She'll bring it to us like "I'll play it for you but I don't think it's very good". And of course, it's always VERY good. This was one of those times. We are all hooked on the melodies instantly. I tried to bring a bit of "James Bond in the French Riviera" to it with the addition of some 60s slide guitar. Apart from that we wanted to keep it very minimal with the instrumentation to allow for the drums and vocal to come to the fore.
DREAM BIG 
FAYE: "Dream Big" deals with big existential questions. What is success and who are we before and after we achieve it. I was thinking a lot about Dublin city, the landscape and the imagery it holds. I felt like a failure at the time I was writing this piece but was also gaining the understanding that my perspective on life has always been overridingly negative. I wanted to express rage but I also wanted to express hope. This song is the most important track on the album to me in ways because it displays pure unbridled expression from every member of the band. We weren't afraid to let go and make something heavier, darker and more expansive.
ADAM: One of the most exciting parts of recording this album was being able to capture Dylan's drumming properly. We made Small Talk in our bedrooms and this required us to record every drum separately – in order to achieve the desired sound. For this record we went to Blackmountain Studio in Dundalk and had the luxury of a live room. We were able to set up in a room, play together and the recorded sound was pristine. For that reason there's a lot of playfulness throughout the album. There's no better example of that than here on Dream Big.
SPACE BABY
FAYE: "Space Baby" has a very direct narrative. It's a song about inadequacy and confrontation. I wrote this song after being very quickly engaged to my now husband. Relationships force a mirror to ourselves and aspects of our personalities and behavior that are problematic and undesirable are in plain sight. In the past when self reflection and compromise presented itself I would have fled. This song acknowledges my shortcomings and lays my anxiety bare. When it came around to producing this song the acoustic was the driving force. There's a juxtaposition between jagged and sparse which complimented the lyrical themes and the bridge opens up into.
ADAM: As soon as Faye played us this song, ideas for the arrangement came flooding in. We were thinking of Madonna's 'Don't Tell Me' & Chemical Brothers 'How Does It Feel.' It was so much fun to play with the idea of 'space' in the production. The journey goes from an air-tight verse to an expansive chorus. I had read about Thom Yorke cutting out all of the breath in Kid A to give it an inhuman feel. I stole that idea while mixing this one.
WWDW
FAYE: This song originated from an electric guitar riff that I had composed. I was tired of emotionally mining my feelings and making them into ballads. Where words fail, music communicates a much broader range of emotion and my reaction to the music I was making led me to write about my fear of death. A lot of these songs have provided me with answers to my own life questions, whether they're right or not I don't know.
ADAM: This song, to me, is a defiant rail against the finite nature of life and I wanted to create an almost jubilant battle song with the instrumentation. We built a bed of thunderous drums and percussion and made that our anchor. There's a lot of interesting things going on here with the backing vocals that still excite me every time I listen.
An Accident 
FAYE: This song was written incredibly fast. I address self harm, inter familial relationships and my fear of losing my mother before expressing my love for her. It's an acoustic ballad that needed very little embellishment.
ADAM: Faye first played this for me during the first lockdown. I was care-taking for an old hotel in the city center of Dublin. We broke the rules one day and she snuck over to make some music together. I was floored on first listen. This might be the emotional epicenter of the entire record.
My First Name
FAYE: This song is about a man's expectations. I overheard a conversation by a group of men congratulating themselves about how young their girlfriends were and it ignited a frustration I couldn't fully come to terms with initially. I questioned if it reflected my own feelings of insecurity around aging and having children. I'm dealing with disgust both outwardly and inwardly in My First Name.
Why Die for Danzig
FAYE: Danzig is an anti war song that was sparked by watching footage of the Munich Security Conference. I heard Zelenskyy quote the French anti-WWII  slogan 'Why Die For Danzig'. I wanted to examine people's propensity towards rage and groupthink. Aggression and anger are an important catalyst towards change and ultimately towards freedom but do we always understand what we're fighting for and why we are fighting for it? 'How many bullets do you have to sell' sums up the core message of the song. Someone is profiting from pain regardless of what the outcome is or what the justification is for using force/arms to get there. Someone is selling the idea of freedom and at what cost. What bands us together? Why does Ireland accept and accommodate Ukrainian refugees while forcing Syrian, Nigerian and Afghan nations into direct provision centres.
Less Than Nothing 
FAYE: I wrote this song during the height of covid in Dublin City's Bewleys Cafe. The theater upstairs was vacant and I had access to the piano through a good friend of mine. I had this amazing view out onto Grafton Street and I sat there for a few days trying to come up with a very vulnerable and tender song for my husband. Unfortunately it can never be without some kind of melancholic over tone so the result was Less Than Nothing. I have no way to describe it other than an honest overview of where I was in the relationship at the time. Struggling to accept myself while we were locked together in a tiny box apartment with one window. We recorded this song in one take completely live in the room together. The result is something we're all really proud of and I think it will be a moment we cherish as a band for a long time
GOING OUT 
FAYE: 'Going Out' was completely improvised on the spot by the entire band. We set up, played and layed down a phone to record the session. We ended up with something in our minds next to perfect. Subconsciously I managed to express exactly what I have always struggled with coming to terms with – my relationship with the night and my excessive habits.
ADAM: One of my favorite moments on the record. There's an old Quincy Jones quote about recording, where he says "you've got to leave space for God to walk through the room." The process of how we made this record – live in a studio playing together – allowed for that to happen on a number of occasions. However, this time was particularly profound. At 7 minutes, we questioned whether it needed an edit. But ultimately we felt the journey was too entrancing to compromise. We're very pleased to hear that it's become many peoples favourite song.
— —
— — — —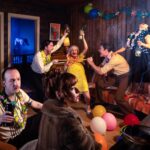 © Patricio Cassinoni
:: Stream Soda Blonde ::
---