Taken off duo Supernaive's debut album 'Nekomata', "Under Control" ft. NAL is an entrancing, intoxicating experience full of sultry sounds and seductive lyricism.
for fans of Jamie xx
Stream: "Under Control" – Supernaive ft. NAL
Supernaive – Under Control ft. NAL from SHLO MUSIC on Vimeo.
---
Globe-spanning electronica duo Supernaive have made a fast name for themselves over the past three years, all without revealing their identities: The French brothers, based in Paris and Tokyo, let their music do the talking (with or without a vocalist), and the results have been nothing short of a dream come true. The latest song off their upcoming album is an entrancing, intoxicating experience full of sultry sounds and seductive lyricism: A hypnotic affair, "Under Control" ft. NAL offers a deep, impassioned dive into our emotions as Supernaive blow up our ears with a compelling, feverish sonic journey.
and their upcoming debut album promises to be their biggest splash yet.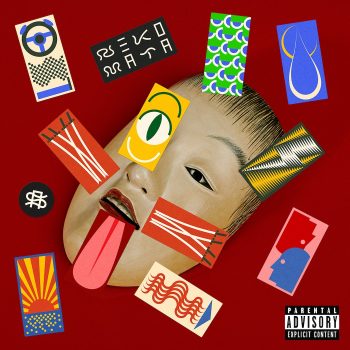 I had everything under control
Then you show up and shake it all
Now I don't know who to fall for
Don't know what I'm chasing no more
Telling myself « don't think too much »
Then only will I be alright
For so long we were out of touch
I had almost erased your light
Atwood Magazine is proud to be premiering the music video for "Under Control," taken off Supernaive's forthcoming debut album Nekomata (out June 26, 2020 via Shlo Music). An electronica duo who first introduced themselves back in 2017, Supernaive have spent the past three years garnering a sizable online following through deep, pulsing songs – many of which feature dynamic vocalists and exquisite lyrics. The pair's Dazed & Confused EP immediately set them apart as a group in touch with both the electronic and pop music worlds, while also showcasing their desire to tell a story and provide a sort of experience through song. The song "Monsters in My Bed" also features NAL, using her words as part of an ambient backdrop that doesn't wind up to explosive drops, but rather ebbs and flows through pulsing beats and immersive soundscapes.
Supernaive have been increasingly blending electronic with acoustic and organic instruments over the past few years, and Nekomata is sure to highlight the group's powerful blend of those sounds. Deeply influenced by R&B, many of Nekomata's songs defy genre while still maintaining a semblance of mainstream structure; in essence, it's left-of-center music that everyone can listen to and indulge in.
"Under Control" is the perfect example of Supernaive's deft and delicate touch.
The song gives singer NAL a front-and-center position to showcase her fluid, evocative vocals. Crafting what ultimately feels like a four-minute experience, Supernaive give her space to fill the room with haunting emotions and build around her: Soothing synth pads and spine-chilling sonic circuitry sway in the background, occasionally creeping closer to the ears stealing a bit of the spotlight for themselves. It's a pulsing, fiery experience that eventually implodes in dazzling fashion: Contrary to its title, "Under Control" is anything but, finding the narrator slowly losing their grip until eventually high-flying emotions take over, and all we want to do is let loose and run wild and free.
No answers no well known figures
Maybe a set of old feelings
Somewhat sweet and somehow bitter X2
Had everything under control
Had everything under control …
Meanwhile, Supernaive's Antoine Bal-directed music video brings us closer to them and their world than ever before. "Shooting the music video has been an unforgettable experience, especially when we got to drive the Toyota 2000GT through the streets of Tokyo, like in the 1967 James Bond movie!" the brothers tell Atwood Magazine. "When we started working on 'Under Control' we quickly decided to feature a waltz. We've already experimented with this rhythm, that is special to us, in our song 'Opal Waltz' a few years ago. Both the composition of the song and the music video have been a kind of therapy for us, we added something very personal to it, something deep."
One striking thing we notice, upon "seeing" Supernaive, is the design of their headwear. The brothers' masks draw heavy inspiration from Japanese culture: They are a symbol of eternal youth in Japanese Noh theatre. Meanwhile, the term 'Nekomata' references a kind of cat spirit (yōkai) told in Chinese and Japanese folklore (we ourselves look forward to other writers diving deeper into this symbolism upon the album's release).
Supernaive have given us one of their most enthralling, evocative singles to date in "Under Control." A deep, pulsing, impassioned piece of music, it's a perfect prelude as we look forward to the duo's debut album release. Stream it exclusively on Atwood Magazine, and check out Nekomata upon its release on June 26, 2020!
— —
Stream: "Under Control" – Supernaive ft. NAL
Supernaive – Under Control ft. NAL from SHLO MUSIC on Vimeo.
— — — —
? © 2020
:: Stream Supernaive ::
---