Oregon duo The Analog Affair offer a smoky summer haze and chill summer energy in new single "Monsters."
— —
Summer is officially upon us as of today, and that means that chillout music will definitely be in high demand. Any tunes that can help us unwind after a long, sweaty day or achieve a gratifying evening at the beach stands a good chance of becoming a solid hit. By those standards, the future looks bright for "Monsters," the evocative new single from indie pop duo The Analog Affair.
So now we're John Lennon'in
The fragrance so feminine
The breeze in your hair
The fire in your stare
The sex that we're swimming in
Now I know why
I've never been this high
Your stuff is super tough
But you keep things easy
Listen: "Monsters" – The Analog Affair
---
Atwood Magazine is proud to be premiering "Monsters," the latest single off The Analog Affair's upcoming album, Avalanche (independently out July 6, 2018). Vocalist Evan Baker and instrumentalist Cody Moser both hail from Portland, Oregon and joined musical forces during their college years out in Wyoming. Their first release was the 2013 EP Wild, followed three years later by the 10-track When You Go (both available on SoundCloud). These albums feature relaxing music aplenty – odes to seeing the waves flow in, warming up by a fire, and watching clouds explode as they roll by.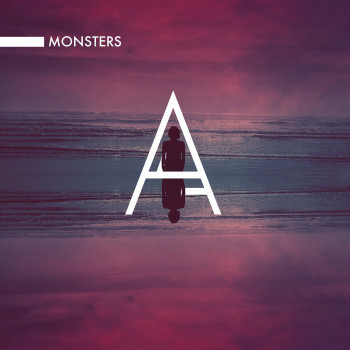 Cause you got no time
To stand in line for Mr. Right
To lay in the forest until the sun shines
The world outside
Darling it's open wide
So come with me
Let's kick off the tires let's go for a ride
"Monsters" continues the duo's tradition of putting listeners' minds at pure ease. This time around, as the band members reveal to Atwood Magazine, the song is based on the following proposition: "Do you ever wish your life was a lot more like Knight Rider – fast cars, fast hearts and neon sunsets?"
Make of that description what you will – just as you will with lyrics like "So now we're John Lennon'in" – but it's hard to deny that the duo have channeled some mighty fine in-studio chemistry into this Hasselhoffian pop song. The snappy synths make the track super-inviting from its very first moments, and Moser's electric guitar-playing contributes greatly to the track's delicate balance of gentle, yet upbeat.
Your friend got you into me
And I heard that you like to tease
Spin my car towards them railroad lights
Say a prayer buckle up real tight
Out here baby start the show
And I'm following wherever you go
Our name maybe written in lights
Say a prayer buckle up real tight
On the lyrical side, Baker does a skillful job of establishing what he describes as "a crimson-soaked danger love tribute to the riskier side in all of us." The universe of this music is one of limitless possibilities, one in which "our name, baby, [is] written is lights" and "the world outside is open wide." The ensuing invitation to "spin the car through some railroad lights" feels pretty hard to turn down.
It's easy to imagine this song playing in a car about to enter one of the vast national forests of the duo's home state of Oregon. This ode to adventure, be it a physical journey or a budding romance, is very immersive and melodic. The colorful and imaginative music video only adds to the single's immediate appeal.
"If the music is loose, the melodies warm, and the compositions layered and alive, you'll discover something new every time you listen," the band has previously commented. That formula has proven to be ever potent on "Monsters," and two weeks' time will tell whether the corresponding album follows suit. It sure seems like a safe bet. Stream The Analog Affair's latest, exclusively on Atwood Magazine! The band's new album Avalanche is out July 6, 2018.
— — — —
? © Evan Baker
:: Stream The Analog Affair ::