LA's Jamie Drake steps into her own as a dazzling singer/songwriter in her debut album 'Everything's Fine,' a radiant reflection on life, love, and the human condition.
Stream: 'Everything's Fine' – Jamie Drake
---
So much of day-to-day life is optimistically proceeding as if things are going to work out, contrary to the evidence that things are really falling apart. Yet still we continue to tell ourselves that everything's fine. 
Singer/songwriter Jamie Drake has been called one of "LA's best-kept musical secrets," but as of this Friday, the cat will be out of the bag for good. Having previously collaborated with everyone from Moby to Jim James, Drake steps up into her own on her dazzling debut solo album Everything's Fine.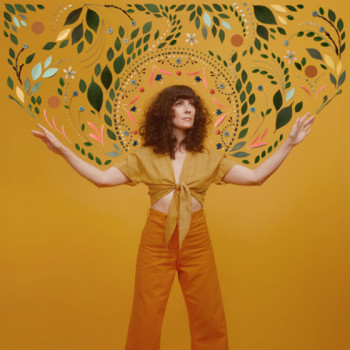 I've been thinkin bout' the past
How it seems like nothing ever lasts
All the moments and the memories in my brain
Spin around to the beginning just the same
You and I were like a song
By the bridge we knew that it was wrong
By the time we had become a throwaway
We'd spent precious years
rewriting shades of grey
But I'm not gonna say it; that "it's over"
Let's hold on for a while
Give it time, give me a minute
Maybe tomorrow we'll find
Everything's fine
– "Everything's Fine," Jamie Drake
Something seems to click when an artist finds their voice; in Everything's Fine, everything clicks for Jamie Drake. Atwood Magazine is proud to be premiering the artist's well-earned debut record, out September 20, 2019 via AntiFragile Music. After balancing her songwriter work with passion projects such as alt-pop duo Nobel, Drake introduced herself as a solo act with last year's songs "Everything's Fine" and "Wonder," which have to-date received a combined five millions streams on Spotify alone.
---
From start to finish, Everything's Fine introduces Jamie Drake as a sonically-rich, melodically savvy musician in touch as much with her emotions and interpersonal experiences, as she is with the nuances of contemporary folk and "soft rock". Her songs highlight the expressive tones and powerful, golden radiance of her three-octave range vocals. Additionally, every song also comes with its own exciting, sometimes eccentric assortment of background instrumentation – from a simple piano or guitar accompaniment, to more nuanced mandolins, harps, cellos, violins, and more.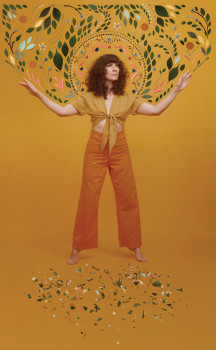 When the tide comes in
It's an ocean sigh
Sun and moon align
And the ties bind us here together
When the tide is high
Life is washed ashore
Leaves you wanting more
The day repeats the day before
Everything's pulled, it's gravitational
Everything's forced, cuz it's centripetal
You and I are bound together by a force
And the Earth is spinning on its course
Everybody's looking for the source
So let's have a little grace,
when the tide comes in
– "When the Tide Comes In," Jamie Drake
Meanwhile, Drake's songs themselves breathe life into life's reflective moments: Spaces of doubt, loss, and insecurity glow bright as the artist brings personal experiences to life in a context we can all understand and relate to, in varying degrees: You don't need to know divorce to appreciate the weight of title track "Everything's Fine," just as you don't need to have lost faith in your religion to connect with the vibrant "Oh Well Oh Well."
Sprinkled throughout every song on Everything's Fine are simple, stunning grains of truth about life and the human condition.
Jamie Drake's natural optimism injects rays of sunshine and positivity into the music, but at their core, these songs come from a place of maneuvering the obstacles, coping through the tough times, learning acceptance, empathy, and understanding. It's the symbolic opening of a door as a brand new chapter begins – one full of possibility, fear, hope, excitement, and all the intricate complexities in-between.
And at the end of the day, we're left with the album's title ringing in our ears – because when it comes down to it, through most of what we will encounter in our day-to-day lives, nothing could ring truer: Everything's fine.
Fingers moving in a certain pattern
Strings with notes to hammer out the beat
Get a pen and a piece of paper
Get a load of that mahogany
Making eyes and making guitar lines
Anticipation building; all is good
You can almost hear the notes just falling
Reverberating through that old rosewood
Kinda like just swingin' with our music
Kinda like we're dancing in the breeze
Kinda want to stay here forever
Kinda like a big redwood tree
Fallin and callin fallin callin forever
We're like a song that ends in major key
I know we've said the words inside our minds but
When does it become reality?
– "Redwood Tree," Jamie Drake
Experience the full record via our exclusive stream, and peek inside Jamie Drake's Everything's Fine with Atwood Magazine as the artist provides her personal take on the music and lyrics of her debut album! Everything's Fine is out everywhere September 20, 2019 via AntiFragile Music.
Stream: 'Everything's Fine' – Jamie Drake
:: Inside Everything's Fine ::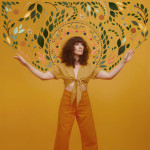 — —
Everything's Fine
I wrote "Everything's Fine" after experiencing a heartbreak that caused a lot of reflection around the relationship patterns I'd found myself in, (and ultimately, out of). I wanted to capture this feeling I've come up against when I've tried convincing myself that maybe something would work out even when I knew it wasn't meant to last. The production ended up exuding this celebratory joy, juxtaposed next to the reality of eminent heartbreak, which I suppose was a happy accident. The happy couple buys new furniture and gets a puppy, they go on a romantic vacation to Europe because that's what happy couples do, but then they decide to get a divorce and realize that everything in fact, is most certainly not fine.
"Everything's Fine" celebrates the heart-wrenching liminal space between calling it, and the time you spend stuffing it down in hopes that maybe it'll be ok in the morning. I wanted this to be the title track of the album because the phrase "Everything's Fine" holds various meanings depending on how things really are. So much of day-to-day life is optimistically proceeding as if things are going to work out, contrary to the evidence that things are really falling apart. Yet still we continue to tell ourselves that everything's fine.
Redwood Tree
"Redwood Tree" is a song about songwriting, and the joy of playing music with someone. I see it as an homage to my musical collaboration with friend and producer of 8 years, A.J. Minette. We wrote this song together by accident one day. He was over at my place to rehearse some songs and as I was walking out of the kitchen I heard him play something on his classical guitar that was a pentatonic, ear-worm melody. He laughed as he played the notes in a way that made his guitar sound like an erhu. I said, "Stop! Play it again… That's a song!" The rest came together and "Redwood Tree" was birthed in under an hour.
AJ and I had a previous project called "Nobel," and we'd recorded a demo version of "Redwood Tree" that was this a flute-heavy, folk tune. When we were 3/4 of the way tracking my solo album, I suggested we add it to my record because I didn't want it to get buried. I did want to re-approach production on it though, so I asked him to flip it on its head. He suggested we add this out-of-the-box cascade of vocal harmonies at the top, and I said yes. A lot of our musical collaboration has been like this; coming up with crazy ideas and figuring out how to make them happen. So we had a lot of fun reimagining "Redwood Tree." A bit of trivia is that the percussive elements you hear running throughout the song — that's a typewriter. We'd used it on another tune we co-wrote and recorded called, "Great Minds," and it worked great for this song too.
Oh Well Oh Well
Oh Well Oh Well was written in the wake of my loss of faith in God a number of years ago. I was raised in the Christian church, and though I never felt I belonged in the (physical) church, I'd always felt an immensely close connection with God through the person of Jesus Christ. Some people choose to discard their faith; mine simply disappeared as if someone important to me died one day and it felt like I could no longer understand a language I had known my whole life. This experience left me feeling as though I was walking around in the dark for many years. "Oh Well Oh Well" celebrates the loss and confusion we experience as humans when we know that hope is just around the corner. I think this is in part, is what faith is, essentially. It takes faith to know that even if you are feeling like it is the end right now in this moment — that at some point, you will be ok. "Oh well oh well oh well oh well, oh well oh well, I'm gonna be ok," are the lyrics in the chorus. I came back to my faith years later when I made a conscious choice to believe for myself in my own way; not because I was raised with it. When I chose it, I chose it with the tiniest, most pathetic amount of faith you can imagine. I reasoned however, that when I look at nature, I have scientific proof that the most glorious tree is produced by the process of germination with what appears to be the most pathetic, little seed. It is however, the sheer gull of that miraculous little seed, that gives the possibility to have life. The process of rebirth requires the courageous, harrowing journey into and through death and it's this journey that gives me life over and over again as I live, and move and have my being.
Make a Spark
"Why does it hurt so much to decide to be happy?" I asked myself this question when I was writing this song in February of 2015. I was in an off-Broadway musical in New York at the time, inspired by what life was opening up for me, and still afraid of stepping out in a deeper way. The tag line "I am lying in the dark and I'm afraid I'll make a spark," morphs slightly throughout the song –  in the same way our fears morph as we decide to step out and be who we are in the world. For most of my life, I was afraid to be seen. I had moved all over the country as a kid, was shy and had trouble making friends, had a difficult upbringing, and a difficult marriage that ended in divorce; why would anyone care about what I had to say? "Make A Spark" grapples with the fear of being ourselves, and the fear of our own power and potential. This song holds a special place for me as it was the first song I wrote for this album. It was the catalyst i.e. literal spark that would lead to ultimately stepping out into who I am.
When the Tide Comes In
In the fall of 2015, my mother came to visit me in LA. She loves the beach, so we went to Topanga one morning. While she made sand castles, I sat on my towel watching the tide roll in. Moments later, the opening melody and line of lyric for the song came rolling into my mind.. "When the tides comes in, it's an ocean sigh.. sun and moon align and the ties bind us here together." I grabbed my phone and recorded the idea, knowing what I wanted to convey through this particular song.
When I survey other worlds in the sky, a sunset, a newborn baby or a tiny tree frog, I don't see mere, scientific truths or a mass of skin cells and bone; I see miracles. The intricacy of how something is put together points me in the direction of divine wonder and causes me to respond with "wow, someone really loves me." It doesn't register that all of this beauty was some accident and that everything is void and has zero purpose. I also don't think the earth was created in 7 days. The wonders of the world make me feel small, but they don't make me feel insignificant. Rather, I feel upheld by a massive, all-encompassing energy that is pure love. Energy, that is personal, and love that I do not comprehend. It's no secret I have baggage with religion and that I've never felt that I belonged in a church setting. What I'm getting at, is that the God I have always been aware of, is beyond that. Beyond human construct. Beyond some box. You can't put eternity or omniscience into a box. Religion is a construct built by man in order to understand this awareness we have, but it doesn't do the subject justice. It can be useful and even helpful; but God knows it can also be damaging because humans are fallible. Look at human history. Look at all the evil committed in the name of God. What I'd really love to do, is to cause others to think more deeply, and more openly about such a God – in the church and out of the church. I certainly don't have it figured out but I believe it's an important conversation to have.
To My Love
To My Love" was written from a position I have often responded from in relationships with others – romantic or otherwise – that of feeling uncomfortable with intimacy, of having someone love and accept me as I am, and my assuming I need to run before they do – re the lyrics "…and if what we have is real, you know that you can always appeal to my love, to my heart running away when it's afraid of your love, of your heart running away if I'm to blame."
AJ and I recorded this song early on in the process of making this record. As time passed and we were almost finished with the album, I felt like we hadn't cracked the code on this song yet, and I did something I sometimes do.. I told him we needed to flip it on its head. It was a challenge he was willing to take on and I'm grateful he did. We ended up re-recording a slew of things — ideas more derivative of pop and hip-hop rather than folk, percussive vocal harmonies, a completely different beat, and string arrangements that communicate the severity of the song's message. There's a magic moment that takes place in the song at 3:03 on to 3:38. I needed to vocally capture going from a vulnerable place, and crescendo into a complete vocal explosion; no big deal, right? We had already spent a long time trying to capture it that day and though AJ knows my vocal capabilities and how to push me in the right ways to get the best performance, nothing seemed to be working. Then we got to this particular take. Out of nowhere I felt something rise out of my body and into the microphone and it surprised us both. As I sang, I saw AJ had completely frozen in his chair as he didn't want to do anything to disturb the moment. After we got it in the can, he slowly turned around and we both had goosebumps and wide eyes. To this day I still don't know where that magic came from, but I'm reminded of it every time I listen to this song.
Wonder
I have come to believe that "Wonder" is a love letter that was given to me for me and for others. It came about in a wonderful way – falling from the sky kaleidoscopically into my brain and quickly making its way onto a sheet of paper. I thought it was so weird when I wrote it, and I didn't know if I should record it. I showed it to AJ, and he thought it was something special, so we went for it. This song is truly miraculous and is a gift that keeps on giving. I didn't know what it was about for awhile because I felt like a vessel when I wrote it, but over time I think I've figured out that it's about the past, present and future. The first verse talks about me floating around in my mother's womb (i.e. my past / beginning). The second verse talks about the present moment; "There'll never be another me, I can surely count on that. What can I be, what will I be all depends on what I let." All depends on what I let. That line gets me every time. The final verse talks about the future; looking around at the end of life and being grateful for this beautiful story I have been given, and the chorus calls me into a state of wonder at the whole story arc of life – "Guess I better have a little bit of hope, I wonder what I will become if I no longer have a wonder."
I of course am not always full of hope and wonder. I am an artist and I have not lived an easy life. I have emotional fits of anxiety, depression and shame and I struggle with doubt like anyone else. That's partly why I know this song was a gift. There have been times when I have needed to sing this to myself and I've cried at the revelation of its message back to me. I have sung this for children hooked up to machines in the hospital. The world needs hope and wonder; without it we'd be in the dark. For some reason that's part of why I'm here; to convey this.
Blue
The chorus for "Blue" says, "You can wish and hope and pray for someone to come along and save the day. Isn't that what Jesus came to do now? I don't know what to do with that." When I wrote this song, I didn't know what to do with that. I grew up in a non-denominational Christian world that was black and white, when most of reality is lived sifting through shades of gray. I experienced fear and judgement from religion – completely missing a loving God in the process. "Blue" is my jaded-yet-quirky response to the heavy depression I experienced after my loss of faith. Music has always helped me sift through my thoughts and feelings – thank God for that. This song was fun to record. We veri-sped my vocals to make me sound younger after I read "Here, There, and Everywhere," by Geoff Emerick.
Allison
I started writing Allison after hearing Paul McCartney's "Jenny Wren" a few years back. The story of Allison was inspired by a meeting with a particular two-year-old named Ally who wasn't speaking yet. We were trying to get her to say goodnight: "Allison, for heaven's sake, say goodnight. And when you wake, make the day what you want it to be." I've never really said this before but Ally reminded me of myself at that age and it made me sad because I grew up in an environment where I was afraid. For a very long time, it felt safe to plug my ears and stay inside the fantasy world in my mind. It took awhile to audibly speak and even longer for me to figure out what I wanted to say.
When I first started writing it was very personal; I rarely performed. It didn't occur to me to try and become a singer. I was afraid to be me in the world because no one had taught me how and I reasoned that that must mean I have nothing to say. I ran from the opportunity to have a manager when I was 20 and living in New York City, and instead married a man I barely knew, moved to California, and helped him build his career in the film industry. When my 8-year marriage fell a part before turning 30, I had a revelation that had always revolved around my brain since I had been a child, and I finally listened to it because I literally had nothing to lose (except for more time): I had to make music because it brought me joy and was in fact, my purpose. Having purpose gave me drive like I never had before, and so I chased after joy like my life depended on it for a decade. That pursuit has led me to the present moment, sharing this album that took years to write and record, in the best possible way.
This is all to say that, "Allison" is about taking the time you need to find your voice in life. I hope that I can encourage others that no matter what age you are, you can do anything for the joy of it, and perhaps it just might give you more than joy in return.
— —
— — — —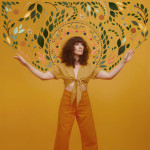 ? © Kathryna Hancock
:: Stream Jamie Drake ::
---
:: Jamie Drake Tour Dates ::
September 19 – Los Angeles, CA @ Nichols Canyon Music
September 28 – Los Olivos, CA @ Zinke Wine Bar
October 19 – Portsmouth, NH @ 3S Artspace
October 22 – Brooklyn, NY @ Rough Trade
October 23 – Philadelphia, PA @ Johnny Brendas
October 25 – Washington, DC @ DC9
October 26 – Carrboro, NC @ Cat's Cradle
October 27 – Charlotte, NC @ The Evening Muse
October 30 – Nashville, TN @ The Basement East
November 1 – Decatur, GA @ Eddie's Attic