Soft and subtle, seductive and dynamic, Timothy Heller's stellar solo debut "Sleep" is a memorable first step at the beginning of the ex-Dresses artist's brand new journey.
— —
If starting over is daunting and scary, then embarking on a solo career must be all the more formidable: You have to believe in yourself, trust in a vision, and be prepared for unexpected twists, turns, dips and dives at a moment's notice. Anything can happen; you'll weather it all. More importantly, your art is the direct extension of you, and you alone. You will be vulnerable and exposed, sharing yourself with the world.
For Timothy Heller, this special moment has been a long time coming: Soft and subtle, seductive and dynamic, Heller's debut single "Sleep" is the important first step at the very beginning of a brand new journey.
Please take me
I'm sorry
I think I didn't say those things
It's me
Please tell me
You're kidding
please oh please
Take me
I'm sorry
Stream: "Sleep" – Timothy Heller
---
Atwood Magazine is proud to be premiering Timothy Heller's debut single "Sleep," a dark and pulsing electronic pop song that explores the emotions around cheating. It's hard to think of Timothy Heller without immediately jumping to her incredible work as half of the band Dresses – whose 2014 debut album Sun Shy brings a shining warmth to the darkest of days – but the Los Angeles by-way-of Portland creative quickly establishes herself as a person of interest – an artist in her own accord – on her solo debut.
Haunting and dreamy, "Sleep" engulfs us in a controlled chaos. Tension and release come hand in hand as Heller croons sweet, crisp melodies over stark guitars and ambient synth beds. "I wrote this song when I was probably 18," Heller reflects. "My best friend's boyfriend had just cheated on her. I wrote this song starting from his perspective, trying to win her back. My friend's reaction when she was opening up to me when this happened was that she just wanted to sleep it away. So the chorus is from her perspective."
I know
I'm mean
But please
I'm begging
Oh her who's she
She meant nothing
Oh ooooo
What am I supposed to do
Why do this to me
I think I need to sleep
"Why do this to me? I think I need to sleep…" Heller sings in the chorus, her light voice effortlessly evoking a plethora of complex and conflicting emotions. We are drawn into and distanced from Heller's characters at the same time, hanging onto the artist's every breath as she brings us through a strained relationship's evolving dynamic.
We won't get closure here. The situation won't resolve itself, but Heller does leave us with a sense of hope and new, future possibility.
There are several layers to "Sleep," many of which aren't visible upon the first or second listens. "This song means a lot to me, but not in the way you'd think," shares Heller. "It's not really about the lyrics…"
Heller continues: "Basically, the reason I'm putting out a song I wrote when I was 18, is me getting back into doing something, music, that ended up being really painful for me the last time around. My experience in Dresses was a lot darker than anyone let on: I was struggling a lot with mental illness, and had an extremely unsupportive team around me. I was subject to a lot of mental abuse, but kept around because they needed my voice for the band. By the end, I had been convinced I was a shitty musician. I eventually couldn't take the stress of working with people like that anymore, and cut off Dresses entirely. I thought in doing that, I'd automatically love music again and be able to get into it immediately! But it took me years. I just didn't feel like a musician anymore. I would have breakdowns trying to write songs. I had just been shut down so many times before, I was so defeated. But a lot of good things came out of my year without making music: I focused more on my mental health than I ever have in my life. I feel a million times better about my life now. I was putting a lot of pressure on myself to write songs again and be a musician, when ultimately I just wasn't ready until now. I didn't believe in myself enough."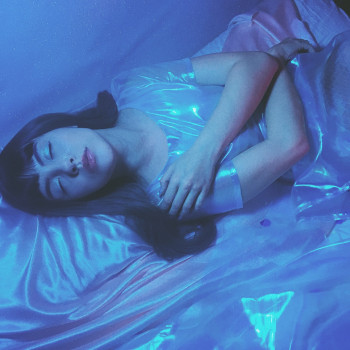 "I think deciding to put out 'Sleep' was a really easy first step for me. I have such a long list of songs I've never done anything with, and after being so discouraged I just figured they were all trash. And sitting down to write a completely new song seemed impossible to me at this point. I just had too much self doubt. But I happened to show this one to Mikey (my bf) who produces, and he loved it and then we made it into something awesome and I could finally see that it IS a good song and I AM a good songwriter. I also sent the song to my friend Hana Haley, who's a photographer and director, and she totally loved it and wrote this amazing music video treatment."
"Anyway, as I'm building more confidence in myself and music is becoming part of my life again, I showed Mikey a couple of other songs I've written and we've started working on them. It's really amazing having him here and being an amazing producer, because while I continue to doubt myself on things I've written, he's super patient with me and brings my songs to life, which makes me feel way better about what we're creating. Basically, my solo music career is going to be MUCH more positive than my last experience. I'm not gonna take shit from people this time and get pushed around by assholes."
Timothy Heller is here to stay, and the world is a better place for it. "Sleep" is a particularly powerful debut that puts her expressive voice to work, daring us to plunge into the depths of our own hearts to see what we may find lurking there.
Lose yourself in Timothy Heller's dreamy debut "Sleep," exclusively on Atwood Magazine!
— —
— — — —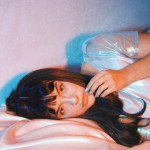 photo © Hana Haley
:: Listen to Timothy Heller ::