Missing the music on which they grew up, Brooklyn band The Exits ditched their indie pop sound and traded it in for something heavier and (some might say) more authentic: Rock.
— —
Do you remember growing up with your parents boasting about their legends of rock? It didn't matter what was playing on the radio: It just wasn't the music they had in their day. Many of us snubbed our parents and their taste. Could a rock band be any greater than the queen of pop herself, Ms. Britney Spears? At the time, many of us would have thought not, but as we age, we've probably added a few classic rock t-shirts to our collection and have grown to feel nostalgic for the times and music we never truly experienced ourselves.
There is a reason a committee tends to the preservation and dedication to the gods of rock n' roll's past. Though the genre took a back seat for a couple decades, rock shaped generations of people who refuse to give up the music of their glory days. While it often seems like today's young adults are more into computerized beats than complex guitar riffs, rock is beating down the doors and coming back – whether we want it or not.
"Every genre gets played out, and everything is just a copy of a copy of a copy," says Jared Schneider, guitarist, songwriter and vocalist for The Exits. "Rock had a bit of a break, which is probably a good thing, but now you're getting a lot of pop music and it's time to change."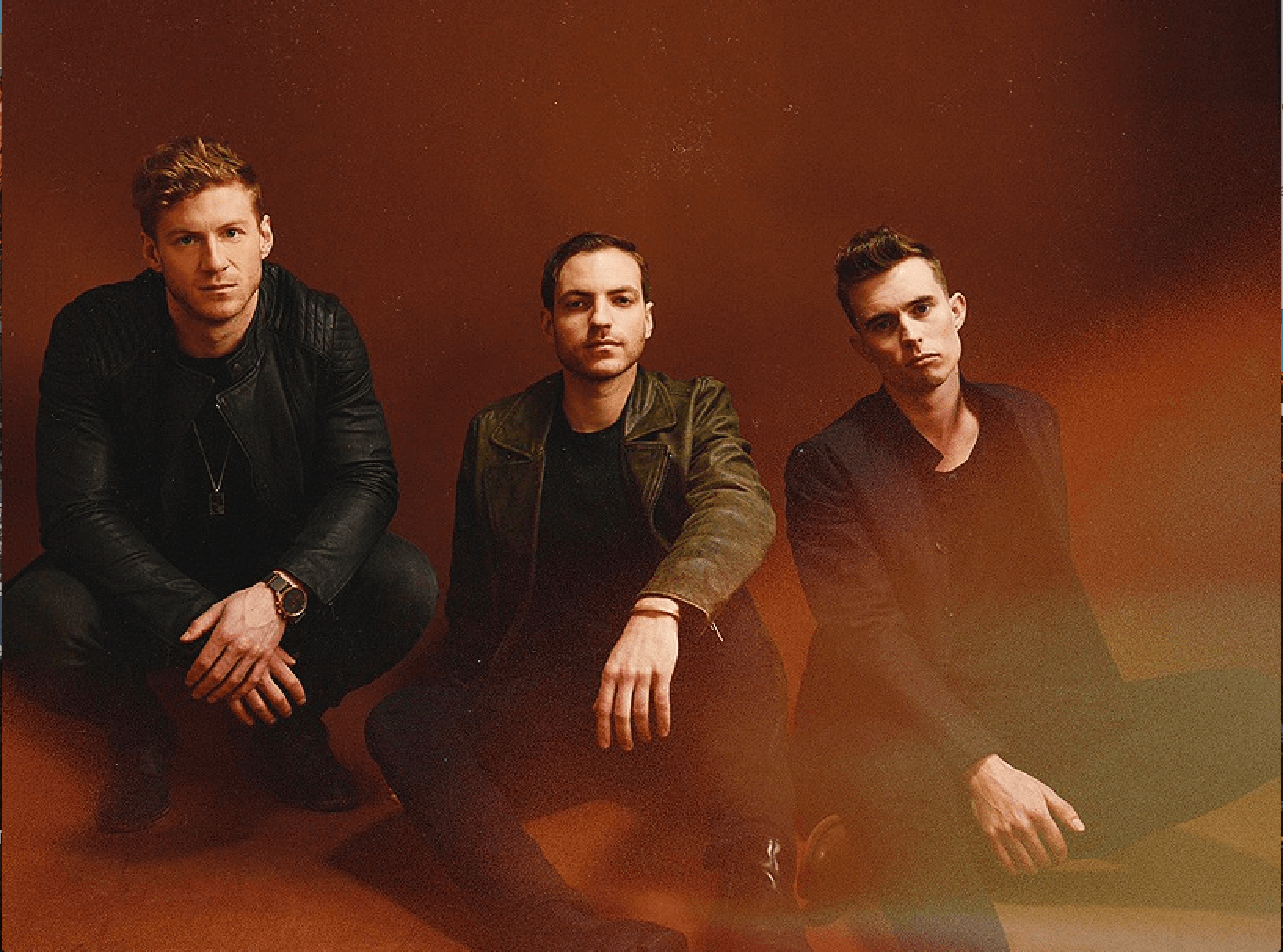 The Exits are a Brooklyn-based indie rock band dedicated not only to bringing rock music back to the forefront, but also to bringing back every magnetic aspect that comes with the genre.
"A lot of the music we hear today is created in a test tube," says Schneider. "It's created scientifically… even everything down to the way that they press, things are louder, and themes are dumbed down… we got a little bit sick of that."
Though they started as an indie pop band, the members of The Exits quickly felt tired of not finding that rock sound on which they themselves grew up. Wanting to bring back great rock n' roll, Schneider and Ryan 'Cal' Calabrese —then the sole members of The Exits — added a third member in Tom Harrison, and took to rehearsal to create their new rock sound. Do The Exits enjoy other genres? Of course! But having grown up on and coming to love rock, they felt it was time to bring it back.
---
"The whole party scene has become particularly electronic and hip-hop," says Harrison. "That scene of having a beer and listening to rock n' roll kind of disappeared."
The band enjoys playing house parties, not because they can't book larger shows (which they do), but because they enjoy the community aspect that comes with playing these shows. The band members shared that they once had a woman go into labor at one of their shows, officially making their music — as they joke — "baby making music." Stories like this live to show that music is much more than entertainment or distraction.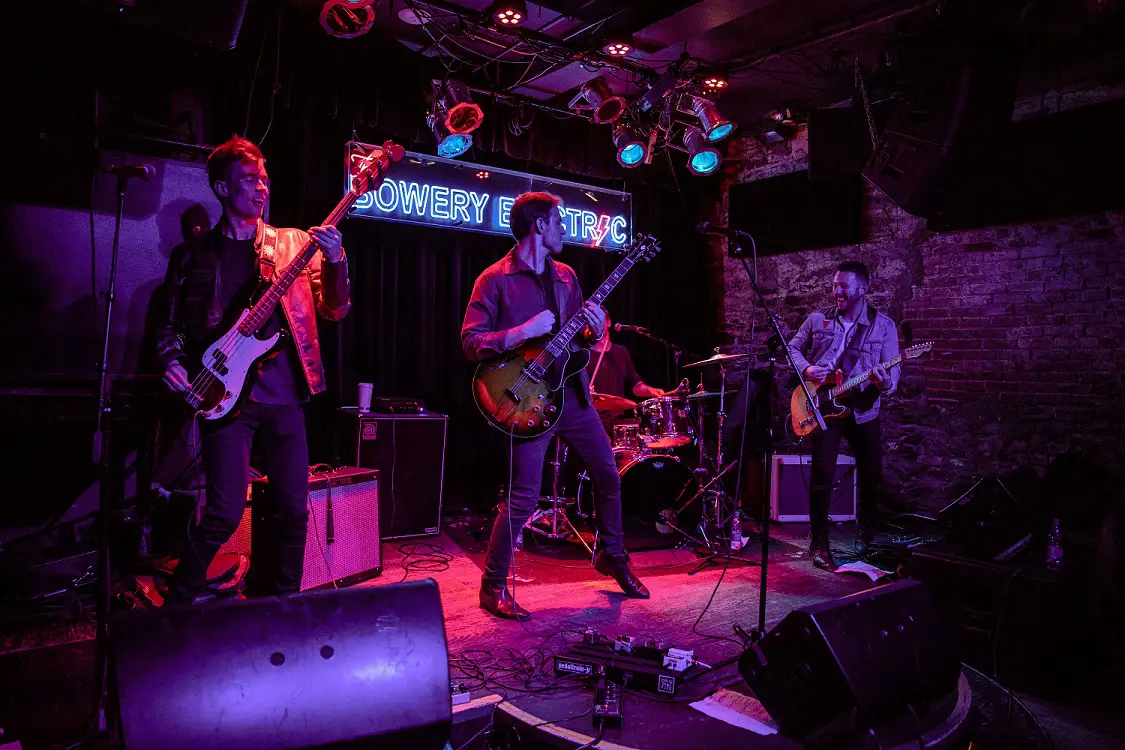 Rock n' roll helped bring people together many years ago, and The Exits are seeking to do just with that with their music and shows today.
Creating great music is more than just having a great time: It's a lot of hard work. The band rehearses twice a week, though Harrison mentioned that they like to give Schneider his space to write and create new material to bring to the band, for them to work on.
"The priority shifts on a day-to-day basis," Harrison explains. "It really is such a different game than ten years ago where you could focus on one thing: You have to juggle."
---
Earlier this year, The Exits released a series of singles, including "Press Repeat" and "Please Don't Tell." With their driving guitars and catchy chord structures, these new songs might remind listeners of the bands Bad Suns and COIN, both of whom self-identify in the indie rock space as well. They offer a fresh take on The Exits' musical direction, and a look inside a band in transition. Meanwhile, the Brooklyn trio have been working on an EP, which will consist of all new material.
"I think we're leaning towards new material for our first EP," Schneider notes. "We've actually thrown away an entire album's worth of material; it was expensive but a good learning experience."
Their sound continues to cement itself with brand new single "Gone," released in early November. A slower, laid-back jam with a pulsing Chili Peppers-y groove and a picturesque guitar solo, "Gone" effortlessly incorporates bluesy elements into a passion-fueled release of loneliness and reflection.
long ago, you told me that
you never ever, ever want to go
but now I'm lonely
and I never ever, ever
thought you'd go
it's clear, if only I could
take back everything I said
you know
but now you're gone…
– "Gone," The Exits
Though they're still in the process of learning how to juggle multiple responsibilities at once, The Exits have been successful when it comes to staying productive and being successful. Being a musician in 2018 means having to wear many different hats at once, and The Exits are learning how to stay focused and have fun with the journey they've created for themselves.
"I think we change on the day-to-day what the priority is for that week. [Trying to find] the right studio time and the right self-promotion…" says Harrison. "Ideally, immediately, we'd love to be playing and touring. Everything's kind of snowballed over the last twelve months, once the momentum gets going, things start popping up and people get in touch, so we want to make sure we're making the right decisions."
With an EP in the works and undoubtedly even more music to follow, The Exits are playing their part in the resurgence of rock n' roll. As their momentum quickly builds, make sure to keep an eye out for them at stadiums and dive bars near you.
And who knows? Maybe they'll help induce another labor soon.
Stream: "Gone" – The Exits
— — — —
? © Alejandro Corpus
:: Stream The Exits ::