Spirited and introspective, Major Love seek to build it all back up after they "Tear It Down"
— —
T here is an arresting beauty in destruction. It leaves us open and vulnerable, leads us just to the point where we can either give in and let it drown us, or grab onto the rubble and try to remain afloat, with eyes toward a brighter horizon. It takes time, but it can be done, and you can be all the better for it on the other side. This is embodied to the fullest on "Tear It Down" from self-described "band of bands" Major Love. They give us hope for the future, and, according to frontwoman Colleen Brown, offer insight into "the strange disparity between our work and how each of us chooses to live our lives."
People watching
Are you working
Where does the time go
When it comes to nothing and
I can see how you are progressing
Building up your window dressing
Watch: "Tear It Down" – Major Love
---
Atwood Magazine is proud to be premiering "Tear It Down," the new single from Major Love's forthcoming, self-titled debut LP, set for release in early 2018. It's a jubilant, yet succinct ode to renovation and recreation, complete with an infectious chorus that's begging to become an earworm. Hailing from Edmonton, Alberta (by way of Kingston, Ontario) the Canadian group displays a mellifluent affinity for funky, pop-sensible rock music.
According to lead singer Brown, the song came about after witnessing some horrific events. A senior's residence, right across the street from her house, suffered two explosions, claiming the lives of two people in a murder-suicide event. The wreckage became the main view from her kitchen window for three years before she "had the privilege of watching the building's renewal," including the gutting, cleaning, rebuilding and refurbishing. Brown wrote the song on her balcony, while intermittently watching the work of some, well, "particularly handsome tradesmen" who were outfitting the new windows.
Major Love hit a major note with the bold chorus, crying out the titular words with excitement and effervescence. The listener is compelled to join in on the fun that is to be had in a remaking of the self, in a restructuring of our identity. The message is delivered to us with a wisdom demonstrative of one who's well-versed in this subject.
Overthinking
That doesn't serve me
She is a poor maid
Always on a coffee break and
I can see through, can comprehend you
What can you teach me
The accompanying music video shows the demolition and remodeling of a home. Owing to the lack of "foresight to film" the reconstruction of the senior's residence across from her, Brown was lucky enough to get in touch with some "pals in Kingston [who] had a house to tear down!" The home in the video belonged to Zane Whitfield, a friend of the band. The song's lyrics are displayed over a time lapse of the home being torn down from multiple angles. The video ends with a crane atop the pile of rubble and a promise of something new and fresh being established in its place.
Old mother nature
How goes the proverb
She giveth the bread and then
And then she taketh
She stills the earth and then, and then she quaketh
Still life is just what you make it
"Tear It Down" is a cheerfully defiant anthem of putting back together all the pieces of you that have been broken and chipped off. It's a reminder that we're responsible for the course of our own lives no matter the circumstances; we have the power to alter our circumstances if we wish to do so.
Revitalize your ears and stream "Tear It Down," exclusively on Atwood Magazine!
— —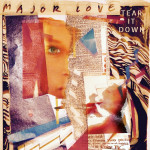 photo © 2017