Don't we all deserve the chance to experience life the way we want to experience it? Life is too short to suffer through; we might as well try to enjoy it as well. Listening to The Big Drops' debut album Time, Color is like slipping into a dynamic fantasy dreamworld, where we can close our eyes and just be – if only for a little while. Sit back, relax, and sip a little sunshine with The Big Drops.
If the world was to be as I care
On and on through a dream I'd stare
With my head in the clouds above the trees
Through a cold and a long winded breeze
As i sit well below in the shade
I look up to see a bright colored day
Time, color
Listen: Time, Color – The Big Drops
---
Atwood Magazine is proud to be premiering The Big Drops' debut album, Time, Color (independently out June 23, 2017). Started out of a log cabin in 2011, The Big Drops consists of brothers Greg (lead vox, rhythm guitar) and Vramshabouh Kherlopian (lead guitar, backing vox) alongside drummer Caleb Estey and bassist Steve Donahue. The Big Drops' music is as colorful as their vibrant album art: Time, Color offers a dash of rock with a splash of psychedelia and a burst of folk, sprinkled together with dustings of electronic, pop and jam-band to hold it all in place.
"Time, Color is meant to express a variety of vibes and colors," expresses the band, "Life is a medley of emotions and stories, so we try to touch on that dynamic. From the introspective mindset of how quick life passes by, to just being downright silly. It's been a few years in the making and we're pretty satisfied with the range it covers."
Opening with the minute-long calypso of a seaside carnival, Time, Color invites us to leave our woes behind and come along. "If the World" muses a poetic fairytale that sounds quite attainable, yet so often seems to allude us: If the world was to be as I care, on and on through a dream I'd stare… I look up to see a bright colored day, time, color." Oh, to live a peaceful, unfettered moment! How is it that as we grow older, things get increasingly complicated? One should expect life to run through some sort of bell curve, but it seems we never do crest. Things just keep escalating –
– but perhaps we can still find joy in life. Why do we feel the need to actively draw rainbows, if they occur naturally" "Life is complex and beautiful, is the theme," explains Vramshabouh of the album. The deeper we delve into Time, Color, the more in unveiled about The Big Drops' exploration of our humble existence.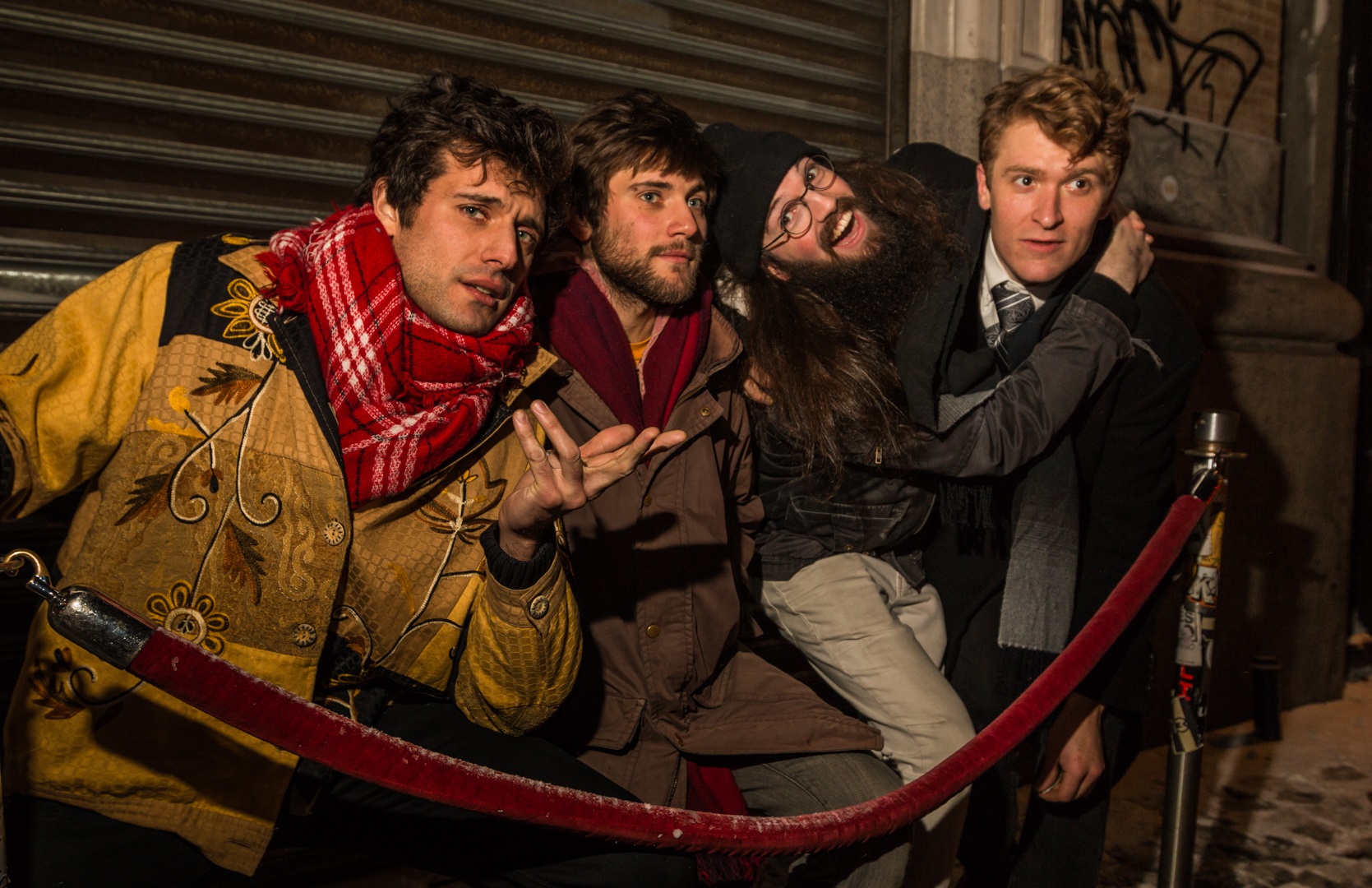 We embrace the moment on "Baskets of Love," a surf rock-inspired, one-way love song. "By the Water" gets lost in reverie as clouds form above a once-sunny skied relationship.
Now I seem to care for a longest time
Up into the air as I make you smile
Maybe we could be for a year or two
Looking at the change and I feel it soon
Fall into a hole on a rainy day
Thinking of the days that are here to stay
Dreaming of the shore that I left behind
Golden, fair and old like memory in time
While I watch the lake and the bedrock nears
Some things i don't forget and it looks so clear.
The acoustic folk song "Watcha Know" smiles for the sake of smiling, layered with thoughts and emotions we may never understand. "Gong Gong Jar" steps similarly in line, embracing the lighter side of life for the sake of being happy. A two-minute trance of guitar and droning keys re-instills that faraway calypso element, and we imagine what it might have been like for a 20-year-old Brian Wilson to experience life and music in our day.
The Big Drops trip us up with the jazzy "Boyfriend Talk," which feels so out-of-place that one might think it a mid-album commercial upon their first listen. However, penultimate instrumental track "Maybe in a Year or Two" faithfully reel us back into the dream for one last dance. An absolute standout on the record, "Maybe in a Year or Two" manipulates music in the same way the band manipulates words on other tracks: The tune is absolute poetry, and mesmerizing and refreshing journey of stringed wonder.
Wake up, its a lovely day to try
Order, order in your open mind
Wasting for a day thats moving fast
Over, overneath your walking past
Flowers, they are growing in the yard
Over, overneath your looking far
Now I
I am here to stay
Our foray into The Big Drops' world ultimately times out with "Lately," a literal wake-up call that plucks the narrator from the dream, reminding us (and him) that this is all a distant memory, an adventure that had to end sometime. The band strip everything down, and walk away without a fuss or fight – for here is something we can always dive back into whenever we need a moment's respite. The album fades back in for a quick second, offering the sounds of a warm ukulele content in its solitude.
It's not an unhappy ending, and yet it's not necessarily a "happy ending" as one would picture it. The moral of the story is, enjoy life. Wherever you are, whatever you're doing, there is beauty in the world waiting to be found. Live it up, and live it well.
— — — —
Time, Color – The Big Drops
:: The Big Drops Tour Dates ::
6/23: the Footlight Brooklyn, NY ALBUM RELEASE SHOW
6/24: House Show Providence, RI
6/25: Divan Orange Montreal, Canada
6/26: Rainbow Bistro Ottawa, Canada
6/27: Avante Garde Bar Ottawa, Canada
6/29: Parish Public House Albany, NY
6/30: Monopole Plattsburgh, NY