Sitting down with Atwood Magazine before their Main Stage performance at Hangout Music Festival, The Backseat Lovers tell us about life on the road, the legends they've shared the stage with, and potential new directions for their music. 
Stream: "Snowbank Blues" – The Backseat Lovers
---
You can definitely expect a lot of different realms of sounds coming from the new music we're working on.
Playing live in front of thousands of adoring fans is stressful for 99% of the population, but man, these guys looked so calm. A couple of hours before they were scheduled to play at the Hangout Stage, I had the opportunity to chat with the band for about 10 minutes.
Sitting in a swanky, tricked-out gulfstream, the guys were chill and excited for their set.
We started off our conversation with a light question, one that I was really wondering about. I wanted to know what music they listen to as fans themselves, plus, I was super curious as to who had aux privileges when they were on the road touring.
The band, which consists of lead singer Joshua Harmon, guitarist Jonas Swanson, drummer Juice Welch, and bassist KJ Ward, gave me a few different answers.
"I've been listening to this new record by Leith Ross. They're this amazing singer-songwriter."
"Ya I was just listening to Blake Mills like 5 minutes ago, and lots of Lomelda."
"I've been listening to a lot of Colter Wall recently."
The young rockstars have diverse music tastes, ranging from country/folk to heavy rock to indie pop.
On the topic of genre, I was curious as to the idea of the band taking their sound in a new direction. They have already established themselves as one of the biggest indie-rock bands in the world, so I asked if they had plans to drive their music into a new arena of musical experimentation.
"A backbone part of what we do creatively is that we like to keep open to being able to experiment with any genre, even within one song or across genres. You can expect a lot of different realms of sounds coming from the new music we're working on. We never want to limit ourselves into one sound."
The guys were excited about the possibility of going cross-genre and experimenting in the future with some new music styles, and I know their fans are eagerly awaiting new music since the 2022 release of their second studio album, Waiting to Spill.
The first time I heard the band live was Lollapalooza 2021, which happened to be their first major festival performance. They killed that set, and I wanted to know what the guys were thinking backstage before their lives changed forever.
"Yeah, that was a crazy experience for sure," chuckled guitarist Jonas Swanson, "We were nervous, probably one of the most nervous experiences of my life. Like a festival, the experience is way different than any other type of show, and every festival is completely different. Lollapalooza was like the first time when we experienced anything like that. Just the festival atmosphere and not even just the show but everything going on backstage, like the press and all the cameras on stage and stuff. It was just completely different than what we were used to. But it was a really cool experience"
I asked them if it was overwhelming, and a lingering pause hit the room, as if there was an inside joke the guys knew about. All eyes turned towards lead singer Joshua Harmon.
He laughed and answered with a cheeky grin, "Maybe… but it was still an amazing experience."
We turned our attention back to the album that shot the guys into the indie mainstream, Waiting to Spill.
The songs, "Pool House" and "Davy Crochet," are my two favorites off the album. I knew I had to ask them about the stories and inspiration behind the songs.
First, I was curious about the intro for "Pool House."
In the first few seconds of the song, a voice memo plays and it's an unknown person saying the wrong name of the song. I asked the guys the story behind it, thinking it would be a big elaborate concept.
I was wrong.
The guys claimed, "It was a voice memo for band practice, and we just liked it, thought it was funny."
---
The story for "Davy Crochet" had to be more in-depth and meaningful, I was sure of it.
I was wrong again.
Drummer Juice Welch filled me in on the secret of the song.
"Not much of a story here too honestly, I'll have to dig deep in the caverns of my mind to find what that song is about anymore. Just about like High School romance essentially."
Called down the stairs of your mother's house
Sydney's sittin' on the couch
What's she going on about
I don't even care
If you were making out
I guess you worked it out
And then it started to snow
I didn't think about it when I gave you my coat
I didn't think about it when I wrote you that note
I guess there're some things that you shouldn't know
But I'll tell you anyway
And you can tell me 'bout it if you've had a bad day
I'll teach you how to laugh if you can teach me crochet
Why go to class if we're already late
---
Before meeting up with the band, I wandered around the festival grounds to ask people what songs they were hoping to hear from the rising indie-rock group.
The number of times I heard "Kilby Girl" was shocking, but understandable. The hit song is encroaching on 250 million streams on Spotify, as of this writing.
As the band told me, "It's the song that people get introduced to us by."
They've managed to not only sustain, but rapidly grow their fan base since "Kilby Girl" was released in 2019. I knew I had to ask about the song, but I was more curious about what life was like in the immediate aftermath of its public release.
They claimed, "It was definitely not anything sudden. The song was out for well over a year, maybe two years, before it got any real national attention. It's been like a really special thing for us to have a song that can help people introduce us to our music."
---
The slow build-up is what enabled the band to get such a dedicated and hardcore fan base that's been around for the long haul.
For my last question, I wanted to know about the artists that the guys have shared the stage with, and if they've ever felt starstruck from it.
The guys were laughing as they were thinking back to all the memories they've made on the road, and the lessons learned from legends before them.
With a proud grin, bassist KJ Ward told me, "We've opened for The Killers before and that was really really cool. It was crazy because some of us grew up on their music and it was wild to do that and then watch their set and kind of go on a nostalgia trip. Another one was when we got to play some shows with Jack White, that was really inspiring, just being able to see how free they were on stage. Being able to share the stage with someone you looked up to your entire life is really cool."
The Backseat Lovers have amazing crowd control, and a fun stage presence. I wanted to follow up by asking if they learned any tricks from playing live with these rockstars.
"I think we learned a lot, especially from Jack White, we learned a lot about having freedom in the set, like with the set list. It's cool to see how much he changed it up every night. All the bandmates were really pushing each other, it was just awesome. Also watching them taking risks, and I feel like we were kind of doing that, like playing new songs in a fresh crowd. We sort of started leaning into all of these new things."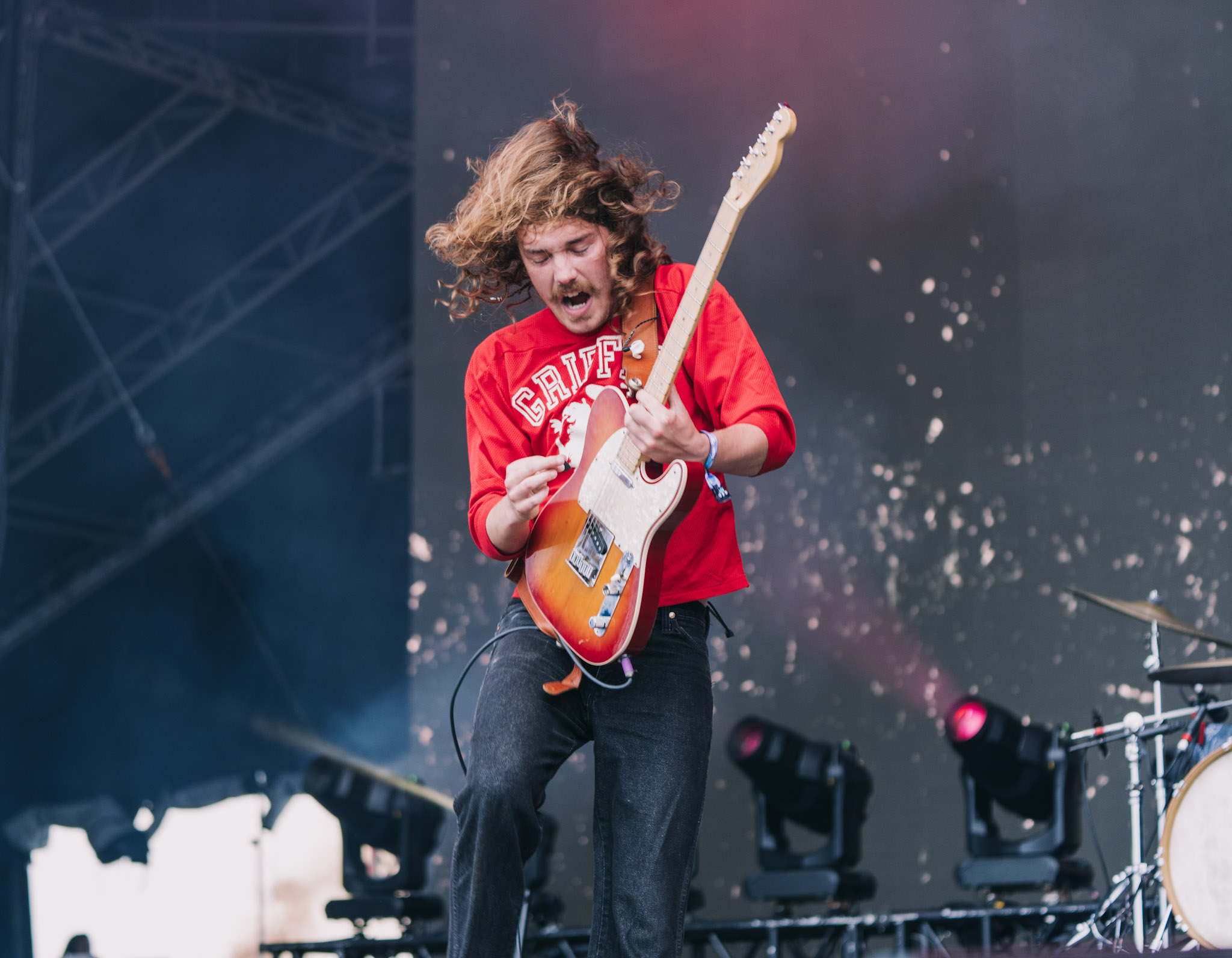 A couple of hours after our chat, the guys hopped on stage, and like the pro's that they are, absolutely put on a killer show. They were eccentric and bold, yet calm at the same time. The crowd, which was at least a thousand or two strong, was really feeding off their energy.
It was a magical performance, and a genuine conversation. I see big things ahead for The Backseat Lovers, both in their musical experimentation, and their continued pursuit of legendary status like their idols before them.
— —
— — — —
Stream: "Snowbank Blues" – The Backseat Lovers




~

— — — —
 © Alive Coverage courtesy of Hangout Music Festival
:: Stream The Backseat Lovers ::