A spotlight is set on instrumentation and emotive flair for 'Sympathetic Magic,' giving Typhoon one of their most memorable and intimate albums to date.
Stream: 'Sympathetic Magic' – Typhoon
---
Few artists have the ability to energize an audience with fervent passion, fewer still can fully enrapture them the way Typhoon expertly does. The Portland-based band delivers a unique brand of indie-rock soundscapes that can ignite the souls of all those listening with their boisterous and intoxicating melodies. What if those sounds were to soften overall, though, would the effect remain the same? Sympathetic Magic, their latest album, is the answer.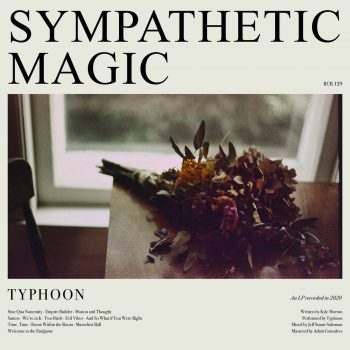 Typhoon are titans at their craft, creating swirling and emotion-filled songs that leave listeners hard-pressed not to connect with. Led by Kyle Morton, the band utilize vast outpours of melodious harmonies that give them a sonic flair that is all their own. Sympathetic Magic deviates slightly, opting for a more intimate setting that, while different, does not fail at bewitching all those listening to great effect. An album built for the moment, Sympathetic Magic dives into the now – the humanity that resides during a time where connection and people are farther apart than ever before, whether it be physically, emotionally, or even spiritually. The insight the album provides is an utter delight, and as the name implies, it's nothing short of incomparable magic.
"Sine Qua Nonentity" is a delicate intro whose power resides within the heart that lives within each note hit by the acoustic guitar, string ensemble, and those dulcet vocals from Morton himself. It's soft yet impactful, setting the stage for a journey that will bring a much-needed warmth. On "Empire Builder," the lead single, a louder attitude is apparent, but the intimate nature is not lost. "An empty hallway a phone ringing/It goes on forever no one's answering /Concept of god ever slippery/Are you outside of time? Are you in everything?/I'll find the sacred buried in me/And I will cut it out while everyone is watching," Morton croons, the instruments whirling and enriching his words. With a gorgeous crescendo near the three-minute mark, it's already clear just how spellbinding of an album awaits.
More subdued but equally as captivating, "Motion and Thought" is textured delicately with acoustic balladry that coalesces with grace with the vocals to create one of the album's most majestic tracks. As the track closes out, the instrumentation leads the way with dream-like playing of a celestial quality. Tracks like "We're In It" provide a more familiar sound but one that is still very much at home here. There's a sense of levity attached to Morton's tone, making smiles a guarantee upon each listen.
The percussive thuds that open and carry "Two Birds" are inexplicably hypnotic, their presence a calming one. Placidity is not uncommon for the album, something it's adorned with and utilized with poise and elegance. "Evil Vibes" is Typhoon at their most visceral. "Demons between me and my slumber/I'm swinging at point blank/They keep coming back with numbers/I lie still impersonate the furniture/Figure eights on a skating rink /Sharks circling under," Morton chants with a passionate tone, allowing for the words to become realized in the minds, and it's simply stunning.
The fragility attached to Morton's voice on "And So What if You Were Right" is almost haunting. A major focus is on the vocals here, and each vibration is more alluring than the last. "Time, Time" does away with fragile to make way for a livelier touch. The mélange of guitar, percussion, and horns dazzle, adding a radiant touch to the album. "Room Within the Room" resides on the same plane as "And so What if You Were Right" with its hushed presence. The backing instruments make for an ethereal dreamscape, offering the album a touch of otherworldly energy.
Watch: "Welcome to the Endgame" – Typhoon
"Masochist Ball" transforms that ethereal energy into bellowing horns and impassioned symphonies. The song is filled with an indomitable spirit that makes this tale filled with targeted anger an easily loved anthem. With its name, "Welcome to the Endgame" is a clear message to the current state America is in, Morton exhaustedly chanting "America I'm inside you/Kicking screaming at your sinews/It's so easy to blame you/But the guilt's as good as mine." It's all led to this point, and it's a close that signifies the introspection these times have brought to not only Typhoon but the nation.
Does the effect remain the same? No; it's elevated to a new tier of artistry that marks a major moment of growth for Typhoon. An album born from reckoning and upheaval, the experience is fraught with heavy sentiments and dark themes that are explored in a graceful manner. Sympathetic Magic is one of the band's most personal and intimate albums yet. Each track is crafted with purpose, further carrying on the message Morton is trying to share. The album came as a surprise, but the love for it was guaranteed, and Typhoon has yet again proven their talents are to be lauded.
— —
— — — —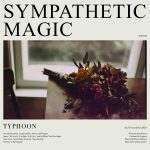 ? © 2021
Sympathetic Magic
an album by Typhoon
---