The best selling girl group of all time, TWICE show their chops with more sophisticated songs, a bevy of international collaborators, and a strong theme of growth on 'Eyes Wide Open.'
•• •• •• ••
Stream: "CRY FOR ME" – TWICE
---
On the cover to their new studio album Eyes Wide Open, TWICE evokes a sharp contrast with their first studio release, 2017's Twicestagram. The aesthetics that defined their debut – school notebook doodles, the bright colors and youthful yearning of songs like "Like OOH AHH" and "Knock Knock," the music video of which was conceived as a slumber party between the nine members – have evolved.
TWICE, once described pejoratively as the cute, bubblegum girl group are clad in retro suits as if on their way to an important board meeting at Blockbuster, LLC in the year 1997. They've an impressive latitude in their discography, one that can transition from these cute overall aesthetics to a mature vibe without using any easy shorthands for growth, and without losing the joy that characterized their early discography.
Stream: 'Eyes Wide Open' – TWICE
---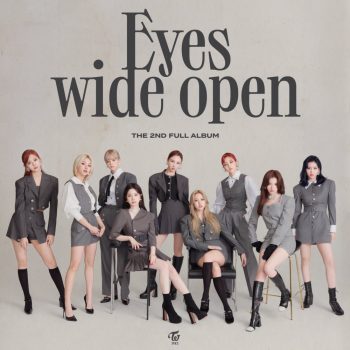 Spanning countless singles and accompanying videos, ten EPs, and four multilingual studio albums, it's easy to trace the technical evolution of the nonet. Their choreographies gradually ramp up, members take part in lyric writing more often, and so on.
What's more interesting however is to trace the emotional valence of their music. This change was gradual until it wasn't. "YES OR YES" was arguably the first star in this constellation, but 2019's "FANCY," composed by the duo Black Eyed Pilseung, cast the group in a new light with bolder visuals, centering the nonet as confident and assured rather than coquettish and longing. It's hard to think about this change without considering the group's assumed audience of younger girls and women – those that related to them in 2015 may now be growing with TWICE's music and expecting a matured presence. Many of their songs could be applied as much to friendship as to romantic love, and as TWICE's audience matures in this particularly alienating age tacitly encourage them to find fulfillment in platonic relationships.
They've never fallen for the easy trap of sex and grit. "FANCY" still has its sweetly delivered passages with ice cream similes and resplendent colorscapes, a pure joyous celebration of themselves delivered in a different context. Its successors in "Feel Special" and 2020's "MORE AND MORE" built on this new vision of TWICE, with "Feel Special" showcasing a deep vulnerability that echoes member Mina's anxiety (hard relate), and "MORE AND MORE" embracing a '60s retro approach with blossoming synths that sonically mimic the evolution of a kaleidoscope.
---
It's with this background that Eyes Wide Open becomes an especially interesting project as their recent progress has a clear trajectory aimed at making inroads internationally, particularly the US.
Eyes Wide Open, before even listening to the tracks, has a bevy of impressive collaborators both Korean and international, a surprising ratio of member involvement, and features artists that would even be recognizable to an English speaking audience, like Dua Lipa. On November 30th TWICE appeared on the Play From Home segment of The Late Show With Steven Colbert and dropped an English language version of "I CAN'T STOP ME." The course is set, and with artists like BLACKPINK and BTS charting with collaborators from Demi Lovato to Halsey, it seems Eyes Wide Open is TWICE's surprisingly delayed appeal to the English music market.
The album's opener "I CAN'T STOP ME" seems composed to play much the same role as "FANCY" – rolling minor chords dominate the track and the music video is a poised combination of TWICE's tried-and-true colorful aesthetics with a touch of darkness, which both the music and the choreography belie. Musically, the track is more diverse than much of TWICE's catalogue, with syncopated chants adding a healthy amount of rhythmic diversity. The music video also ambiguously references South Korean director Bong Joon-ho's Snowpiercer, a film with 85% English dialogue that may be more familiar to English audiences.
"HELL IN HEAVEN" is an album standout, a completely unexpected latin track with a strong harmonic guitar phrase leading the rest of the sonic action. Where most of the album pulls from 80s flavored synthpop, "HELL IN HEAVEN" explores sounds that the group experimented with on "Firework," mixing electronic with acoustic bass and latin percussion to create one of TWICE's darkest, most sensual songs.
---
The influence TWICE's members seems to have had this go around is also remarkable. "BELIEVER" is a perfectly competent pop song by producer Kenzie sandwiched by two tracks written (though not composed, it must be noted) by member Dahyun which outclass "BELIEVER" by miles. "QUEEN" in particular has an undeniable swagger with clean, creamy verses twisting into heavier neigh aggressive choruses, all outlined by interesting lyrical content. It dodges being just another love song while encouraging listeners' self-confidence.
The album's insistent self-reference might seem indulgent to an unfamiliar listener – the callback to "Feel Special" in "GO HARD" and the almost incidental "likey likey" in "SHOT CLOCK," for instance – but the recontextualization of these lyrics emphasizes Eyes Wide Open's mission as an album released for TWICE's fifth anniversary. Eyes Wide Open is still TWICE, but evolved and refined. Hearing their "likey likey" in the percussion heavy "SHOT CLOCK" puts their discography in sharp relief for keen listeners.
Eyes Wide Open is an album that threads a difficult needle, still being recognizable as a TWICE album for old fans, but pushing the envelope of their sound far enough that they can appeal to a wider audience both geographically and sonically. Their new English releases push the group in that direction as well. Time will tell if TWICE succeeds in that capacity, but Eyes Wide Open is a great first salvo.
— —
— — — —
? © 2020
:: Stream TWICE ::
---