Just coming off her tour with A Great Big World, Genevieve is thriving from all of the happiness and joy in her life. Here she discusses her EP Show Your Colors, her departure from band Company of Thieves, clairvoyance, the draw she has to nature, being reborn and how she wants to send a message of love and acceptance through her music. Genevieve is one musician you will want to keep your eye on, because she is taking pop by force with her soulful, one-of-a-kind voice and outlook on life.
For Genevieve, music is her way of life. "It is always present — melodies and rhythms that are gently shaping all of my experiences," she said. "It's a state of mind — it's a place where spirits can dance — it's a place where the body can dance — it's kind of an all coming together of mind, body and spirit for me." Music is something she has known she always wanted to do with her life; nothing else was ever really an option. At age four she was already obsessed with The Beatles, and from there her inspirations ranged from Billie Holiday, to Bjork, to David Bowie.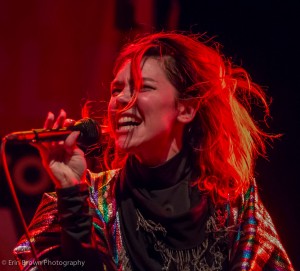 With fiery red hair and psychedelic clothes that would make anyone lost in the 60s go crazy with love, Genevieve's presence is dazzling and demanding of all the attention she deserves. After going solo from her band Company of Thieves, Genevieve released her first EP called Show Your Colors (Wind-Up Records) in March of 2015. Departing from the indie rock sound of Company of Thieves, Show Your Colors is full of catchy pop ballads as well as emotional diaries of human existence. The opening song, "Colors" is the most upbeat of the bunch, and is where the EP title is derived. The song is about finding your purpose in life and creating the life that you want for yourself. On the other end of the spectrum, "For You" is a heart-wrenching song — "For you I would stand in the line of fire/For you I would wait till the end of time/For you I would sail through the darkest water/I'm coming around for you."
One may ask, why leave a successful band you have been a part of for so long and helped grow? For Genevieve, the answer is clear and meaningful. "I guess I used to be very concerned with fitting into a group, specifically my band, and being able to be considered one of the guys or gal," she said. "I think that part of my desire to fit into the group when I was younger was to be taken very seriously — to be cool and edgy, whatever, all of these goofy, fleeting adjectives. But now, I am just myself. I'm just honest and I'm present. Who knows what that equates to other than authenticity, which I love. I feel like I'm spreading my wings or something." After departing, Genevieve has found a lot more acceptance in her life. "I've experienced a lot of change since departing from Company of Thieves, mostly in my ability to surrender to the joy of being alive and saying yes to love for myself and love for others."
Watch: "Show Your Colors" – Genevieve
---
This notion of rebirth is something evident in Genevieve's music. "I would say that a large portion of this lifetime I have struggled…in my nature versus who others would like me to be or how others expect me to be," she said. "And so the whole concept of the self or having an identity or something, it always seems so rigid to me. I experience my life to be more fluid than that and I guess that's why there's a lot of things about being reborn or expressing your truth or showing your colors and not being afraid to just be whoever you are."
I would say that a large portion of this lifetime I have struggled…in my nature versus who others would like me to be or how others expect me to be.
Over the years, one thing Genevieve has comes to terms with about herself is being clairvoyant. Yes. Clairvoyant. Her merchandise showcases this part of herself with hats and shirts carrying a triangular symbol with closed eyes. When I asked what this symbol meant, she said it has to do with the third eye. "I designed that based on the truth in my life that I have my two eyes, and even when they're closed I have a third eye that helps me see beyond," Genevieve said. "It's about celebrating clairvoyance and mysticism and the fact that there is always more than what the eyes can see." She added that all her life she has been "really sensitive, really empathic, really physically sensitive to other people's emotions." If someone was sad, upset or in distress, her stomach word hurt or body ache with anxiety. "As I started going on tour with my band all around the United States and meeting hundreds of different people every night in different cities, I was having a really difficult time staying physically healthy because I was tuning into everything — everyone's pain, everyone's sadness, everyone's excitement, and it was very stimulating to me and I would get sick all the time because I would sort of absorb all of the energy," Genevieve said. "A handful of years ago I started going to a meditation school in Chicago called InVision where I learned how to meditate. Instead of always physically feeling everything around me…I know how to take whatever it is I'm feeling and turn it into a picture instead so I don't need to be at risk or something, but still be able to appreciate all the energy that I'm sensitive to." Listen to "Colors" and you can hear how clairvoyance has affected her music: "Your life is your design/So go ahead design it/Your star is the sky/So go head align it/Cause you're forever lost/Until you go and find it/(Go, go!)/Go find it!"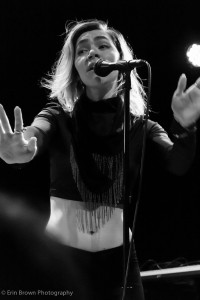 Also strung throughout her music is the imagery and usage of nature — from mountains and flowers, to stars and the sky. Nature is something that really puts her in her place. "The thing that I find so compelling about it is it's so humbling and humiliating," Genevieve said laughing. "I feel so small and grateful…It just helps put everything into perspective. Whatever issues and struggles going on internally, when I can really tune into the enormousness of everything around me, it kind of just calms me down a little bit."
Her song, "My Real Name" explores growing into one's own skin and "accepting and being aware of love." A lyric in the song goes, "You pushed me to grow/Maybe I can make it." For Genevieve, "making it" isn't necessarily a certain point in her life or something in her future – it is much more present. "I was recording a new song of mine, a demo of it, at a recording studio in Santa Monica, California called The Village," Genevieve said. "The Village is this awesome, totally famous recording studio that has been up and running for so long. Everyone from Fleetwood Mac to Lady Gaga to John Mayer and so on and so forth have recorded there. And I was sitting with a friend and saying to him, 'I hope this all goes well. I hope I can do this and go on tour and reach as many people as possible and share this positive message of love and light. I hope it's gonna be OK.' And he just started laughing and said, 'You're doing it! You're here, right now, recording in this studio! You live in California! You're singing a song that you wrote about your life – like what do you mean you hope it's going to be OK? You are doing it. You've been doing it.' And it was so simple, but it was the first time I had ever thought of it that way. Like, oh, when I'm present in the moment, I am – I am! I'm living my life, the one that I designed!" When writing "My Real Name," she realized her self-importance and worth. "It's sort of like, wait – really? I can be loved? This is a way I can live? – to love myself and be loved and love others?," she said. "It's like hey! Wake up! This is it – this is your life! This is heaven right now, if you want it to be."
Listen: "My Real Name" – Genevieve
---
In the coming years, Genevieve plans on "continuing to grow, to expand, to love and be loved, to be inspired and to share and connect with others and be surprised." She wants to share music and her message of love, beauty, laughter and adventure with the world. Another message she wants to get across with her music is "Not having to hide — that hiding is not necessarily equal to protecting. You can celebrate your life and be who you are and love yourself and love others and accept love."
Genevieve 2016 Tour Dates
April 11, 2016 @ Baby's All Right – Brooklyn, NY
April 12, 2016 @ World Cafe Live – Philadelphia, PA
April 13, 2016 @ Cafe 939 – Boston, MA
Shots from Genevieve live at Lincoln Hall in Chicago, IL on April 3, 2016: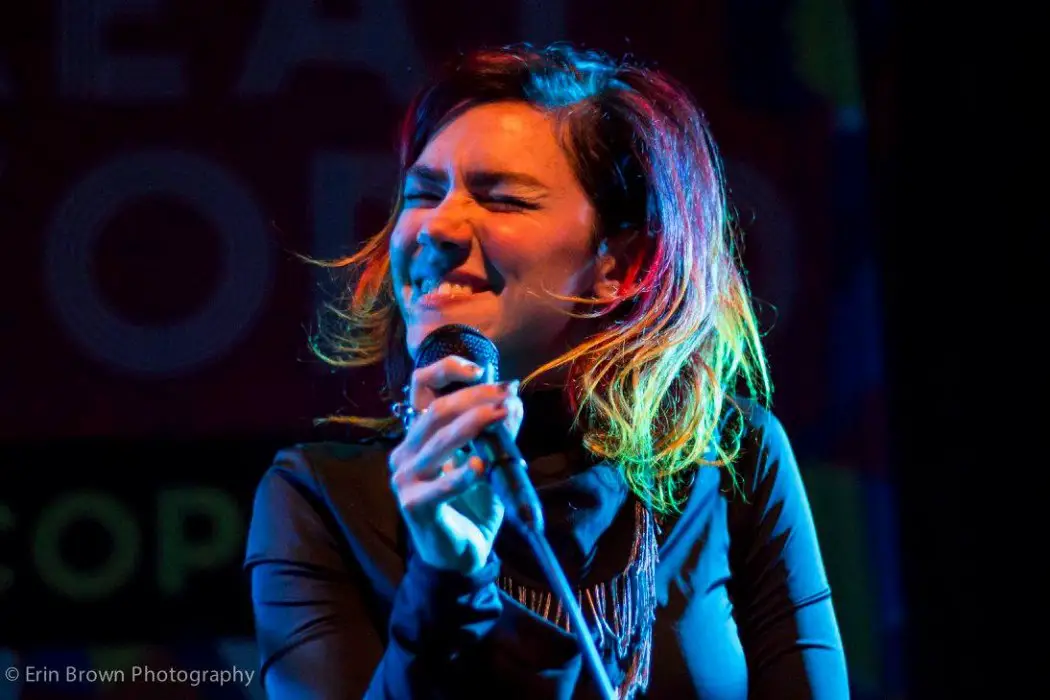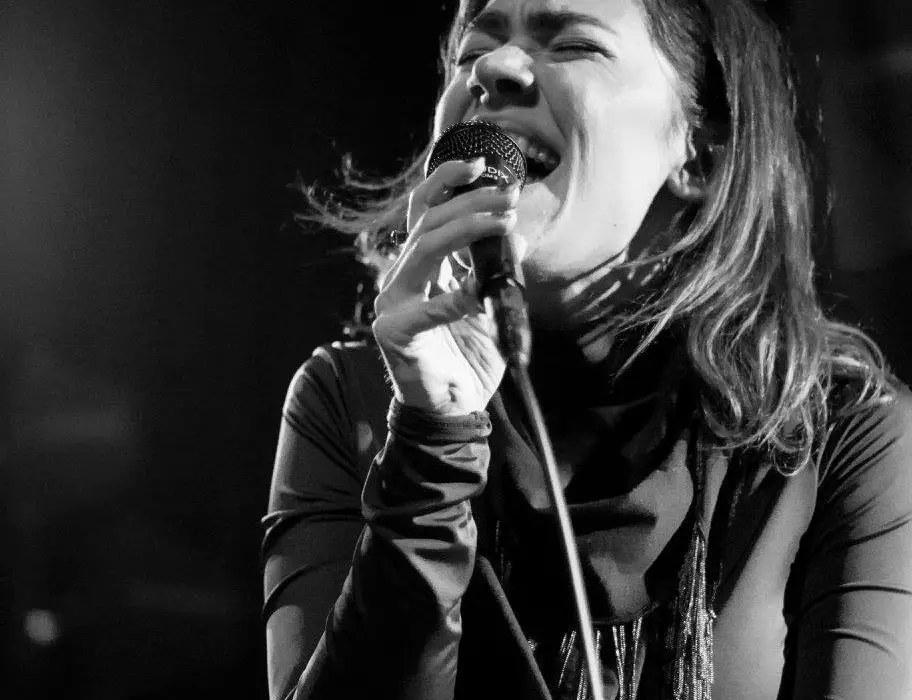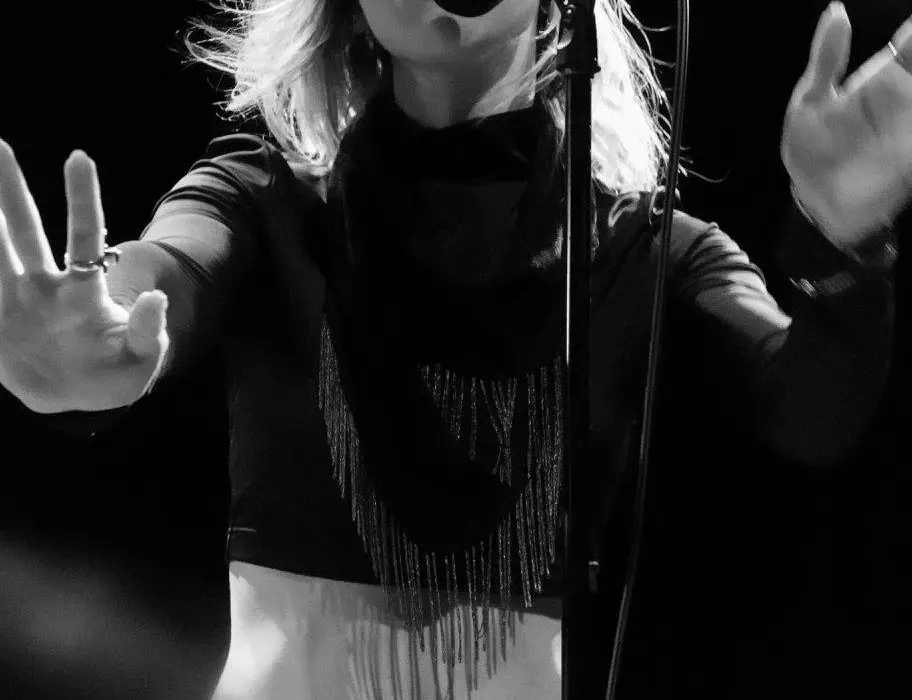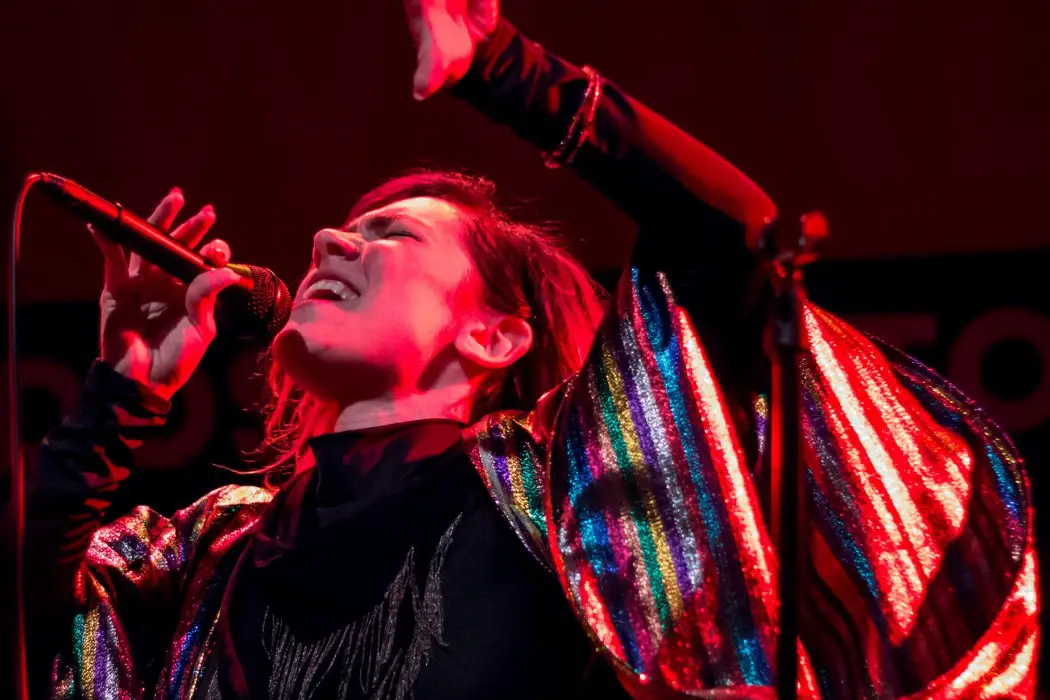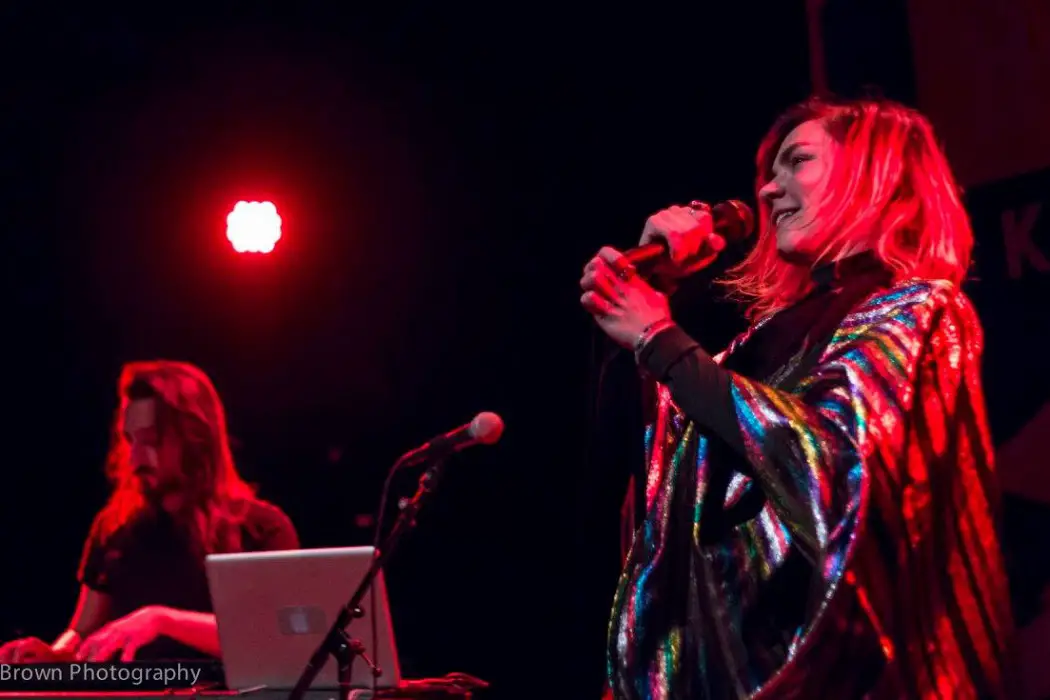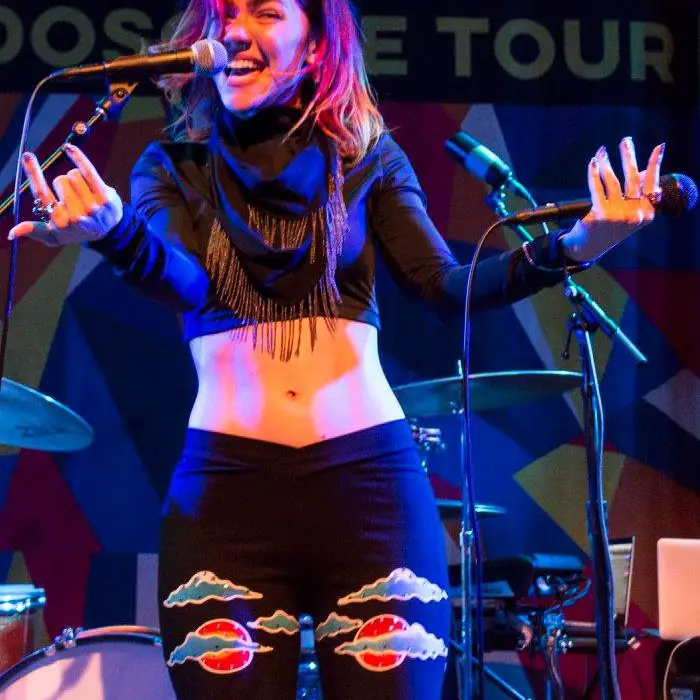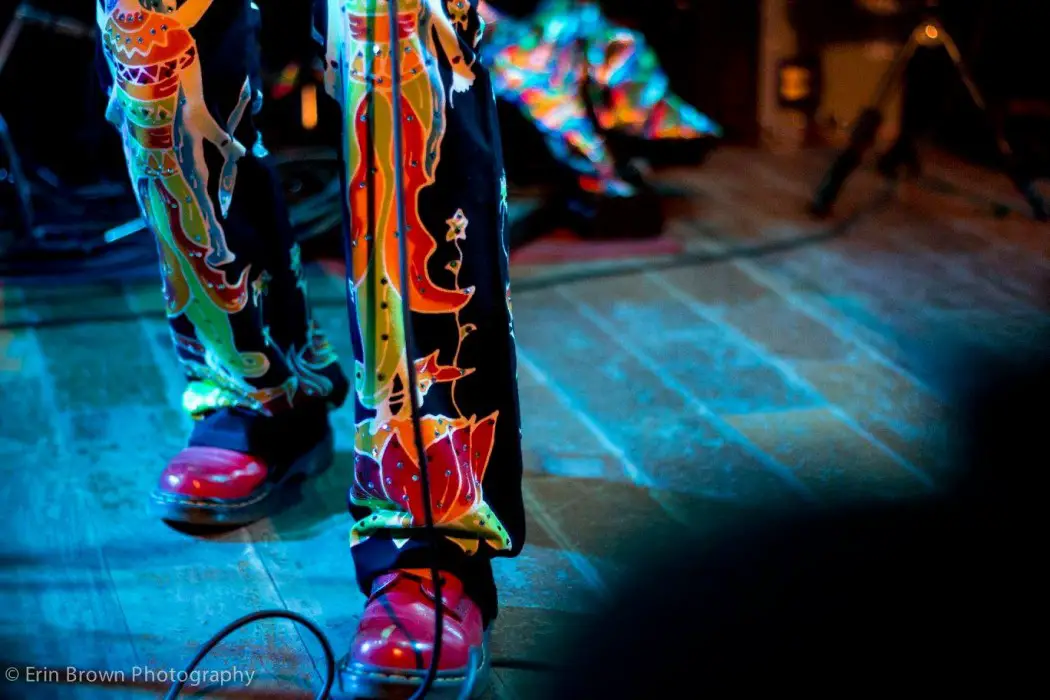 Show Your Colors – Genevieve