If you haven't heard of him yet, you will soon enough. 23-year-old singer-songwriter Tony Ferrari has established a loyal fanbase dedicated to his old school sound and style. He's the type of artist who remains interactive with these fans over social media. He's the type of artist who, after headlining and selling out the legendary Troubadour venue in West Hollywood last January, jumps off the stage and stays for an hour after the show making sure every one of these fans knows how much they are appreciated.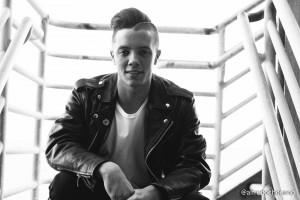 Evoking inspiration from the likes of Frank Sinatra, Jason Mraz, and Sam Cooke, one would ponder how exactly these voices in his mind would mesh. Ponder no further because the resulting sound is something fresh, something genuine, and something completely unreal. What sets him apart from other throwback artists is his ability to fabricate album after album of lyrical masterpieces that strike a chord in the hearts of his peers, while also incorporating the old soul that one can only be born with. The result – a rare and authentic sound that is uniquely Tony.
As an artist on the rise, Tony's developing sound has finally hit radio. Beginning with Jack Johnson-like acoustic mood music and adding some vintage pop flare that chart-topping artists decades ago could never have conceptualized, he is this generation's next heartthrob. His new single "Use Me Up" illustrates immense chart potential, and has already been heard on West Coast radio. Injected with a soulfulness that transcends musical eras while still remaining youthful, it is yet another song of his that elicits feelings from his audience – in this case, an overpowering urge to get up and dance.
Listen: "Use Me Up" – Tony Ferrari
---
A song that could easily be a smash hit on the next Olly Murs album, "Use Me Up" is frisky, flirtatious, and fun. He invitingly croons to the woman who has got him "feelin' like a bloodhound." Knowing exactly how to construct a tune that will stick in your head, he creates a foot-stomping, hand-clapping beat that is only enhanced by some groovy horns and what sounds like a retro keyboard synthesizer. The song gives off a come-and-get-it attitude as he mentions, "Her lips say now and her eyes say trouble."
As Tony takes a bold new twist with his music, listeners will witness his image mature as well. No longer is he the small-town poet-turned-songwriter, but now a gentleman with bad boy tendencies. Honing in on this fresh vibe while on tour this fall, he can expect to amass brand new fans in the untapped college audiences he seeks across the country. He will surely find that this move will catapult his name into the mainstream spotlight in no time. Regardless of the surface transformations, fans of Tony Ferrari can vouch that he is and will always be an artist who remains true to himself and his zeal for life and love.