Clarian's "Under the Gun" ultimately takes peculiarity and fascination and drives home the idea that things are not always what they seem.
— —
A
re things always what they seem?
"Near the end the microbiologist begins to suspect something is afoot, however, to the people around her who can't see the alien's true form, she just looks like she's losing it," DJ/Producing project Clarian remark on the video for their latest single, "Under the Gun," which Atwood Magazine is proudly premiering today. 
Watch: "Under The Gun" – Clarian
---
"Under The Gun," (out 1/26 via Balance Music) a synth-laden, mellow-drenched pop charmer dripping with dreamy instrumentals and a persistent chorus, finds Clarian delving into the unknown, wandering through a delicate landscape of weirdness and wonder. The accompanying visual further denotes the song's feeling, taking ahold of beguiling extraordinaries and intensifying the strangeness of it all.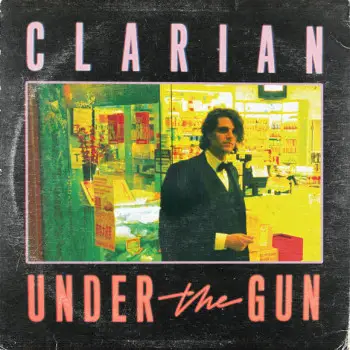 The video, whose filming was split between Lost Star music studio and Bar Loic in Montreal, is an entrancing space noir that discovers, loses, then rediscovers itself in its narrative. The video centers on a a telekinetic alien from outer space, who lands on Earth and manifests itself as as clown doll to best fit in with and adapt to its surroundings.
Like some twisted episode of Black Mirror, throughout the video we find the alien using its telekinetic powers to overtake its victims.
"The depressed and isolated outer space alien soon finds an escape for its depression with a passion for electronic music, mink coats and steak tartar," Clarian says. "This leads the alien down a path of darkness and consumerism where it begins to manipulate the minds of multiple unsuspecting human hosts so that it may vicariously gain pleasure in excess volumes regardless of the harrowing consequences it creates for its victims."
"Under The Gun" hauntingly lingers, as the song's only verbal part simply ominously repeats its title. The hazy instrumentals explicate a detachment that is further reflected by its video, offering an intoxicating enchantment that feels slightly terrifying, yet unignorable.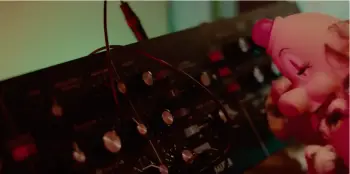 The eerie video toys with the psyche of its viewer, noting that things are not always what they seem. The telekinetic alien, ultimately, "uses its intergalactic powers to manipulate the minds of a local new wave electronic project (Clarian) so that it can play synthesizer solos and sequences in the heat of the groove which completely derails many of their productions although inevitably lands them a record deal with an intergalactic lizard wizard."
The manipulative extraterrestrial also inhabits and possesses the mind of the aforementioned microbiologist, a quiet, introverted, highly intelligent woman, flipping her world "into an excessive and luxurious lifestyle of sparkling dresses oysters and champagne […] upside-down into a spiral of excess and destruction."
"Under The Gun," ultimately, takes peculiarity and fascination, and drives home the idea that things are not always what they seem. Through a dichotomy of melody and mayhem, "Under The Gun" and its accompanying video offer a tonal fantasy of startling curiosity and tacit affectation, curating a sonic narrative brimming with idiosyncrasy. Should we be at all concerned? Are we truly alone?
Ask this – and watch the video for "Under The Gun," exclusively on Atwood Magazine.
"Under The Gun" will be the lead single taken from Clarian's forthcoming debut LP Television Days, out February 23rd via Balance Music.
:: preorder "Under The Gun" :: 
— — — —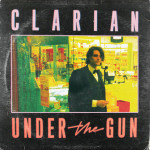 :: Under the Gun – Clarian ::