HBO star turned breakout pop artist Reneé Rapp proved the hype is right on the first night of the Snow Hard Feelings Tour, her first major headlining run supporting her debut album 'Snow Angel.'
Stream: 'Snow Angel' – Reneé Rapp
---
Reneé Rapp has a lot of hype surrounding her right now. Nominated for Best New Artist at the VMAs, 4 million monthly listeners on Spotify, nearing a million followers on Instagram, star of a hit HBO series (Sex Lives of College Girls) – the list goes on. After attending night one of her first headlining tour in a sold-out Houston Bayou Music Center, not only do we believe the hype isn't enough – but we also believe this young artist will long outlive the excitement of "best new thing" into a musician we will follow and admire for a long time.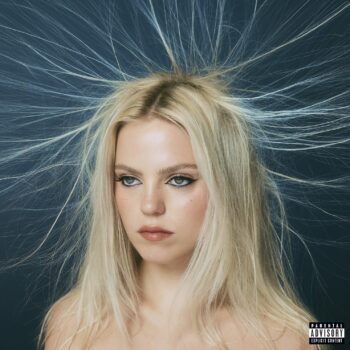 Rapp's debut studio album Snow Angel released in August of this year via Interscope Records. Produced by fellow Interscope-signed artist Alexander23 (Alexander Glantz), the album has proven to be an instant hit. It's raw, introspective and deep while being fun, charming, and poppy. It somehow captures Rapp's personality, along with her range, which ebbs and flows effortlessly between R&B and pop to ballads that only a Broadway voice could pull off.
Find our review of night one of Rapp's Snow Hard Feelings Tour in Houston, Texas below!
* * *
We would be remiss to review this show without applauding the opening acts, Towa Bird and Alexander23.
Towa Bird came first, with a band that had enough energy to fill the entire room. They had a true rock and roll feel and it was visible that they were reveling in the opportunity to play their songs in this room. Without knowing much about this artist before going to the show, we can confidently say she is a true musician and one who only shows signs of moving up. Her voice is incredibly crisp and strong. It's not often that you see a lead singer break for their own guitar solo, but Towa Bird did just that and melted the room. It won't be long until she is headlining a tour of her own.
Next came Alexander23, who also produced Rapp's album Snow Angel along with other notable hits such as "good 4 u" and "get him back!" by Olivia Rodrigo. While his producing resume is incredibly impressive, it's his own music that we find to be more-so. This was the tightest opening act set we have ever seen. Alexander23 and his two band mates played together so flawlessly. Their banter was smart and witty and their musical chemistry was unmatched. With a One Direction cover and a short break for some standup comedy, Alexander23 had the full attention of the crowd. His stage presence and vocals were that of a seasoned performer; strong and precise. "Dirty AF1s" was a highlight, but truly this entire set was one we could not look away from. We look forward to seeing more solo work from Alexander23.
Now, on to the main event! Reneé Rapp had the crowd absolutely enthralled from the second she stepped on stage to the second she stepped off. The set design was beautiful, mirroring spring, summer, fall and winter throughout the show. With visuals of her life displayed in the background, the performance was intimate, even in a room filled with 3,000 people.
---
Rapp started the show with fan favorite "Talk Too Much." With the biggest smile on her face and her effortless movements around the stage, you would never guess this was her first show on her own tour of this capacity. She sang as the crowd matched word for word before moving to "Poison Poison."
Next, she took a small break to engage with the crowd. She did this so naturally – it almost felt like she was just catching up with old friends. She is so genuine and truthfully funny in her interactions. She connects with her fans on a real level,  which is the kind of thing that creates life-long fans. Not only is she inviting the crowd into her incredibly raw, vulnerable music, but she's also inviting them into her personality and her life. It creates an incredibly warm and welcoming feeling.
She then moved onto "Willow," explaining to the crowd that it is one of her favorites, and it's easy to understand why. She sat down, relaxed and let her vocals shine in this slow and smooth track. The crowd sang along, but in a way that was quiet enough, because I think we all were thinking the same thing – we wanted to hear her voice.
Looks like you're still getting used to
Being fully grown
I know it's hard to slow down when
There's still more to go
Maybe it's just how you're treated
Not something you know
Only so much you can explain over the phone
So I'm coming to you
Can I get your permission to lay underneath ya
Not a special occasion, I just had a feeling
Wanna ask how you doin'
And mean it, I mean it
The show continued to pick up and it was evident that everyone on stage and off was having a blast. Rapp brought Alexander23 and Towa Bird on stage to accompany her for "Tummy Hurts" which was a big highlight of the show. She gave an endearing speech before singing "Tattoos" explaining that it was the song to get her signed and how much that means to her. There was something so special about seeing someone live out their dreams and being there for the first real night of it. She was exuding happiness.
The winter themed set closed out the show with "Gemini Moon," "The Wedding Song," "I Wish," "In The Kitchen," and finally an absolutely breathtaking "Snow Angel." Rapp left everything on the stage with that final song. Her voice deserves every single piece of credit it gets.
Go to this tour. It's incredibly impressive, unsurprisingly fun and funny and a special one that is once in a lifetime. We look forward to following Rapp as she continues to make her mark in the music world.
The Snow Hard Feelings tour continues in North America and the United Kingdom now through mid-November, and will pick back up for shows across Europe in February and March 2024! Find tickets and more information at reneerapp.com!
— —
— — — —
 © Katia Temkin
:: Stream Reneé Rapp ::
---