In hot pursuit of purpose, Alexander Fairchild's 'Too Young for New York' EP captures familiar insecurities through the lens of warm, intimate rock n' roll.
— —
There's something enduring in Alexander Fairchild's pursuit of purpose: Lost, exposed and uncertain, he's striving to understand his place in the world just like the rest of us. Where does this path lead? Why don't I feel content? With a heavy but hopeful heart, Fairchild's new EP  Too Young for New York captures relatable feelings of longing and displacement through the lens of warm, intimate rock n' roll.
Here she comes like a rose
Beautiful—and she knows
I need a reason to say hello
Give me a line like a telephone
Here she comes like a queen
In a dress that is green
She has a smile that's made to last
And I'm the loser she's walking past
Atwood Magazine is proud to be premiering Alexander Fairchild's Too Young for New York EP, out 1/26/2018 via Tooth & Nail Records. The sophomore collection from the Toronto-born, New York City indie rocker finds Fairchild following up to his sprawling 2013 debut album with a tightly-bound encapsulation of strain and divide.
"This EP is a collection of songs about being in love while being stuck in the 'in-between' of life," Fairchild explains. "My psychologist calls it 'mindfulness' – being present in life and body instead of obsessing over outcomes – so these are mindfulness narratives."
The heavy, laid-back "Bogart and Bacall" opens the EP with a dark depiction of heartfelt anxiety. Fairchild sings in a self-depracating manner; he is a victim to his own feelings, trapped in his own shell and as a result, suffering from his own unfulfilled desires and emotions. That femme focus continues in "Red Bikini," where Fairchild dotes over his girlfriend with beachy, feelgood vibes. We find Fairchild guided strongly by instinct and attraction, whipping up a marvelous cloud of Southern-inflected rock sound through which he unleashed his often turbulent emotions.
She's a vision of the modern muse
She is looking straight at you
With the Golden Lady smile
With the brownest eyes for miles and miles
---
This brings us to title track "Too Young for New York," whose dramatic exposition serves as an inflection point on the record. Fairchild completely engulfs himself in his head, dwelling in dark thoughts of inadequacy. He expresses feeling lost, uncertain of where he belongs – honing in on the EP's most provocative theme and certainly its largest driver. Surrounded by vibrant guitars, Fairchild exclaims:
I'm too young for New York
I'm too old for LA
Take me out to the desert
To sleep in the springs
I don't know what I want
But I know what I hate
Waking up in a city
That's making me wait…
Fairchild paints himself as a wannabe wanderer, a man whose home doesn't feel like home. We all get lost from time to time, but few artists manage to zero in on this sensation with such humility and sensitivity. Through his own brutally honest lyrics, Alexander Fairchild creates for his listeners a world of tension and grief, where the desire to know one's purpose and place in life is paramount.
The incredibly catchy, Killers-esque "Arizona" continues Fairchild's motif of searching for that radiant something. A blown-up, stadium-sized anthem, the track is a dreamy allusion to that faraway 'desert' we've now heard so much about. We get a better sense, through vivid memories of Fairchild's past, for where exactly he feels at home, and what it is about his current position that haunts him so. Still, he's asking questions that have no immediate answers.
Too Young For New York ends on a high note through "Heart Shaped Pool," an exuberant proclamation that takes us back to the opening songs' idealization and worship of a romantic partner. Fairchild's affection and glorification instills an infectious warmth that sends us out of our reverie with a smile. Though his own personal problems remain unresolved, we get the sense that part of thrill, at least for Alexander Fairchild, comes from chasing that dream: He may be adrift, but as long as he's moving towards something, he's got something to work for and believe in.
Too Young for New York is out tomorrow, 1/26/2018 via Tooth & Nail Records. Experience the full record via our exclusive stream, and peek inside Alexander Fairchild's Too Young for New York EP with Atwood Magazine as he provides a track-by-track take on his latest release!
'Too Young for New York' – Alexander Fairchild
:: Inside Too Young for New York ::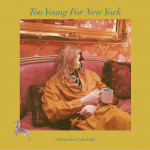 — —
Bogart And Bacall
Bogart and Bacall—the iconic film noir duo. Winter in New York is a kind of film noir in and of itself—dark, cold, windy. I wanted a moody "Jesse's girl" vibe with some angst.
Red Bikini
Red Bikini came about as a fun song for my girl. She loves Bardot and that whole 60's vibe meets Lana Del Rey, and we spend a lot of time at the beach. This is like, "her tune."
Too Young for New York
Too Young For New York is about dealing with the feelings of inadequacy and anxiety by stopping to smell the roses. It's a bit dramatic but that's how the feels feel.
Arizona
Arizona is about non-committal (hi, New York) and wild memories from non-committal; eventually you find yourself at the precipice of "I really like this person—wait I love this person." And that's when you get scared. And worried. And then you think about how everything has been so good.
Heart Shaped Pool
My fav movie growing up was The Sandlot, particularly the scene where Squints fakes his drowning in order to receive mouth to mouth from the lifeguard, Wendy Peffercorn. I wrote this song about the illusion of Wendy, who takes many forms. Contentedness, not California, makes your dreams come true."
— —
— — — —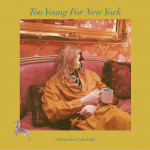 photo © Tooth and Nail
:: Stream Alexander Fairchild ::