Atwood Magazine's Viewfinder column revolves around music videos, and how a piece of music is synergistically enhanced by well-produced visuals.
— — — —
In our increasingly interconnected world, the ubiquity of smartphones and the internet has facilitated the spread of once regional music genres to a global audience. Services like YouTube and Spotify, and the rise of playlists and music blogs are allowing genres like Latin music and K-pop to make inroads into the charts, scooping up fans along the way.
These genres are no longer a niche or obscure interest, with flourishing fandoms and devoted online communities eagerly devouring the music. The genres' biggest stars sell out arenas worldwide, proving that language is no barrier to reveling in the music's undeniable energy and entertainment value. Recently, many of these artists have set their sights on the American music market, resulting in collaborations with more established stars like Pharell, Beyoncé, and Nicki Minaj.
It's all too easy to pinpoint the influence of Latin music in today's musical landscape. Not only was "Despacito" arguably the biggest song of 2017, but also reggaeton and Dembow rhythms seemingly landed on every Top40 song last year. Spanish words have also infiltrated the everyday lexicon, so much so that you wouldn't think twice about hearing it interspersed in the lyrics on a song getting regular radio airplay.
For several years now, K-pop has also been drawing inspiration from Latin music, resulting in a cultural cross-pollination between both genres and creating the sort of hybrid sound that appeals to a wide audience. Some of the biggest K-pop bands like Super Junior and GOT7 have all released Latin-influenced tracks, collaborated with Latin music artists, or recorded tracks in Spanish.
So it comes as no big surprise that K-pop group NCT 127's latest single "Regular" is a Latin-trap song, incorporating words like queso and dinero in the lyrics. The ten-piece boy band is Apple Music's 'Up Next' artist for the month of October, and they recently released their first full-length album Regular-Irregular. With a diverse set of members hailing from several different countries, the group went so far as to record separate English and Korean versions of their single "Regular," releasing a music video alongside each version.
Both the music videos for "Regular" look like the lovechild of an anime and a Wong Kar-Wai film come to life. On the whole, the videos almost play out like a tourism ad for Seoul, with a hyper-futuristic edge. There's an eye-watering level of detail on show – blink and you miss it, requiring repeat viewings to fully absorb all the stylistic elements and set pieces on display. The videos take you on an adrenaline-filled journey through urban night scenes, traipsing through arcades, a hair salon, rooftops, and alleyways illuminated by neon lights.
Watch: "Regular (English Version)" – NCT 127
[youtube https://www.youtube.com/watch?v=gj-VU9oK2Yo]
---
It's testament to the charisma of the members of NCT 127 that they do not play second fiddle to the backdrops and despite its frenetic pace, the video still feels cohesive. All ten members breeze through the choreography with panache, making it look easy, all while wearing amazing outfits and singing about having an extravagant lifestyle.
Interestingly, the lyrics of the English version of "Regular" are far from a direct translation of the Korean version of the track. While the English version features materialistic lyrics boasting about cars, diamonds, and making millions, the Korean version of "Regular" seems to be more about celebrating brotherhood and solidarity, and the more intangible satisfaction of success and fulfilled ambitions.
Watch: "Regular (Korean Version)" – NCT 127
[youtube https://www.youtube.com/watch?v=Gif0E6jYakM]
---
As the band mentioned in several interviews, Regular-Irregular is divided into two halves bridged by an interlude: the first half (Regular) containing songs that deal with reality, which transitions into the second Irregular (dream state or fantasy) part. Thus, the placement of the two different versions of "Regular" in the tracklist is likely intentional, implying that the theme and lyrics of the English version, the tenth song on the album, are about their goals of achieving success, and chasing their dreams.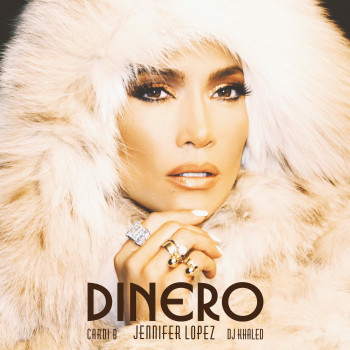 Much like NCT 127's "Regular," Jennifer Lopez's "Dinero," featuring DJ Khaled and Cardi B, revolves around the pursuit of money. Directed by Joseph Kahn, the black and white video follows Lopez living the high life, lounging in a mansion complete with butlers, piles of jewelry, and a host of exotic animals. Lopez even goes as far as burning (CGI) money and vandalizing expensive cars in a fun show of excess. The video also features memorable cameos from Cardi B and DJ Khaled, and a dance break at the end where Lopez is flanked by a troop of backup dancers. From the outset, the video is a parade of wealth and glamour, effectively driving home the lyrics of the track.
Watch: "Dinero" – Jennifer Lopez ft. DJ Khaled, Cardi B
[youtube https://www.youtube.com/watch?v=aEM2kOrrNJI]
---
While "Regular" and "Dinero" are similar in terms of subject matter and genre, the resulting music videos are where the tracks diverge. "Dinero" showcases a more tangible and traditional form of social status and success – wealth in the form of a mansion, jewels, and a private jet. On the other hand, the "Regular" video is a youthful take on the subject matter; ten guys just running wild and having fun. What further differentiates the "Regular" music video from that of "Dinero" is the sprinkling of Asian elements and imagery littered throughout: tigers (likely referencing the Chinese zodiac) in graffiti and CGI form, Korean street signs, and toy claw machines ubiquitous in many Asian countries.
Ultimately, "Regular" and "Dinero" aren't the most thought provoking of music videos, but they sure are a fun ride, and a nice break from the realities of everyday life. With more and more international music making its way to mainstream audiences in America, it has never been easier to experience facets of another culture via the click of a mouse. Not only does embracing other cultures through mediums such as music facilitate empathy and understanding, it also leads to more genre-melding and experimental music. Since it looks like Latin music and K-pop will continue dominating the charts worldwide for the foreseeable future, let's sit back and enjoy the ride.
— — — —