Seemingly out of nowhere, Shura released her debut single "Touch" in early 2014, and music blogs were quick to herald her as an artist to watch. It's easy to see why the song garnered so much positive buzz. Shura's breathy vocals and the gently swelling synths lend the mid tempo track a hazy, slightly sultry atmosphere perfectly suited for repeat listens. The accompanying music video is a pastel haze featuring scenes of Shura's friends "snogging each other," and has slowly racked up over 27 million views as of writing.
Watch: "Touch" – Shura
---
2015 saw Shura further establish herself in the indie music scene with the release of her White Light EP. As more people started to sit up and take notice of her music, the accolades began pouring in. Not only was Shura chosen to be a 2015 Vevo DSCVR artist, but she was also nominated for the BBC's Sound of 2015 poll.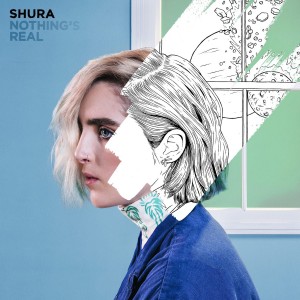 After releasing several singles in 2014 and 2015, Shura's debut album Nothing's Real finally arrived in July 2016 (Polydor/Interscope). It's a slice of 80s-inspired pop deliciousness in the vein of her previously released tracks such as "Indecision" and "White Light". The album is a blend of both upbeat songs and slow jams, filled to the brim with extremely relatable, introspective lyrics largely dealing with personal relationships. Over the course of the album, Shura really draws the listener into her world, peppering several tracks with conversation snippets of what sound like home recordings from her childhood.
Needless to say, I was excited when I found out that she would be playing the Bowery Ballroom and immediately bought tickets. Aside from a few of her late night TV show appearances, I hadn't seen many of her live performances, so I wasn't entirely sure what to expect. However, it's safe to say that Shura and her band managed to translate the soundscape of her album into a thoroughly enjoyable concert experience.
Shura kicked off her April 25th set with the high octane "Nothing's Real," setting the crowd into a frenzy right off the bat. Vaguely reminiscent of Michael Jackson's "Thriller," the song actually describes the first time Shura experienced a panic attack, but the seriousness of the lyrics could easily be overlooked given the upbeat instrumentation.
Never thought I'd be stuck in this bed
With a cheap clock ticking above my head
One for me, one for you, one for them
Oh, what you looking at?
Somebody get me out of this dress
I'm a dead girl walking
And I need medicine
Listen: "Nothing's Real" – Shura
---
From the second song on, Shura kept things light and proceeded to sing about love and relationships. She often joked self-deprecatingly about her narrow choice in subject matter, frequently introducing each song by saying something along the lines of "this song is about when you fancy someone…", and providing detailed fragments of the inspiration behind the lyrics. It's not often that an artist shares such personal details with a large audience, but Shura engaged the crowd with her stories of crying in public after a breakup, and going on movie dates with a crush. It was also interesting to note that unlike most artists, Shura chose to have both her drummer and guitarist play alongside her instead of behind her. All three of them were set up as close to the edge of the stage as possible, as if they were physically and forcibly demanding your attention.
Interspersed between the bouncier tracks in the set were slower songs such as "2Shy" and "Touch," both of which stood out as highlights. She performed a slightly stripped back version of "2Shy" under the illuminated disco ball suspended above the stage, and it almost felt like the audience was transported back in time to an 80s high school prom. Another standout moment was during her performance of "Touch" when she stage dived into the crowd even after confessing to feeling nervous because she had never tried it before.
Throughout the entire show, Shura kept the energy level consistently high, and the crowd danced along to all of the songs enthusiastically. It was awesome to see Shura and her band members throw themselves into the performance, especially during the lengthier guitar solos and transitions between songs. The musicality on display was electrifying, and at one point during their performance of "White Light", Shura was so caught up in the music that she knocked over her drum pad from playing too intensely.
Sadly, this was Shura's last US stop on her tour for the time being as she is shifting her focus to working on a second album. Hopefully, she'll keep dropping remixes and one-off singles to tide us over during the wait for what will surely be a highly anticipated follow up to Nothing's Real.
— — — —
cover © Andrew Whitton
Nothing's Real
an album by Shura