Austin Basham's "New House" speaks truth in feeling undeserving of love, but finding a gratefulness in knowing that love will always be precious to you.
— —
To be loved is to be incredibly lucky. Most of us take advantage of this – we fall in love and feel happy and at ease. Over time this feeling becomes normal. The love we receive isn't something we're grateful for anymore. It becomes a fabric of our life and therefore we forget that it isn't a right, it is in fact a privilege. Texas folk singer Austin Basham's new single "New House" speaks the truth of feeling undeserving of love, but finding a gratefulness in knowing that because of that, love will always be precious to you.
Listen: "New House" – Austin Basham
---
Atwood Magazine is proud to be premiering Austin Basham's "New House," out 3/23/2018 via Nettwerk Music Group. As the song begins, a thick and peaceful guitar begins to lull you into a trance of ease and grace. Basham's Matthew Mayfield-like voice, deep and clear, enters furthering the trance,
No matter where I go
I'm only going with you
Just be patient honey
it'll all soon come true
Been breaking down along
Norwegian towns we're doomed
My old mind's been wondering why
it's taken so long to plant this bloom
The first verse sets up the relationship, that is long and slow forming, which inevitably makes for a deeper and truer connection. Light snare drums pick up along with harmonizing vocals to enhance the peaceful pulsating rhythm of the song. The chorus is where the meaning of the song comes to fruition, picking up this message that he doesn't feel deserving of the love, even though it is truly all he wants.
Cause I took the long road to find you wanting me
And I kept shutting you out when I'd fought you to stay here
I don't mind treading water to hold you near
My minds been blind and needs to change
Lets restart, I'm coming home now with my whole heart
Light whistle's accompany the transition between chorus and verse, setting up the profession of the second verse:
Just be patient honey what is lost will construe
You know I will never tire of following you
Whether the feelings fade or you've forgotten the flame
One thing will always be left unchanged
The song then breaks down to the bridge, and perhaps the most crucial moment of the song. The music halts with long bellowing chords holding ground behind Basham's voice as he sings,
Oh what a wonderful lie
To be the best one made in your eyes
My oh my
Basham describes it best when saying the lyrics of the bridge "illustrate the idea that love can be hard to accept when you don't feel worthy of it, but also finding truth in the fact that you can never be deserving of it."
It's all too relatable to feel undeserving of the one or ones you love. "New House" dives into how feeling this way only creates a greater love, one that lasts and that is in fact worth it. It is what we should all strive for, because truly, none of us are deserving – which is why it is the most special sought after prized possession in this world, it is why it is love.
Basham will be joining fellow Nettwerk labelmate Hollow Coves on tour this Spring – see full North American tour dates below!
— — — —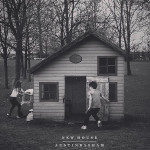 ? © Alexandra Cameron
cover art © Jamie Cameron

:: Stream Austin Basham ::
---